Thirty-Year-Old Democrat Launches Ohio Senate Campaign
P.G. Sittenfeld touts himself as a "change" candidate in an election where many Democrats are hoping to recruit older, better-known names for the Senate.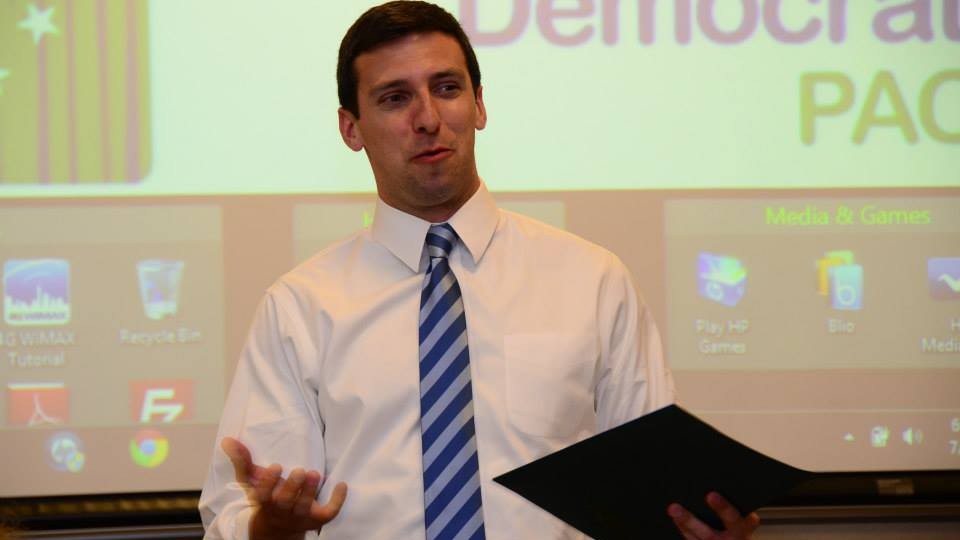 Thirty-year-old Cincinnati City Council member P.G. Sittenfeld's entry into the Ohio Senate race Thursday underscored an important question for Democrats looking to take back control of the Senate in 2016. Do they leave the job of taking on entrenched incumbents like Ohio's Republican Sen. Rob Portman to trusted old hands, or do they take the route Republicans did in 2014 and unveil fresh faces?
In an interview with National Journal after announcing his campaign Thursday morning, Sittenfeld made it clear he thinks the party's best chance for success is to take the latter path.
"It's about looking forward versus looking backward," Sittenfeld said. "I think we need a new generation of leadership to step forward."
Sittenfeld was of course referring to Portman, whose political career began more than two decades ago and includes stints in the George W. Bush administration as director of the Office of Management and Budget and as U.S. Trade Representative, between his time in the U.S. House and Senate. But Sittenfeld could just as easily have been talking about his potential competition for the Democratic nomination.
The person to watch in Ohio politics right now is former one-term Gov. Ted Strickland. The 73-year-old Democratic favorite has said he's eyeing a bid himself—which would be his third statewide run—and made it clear that any moves by the millennial candidate would not factor into his decision. Sittenfeld says he remains in close contact with the former governor, but he likewise added that no one else's decisions will have any bearing on his own campaign.
"In Ohio, you've got to have resources," Strickland told National Journal two weeks ago. "Running statewide is a huge challenge. I've run statewide in Ohio twice, I've raised the resources I needed twice, and I think I could do it again."
The new-versus-old dilemma is a conflict playing out across the map for Democrats this cycle. Candidates such as former Sens. Kay Hagan of North Carolina and Russ Feingold of Wisconsin have quickly risen to the top of Democratic recruitment lists for Senate seats in a potentially more favorable presidential year.
Most Democratic Senate operatives would rather have experienced candidates with a loss on their record—but proven fundraising abilities and residual name-recognition. They're wary of putting important races in the hands of less-tested candidates, even if they have the advantage of breaking from Washington Democrats.
The GOP saw success with new candidates in 2014, particularly in the competitive Iowa race where relatively unknown state Sen. Joni Ernst carried the party to victory. She's since ridden her rising star all the way to giving the party's response to the State of the Union address this week.
It's worth nothing that in Ohio, Republicans fielded a young candidate in 2012 against Democratic Sen. Sherrod Brown, only to watch him crash and burn, while 2014 Democratic gubernatorial nominee Ed FitzGerald ran one of the most widely mocked campaigns in the country last year.
Nevertheless, Sittenfeld clearly sees his niche in the race as the "fresh" choice, a word he used six times in a 10-minute chat. He also subtly referenced his ability to "use technology to solve problems" during his time on the Cincinnati City Council.
"I hope that D.C. will look at me as a new leader with high energy and fresh ideas, but also someone who has already gotten thing done," Sittenfeld said.
He'll need that energy in the coming months to get his name better known across the state and raise enough resources to run a serious campaign. Portman already touts more than $5.5 million banked for his reelection bid.
Sittenfeld said he's been encouraged by what he's already raised in the two weeks since starting his "exploratory fundraising."
"I expect to have the resourses to run a strong competitive campaign," he said. "I've been humbled and overwhelmed by the support people have offered so far."