There's an Ebola Vaccine in Africa. Now What?
As infections decline, success for a vaccine is not assured.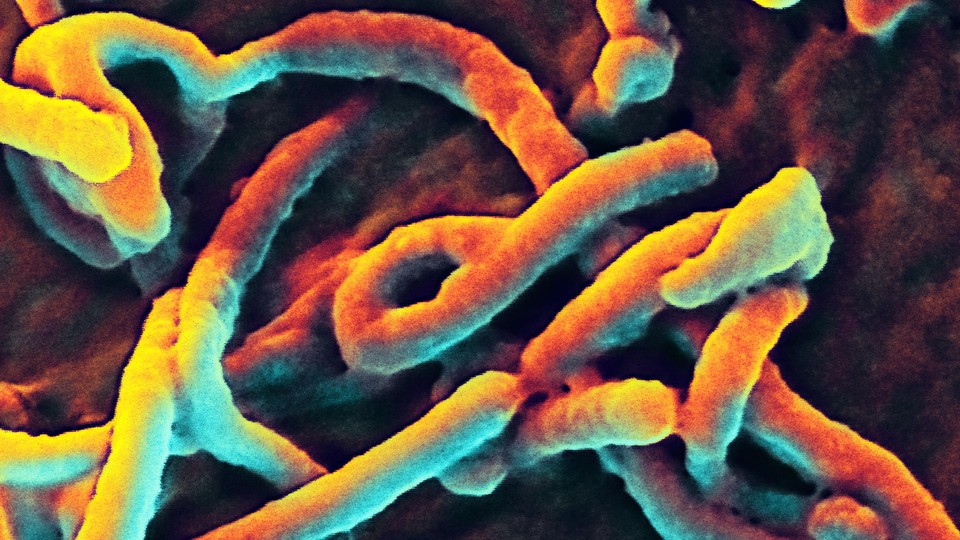 Ripley Ballou, the chief Ebola vaccine researcher at GlaxoSmithKline (GSK), was late for our phone conference. I asked what held him up. "Silly little things like Liberia saying, 'We saw on the news you were sending vaccine. Can you send us the billing shipments and let us know what's on that plane?' " he said, lightheartedly. "You think that would have been taken care of."
He was able to track down paperwork. It was one last little "t" to cross in an unprecedented effort to bring an experimental vaccine to a large-scale clinical trial in just four months. That's a lightning pace for the pharmaceutical industry, which normally works on a decade timescale. "I've been doing this kind of work between 25 and 30 years," Ballou says. "I certainly never experienced something like this." GSK put about 175 people on the project in August after the World Health Organization declared Ebola an international public health emergency. Other projects were shelved. "We've had to disrupt the entire system at every level to try to make things go as quickly as possible and yet not sacrifice on quality or patient safety," he says.
Well intentioned vaccination plans can go wrong, and for small reasons.
Phases I and II of drug trials assess safety. Phase III is where we see if the drug really works in the field. On Jan. 23, GSK shipped 300 vials of the vaccine that will inoculate 9,000 people in a phase III clinical trial in Monrovia, Liberia. A joint Liberia-U.S. partnership will oversee the effort, which will involve 27,000 people. Another 9,000 in the trial will get a different vaccine formulation. The last 9,000 will get nothing. All will be monitored.
Success is not assured. Ballou says the vaccine would need to protect 50 percent of the people who receive it to be considered useful. He's facing a catch-22: As Ebola infections in Africa are starting to decline, it becomes vastly more difficult to test a vaccine.
+ Cases of Ebola per week are dropping in Liberia,  just as clinical vaccine trials start there. (World Health Organization)
In its latest Ebola situation report, the World Health Organization notes just eight cases of Ebola in Liberia in the week of January 12, down from a high of nearly 400 a week in September. That's clearly good news, but science can be heartless. Without the virus circulating, there's no way to prove the vaccine is effective. At current infection rates, trial researchers would need to see 100 cases of Ebola over a four-month period to achieve statistical significance. That time frame may stretch, or fall apart altogether.
"It's a real dilemma," says Margaret Harris, an MD and spokeswoman for the World Health Organization. "It's extremely good news that the cases are coming down, but it does mean we may not have clear phase III data."
To accumulate more data, WHO is organizing concurrent phase III trials in Guinea and Sierra Leone. They will test the GSK vaccine and another developed by Merck. Johnson & Johnson is starting safety trials on a third, which could join them in phase III later in the year.
The trial in Guinea may achieve results faster than the one in Liberia. Instead of passively waiting for disease to strike—as in a randomized-control design—researchers in Guinea will target known outbreaks in a first-of-its-kind "ring vaccination trial."
"You are introducing the vaccine into a system that is already strained."
When a person becomes infected by the virus, health care workers in Guinea will immunize the community around patient. Thus, a ring of resistance is formed around a carrier. (Using this design, smallpox was eradicated from the globe.) The researchers will then monitor the community to see if anyone else gets sick. But one ring alone cannot prove the vaccine's effectiveness. There will be about 90 rings in Guinea. In some of the rings, the community will receive the vaccination right away. In other rings, there will be a delay between infection and inoculation. The test: Do the communities who get immunized immediately fare better than those in the delayed ring? If there's a strong level of protection in first rings, and that level of protection wanes in the later rings, that's evidence the vaccine works.
Even with the concurrent studies, Harris says the timeline for a final vaccine decision is unclear. Initially, WHO thought the trials could be done in a few months. Now "that information may not be available by the middle of the year," she says. In the worst case for the vaccine (and best case for Africa right now), if there are no more Ebola cases, WHO will still obtain valuable information on vaccine safety and side effects. But it won't know for sure if the vaccine works. A new report in the New England Journal of Medicine lends some cautious hope. The study finds the GSK vaccine is safe, with few side effects, and that it provokes an immune response (antibody formation). But the response wasn't as strong as hoped. It's "hard to be really confident the levels would be protective," Adrian Hill, the Oxford University professor who ran the study, said in a press release. "Larger trials in West Africa will be able to tell us more."
If a vaccine passes clinical muster—there are still hurdles to clear. Right now, because it contains a live virus, Ballou's Ebola vaccine needs to be stored at minus-80 degrees Celsius (minus-112 Fahrenheit). That's really cold, about the temperature of dry ice. And it is not practical for a mass vaccination campaign in Africa. "It has to be something that can be stored in an ordinary refrigerator," Harris says. Ballou says they're already at work testing whether the vaccine is stable at higher temperatures. But it will take months.
"You cannot test vaccine efficacy in an outbreak that lasts a few months and affects a few hundred people."
At it's recent high-level meeting on Ebola, WHO announced it has secured funding for 12 million doses of a vaccine. Three leading pharmaceutical manufacturers GSK, Merck, and Johnson & Johnson "expressed confidence that a million doses or more of each vaccine could be produced before the end of the year," according to the meeting's notes. "Both Merck and J&J have capacity to produce up to 5 million doses this year if called upon, with GSK able to ramp up production to around 1 million doses per month by the end of 2015."
The big-picture pieces—funding, supply, and vaccine formula—are falling into place for a mass-vaccination campaign in Africa. Even so, well intentioned plans can go wrong, and for small reasons. Bruce Lee (the scientist, not the martial-arts legend), a director of the International Vaccine Research Center at Johns Hopkins, lends an example. A fast-tracked Rotavirus (it causes life-threatening diarrhea) vaccine was deployed to Latin and South America in 2006. Right out of the gate, the effort stumbled because the drug's packaging was too large for cold-storage containers. Even in the U.S., mass vaccinations are difficult. Remember H1N1 (swine flu) vaccine shortages during the pandemic in 2009?
"You are introducing the vaccine into a system that is already strained," Lee says about the prospect of a mass-vaccination campaign in Africa. "You can actually do harm if you are not doing it appropriately, because you can clog up the entire system."
If there's a lesson from Ebola, it's that we can't treat health crises in Africa on a case-by-case basis. "Ebola outbreaks in many ways are a symptom of deeper health system problems," Lee says. One vaccine won't stop the next Ebola, the next HIV from surfacing. But disease surveillance and good primary-level health care might. "We are a global community now," Lee says. "When something happens in any country, there's a big chance that every other country is going to be affected."
It's easy to ask the question: Why wasn't the world prepared for the Ebola outbreak? After all, some of these vaccines have been on the shelves for decades, never seeing a human trial. One answer is, the economics haven't made sense, that past outbreaks have been too small to mount a multimillion-dollar effort. Ballou says that's an oversimplification. "You cannot test vaccine efficacy in an outbreak that lasts a few months and affects a few hundred people," he says. "There's just no way to do it."
Now that there's the opportunity to test the vaccine, it's all systems go. And although the pace of the epidemic is waning, Ballou says it's important to remember how contagious the disease can be, how one case can spawn dozens. The epidemic isn't over until there are zero cases. "We're not close to that right now," he says.
CORRECTION: This article originally misidentified the organization overseeing the vaccine trials in Liberia. The Liberia-U.S. Joint Partnership for Clinical Research will oversee the efforts. 
+ A doctor holds a syringe containing the Ebola vaccine called ChAd3 during trials on Nov. 4, 2014, at the CHUV hospital in Lausanne. (Richard Juilliart/AFP/Getty Images)