The 'War on Women' Isn't Over Yet
Critics say Democrats' focus on "women's issues" failed in 2014, but the party has no plans to abandon the line of attack.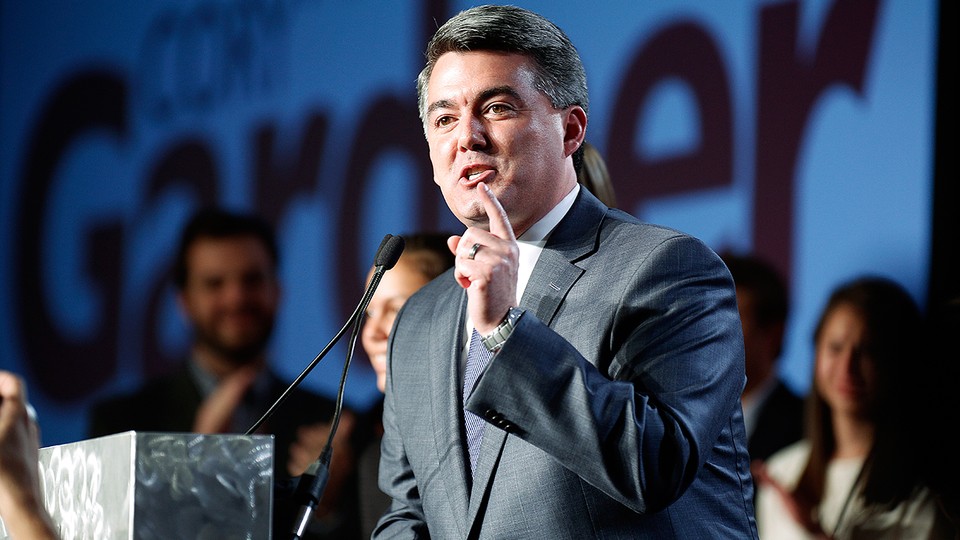 Democrats are far from finished with their "war on women" campaign strategy, midterm losses be damned.
Critics said Democrats' focus on topics such as abortion rights and access to contraception proved to be a losing strategy in 2014. But leading Senate Democratic strategists aren't backing away from the message just yet. They don't necessarily defend the way the strategy was executed, but they do think a focus on female voters and the subjects they care about will resonate in next year's races—especially as Republicans on Capitol Hill debate new abortion legislation.
"When you look at what the Republican House and Senate have done and seem to be doing right now legislatively, they work against the interests of many women," Tom Lopach, the new executive director of the Democratic Senatorial Campaign Committee, told National Journal. "Repeatedly, they have opposed equal-pay legislation, they have tried to block access to women's health care through ballot initiatives or in legislatures or in the U.S. House, time and again. They've supported personhood bills, they opposed working-family issues like raising the minimum wage.
"So when you have a party who aggressively legislates against economic and health interests of women, those issues are fair game to discuss with voters," he added.
Nobody knows how Democratic candidates for Senate will run their campaigns in elections more than 20 months away, and the DSCC's top staffer hardly declared it the committee's top issue in 2016. But Lopach's remarks do reflect a mind-set among Democratic strategists that, despite last year's blowback, the line of attack remains potent.
"I don't think people should be surprised if 2016 campaigns talk about women's issues," he said. "Or if they talk about access to voting for minorities, or talk about economic interests "¦ at a time when millionaires and corporations are getting their due and regular folks are finding it harder to pay for college, save for retirement, and pay for gas to run kids to soccer."
Democrats once considered Sen. Mark Udall's Colorado race against Republican Cory Gardner an ideal place to emphasize abortion rights and contraception, hoping it would carry Colorado's cosmopolitan, socially liberal electorate. It had worked there in 2010, when Democratic Sen. Michael Bennet won reelection after successfully characterizing his opponent (now-Rep. Ken Buck) as too extreme.
But by the late summer, with polls showing a close race, Democrats began to worry that Udall—who was saddled with the moniker "Senator Uterus"—had too narrowly focused on abortion rights, at the expense of a more well-rounded message. The criticism crystalized by October when The Denver Post, in an endorsement for Gardner, castigated Udall for running an "obnoxious single-issue campaign." Udall lost the race, the first Democratic gubernatorial or Senate candidate to do so in Colorado since 2002.
Despite the criticism, Democrats insisted that although the campaign made mistakes, focusing heavily on something like access to contraception was the right thing to do. Their polling backed it up: According to sources close to the Udall campaign, every time the senator wavered from that message, Gardner's lead would increase. (Lopach, for his part, said that because he just joined the DSCC he wasn't equipped to assess whether the Udall campaign had focused too heavily on abortion rights.)
To some of them, the message was right—it just wasn't enough to overcome an unpopular president and strong Republican candidate like Gardner.
"These issues were salient for voters and hurt Gardner, but they weren't enough to remake a historically difficult electoral atmosphere," said Matt Canter, a deputy executive director at the DSCC in 2014.
The saliency of women's issues in 2016 will matter not just to Senate races but to the presidential election, where the likely presence of the first woman ever nominated by a major party could make them especially relevant. If Democrats do decide to turn to them again, they will also have to prove more adept at pushing back against a Republican Party whose candidates proved more nimble at responding last year.
In Gardner's case, the Republican proposed making contraception available without a doctor's prescription, a plan he said proved he didn't want to restrict access at all. The idea was copied by a handful of other Republican Senate candidates.