The Sophisticated Bigotry of Bobby Jindal
The Louisiana governor wants Christians to stand apart from secular society, but condemns Muslims who do the same.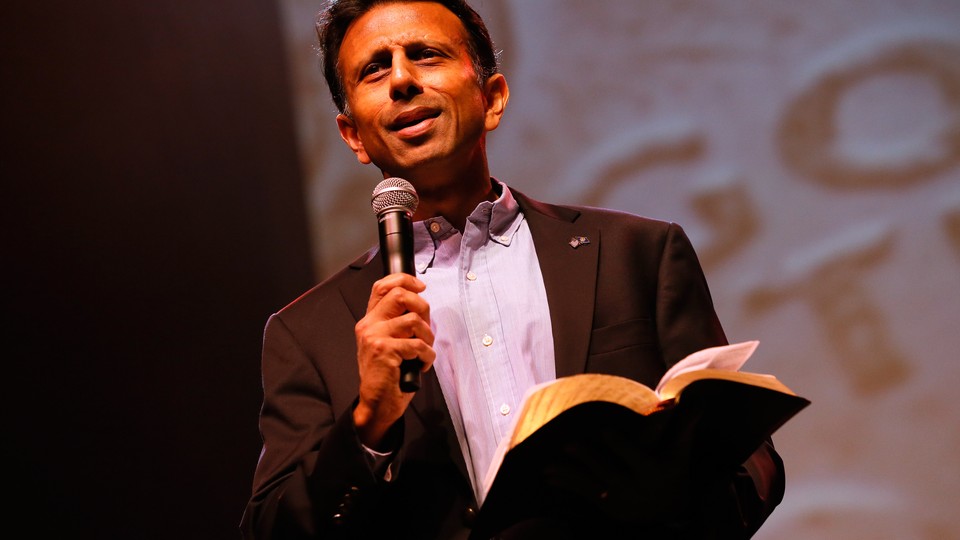 If Bobby Jindal runs for president, he will likely campaign on two major themes. The first, which he outlined last February at the Reagan Library and last May at Liberty University, is that Christians are at war with a liberal elite that is trampling religious liberty and secularizing American culture. The second, which he laid out this month at London's Henry Jackson Society, is that "non-assimilationist Muslims" are endangering America and Europe.
Unfortunately for Jindal, these two arguments contradict each other.
In London, Jindal said "non-assimilationist Muslims" threaten the West not merely because they support acts of violence, and not merely because they adhere to Islamic rather than national law. Most fundamentally, they pose a threat because they refuse to embrace the cultures of the countries to which they immigrate. Denouncing the left's claim that "it is unenlightened, discriminatory, and even racist to expect immigrants to endorse and assimilate into the culture in their new country," Jindal insisted that "it is completely reasonable for nations to discriminate between allowing people into their country who want to embrace their culture, or allowing people into their country who want to destroy their culture, or establish a separate culture within."
In his London speech, Jindal made little effort to define American or European culture except to associate it with "freedom." So it's hard to know exactly which aspects of it he believes Muslims refuse to embrace. But in his speeches last year on religion, Jindal discussed American culture at greater length. And his verdict was surprisingly harsh. "American culture," he told students at Liberty University, "has in many ways become a secular culture." Many churches, he declared, now espouse "views on sin [that] are in direct conflict with the culture." In case students hadn't gotten the message, Jindal repeated himself: "Our culture has taken a secular turn."
Then he asked a rhetorical question: "What do we do about it?" His answer: resist. People of faith, he argued, must recognize that they are fighting a "silent war" against the secular, liberal elite. And they must keep waging that war no matter how much of a cultural minority they become. "Our religious liberty," he insisted, "must in no way ever be linked to the ever-changing opinions of the public.
So let's imagine a scenario. A devout Christian emigrates from Nigeria to a progressive American college town, where she takes up work as a pharmacist. She quickly finds herself at odds with the dominant culture around her. Co-workers mock her modest dress and her insistence on interrupting work to pray. When she calls homosexuality a sin, they denounce her as a bigot. Ultimately, her employer fires her for refusing to dispense contraception.
Based on his speeches at Liberty University and the Reagan Library, Jindal's advice to this woman would be clear: Wage "silent war" against the culture that oppresses you, even if you're a minority of one. If necessary, "establish a separate culture within" the dominant one so you can raise children who fear and obey God.
Now imagine that our devout Nigerian is a Muslim. Suddenly her resistance to the dominant culture makes her not a hero but a menace. Jindal supporters might resist the analogy. Christians, they might argue, don't kill cartoonists or establish their own separate legal systems. But Jindal's point in London was that the problems with Muslim immigrants go beyond issues of violence and law. The core danger, he insisted, is their refusal to assimilate into the culture of the countries to which they immigrate. And since Jindal has already declared that American (let alone European) culture is secular, any immigrant who refuses to assimilate into it is, by his definition, a threat. Our Nigerian pharmacist should never been given a visa.
Why point out the contradiction between Jindal's heroic portrayal of Christian non-assimilators and his demonization of Muslim ones? Because it exposes his lofty talk about culture and identity to be an elaborate ruse. The only principle he's really defending is anti-Muslim bigotry.
At Liberty University, Jindal name-checked a broad array of believers, with one conspicuous absence: "For me, I am a Catholic Christian. My parents are Hindus. I am blessed to know Baptists, Jews, Episcopalians, Presbyterians, and so many more in the rich tapestry of American faiths." When he rehearsed the same litany at the Reagan Library, he left Muslims off the list again. Jindal has refused to retract his claim that certain European neighborhoods are "no-go" zones where non-Muslims are not allowed, even after Fox News apologized for propagating the same lie. And in his London speech, he asked "how many Muslims in this world agree with these radicals" who "do not believe in freedom or common decency?" Although "freedom" and "common decency" are vague terms, the vast majority of Muslims clearly oppose ISIS and Al Qaeda. But instead of citing such evidence, Jindal answered his question by declaring, "I have no idea." Which is to say, he doesn't want to have any idea because looking at the actual evidence might make it harder for him to smear Muslims as a whole.
In 2012, Herman Cain distinguished himself as the leading Islamophobe in the Republican presidential field. Jindal is now well-positioned to fill that role. The only difference is that Cain spoke like a pizza executive while Jindal speaks like a Rhodes Scholar. But strip away the fake sophistication and it's bigotry just the same.