The Partnership the GOP Can't Afford to Mess Up
In the majority, the Boehner-McConnell relationship will be tested as never before.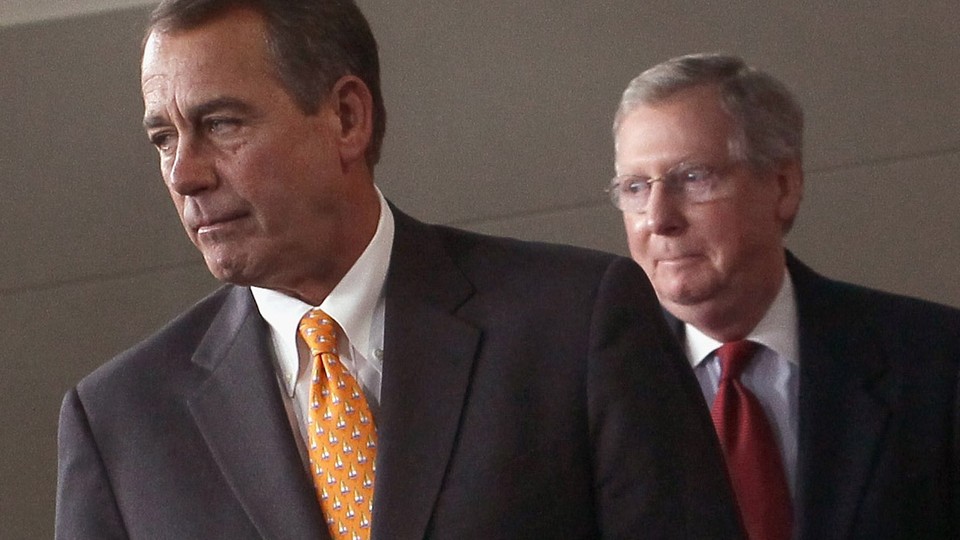 Speaker John Boehner and Senate Majority Leader Mitch McConnell have worked together before. But they're about to find out that governing together is much harder.
For the first time in the years-long professional partnership between the two GOP leaders, Republicans control both ends of the Capitol. Whether the party can keep those majorities depends in part on Boehner and McConnell's ability—beginning with this week's joint Republican retreat in Hershey, Pa.—to wrangle their very different blocs of members into agreement on everything from energy and taxes to attacking President Obama's health care plan.
If they can't, Obama and his fellow Democrats can seize control of the agenda.
The two have worked in close concert on major legislative issues, but on the biggest debates of the day, Boehner ultimately had to negotiate with Harry Reid and the White House. In many ways, the speaker has been setting McConnell's place at that table for nearly a decade.
"Before, it was sort of a free pass for Boehner because he could pass anything he wanted, because it wasn't going to get through the Senate," a former McConnell aide said. "[Now, there's] going to be much more of a conversation about what the traffic will bear."
Boehner, the backslapping, cigarette-puffing Ohioan, and McConnell, the understated, bookish Kentuckian, could not be more different in personality. But as leaders of the first Republican congressional majority since 2006, the two men are usually in lockstep—perhaps even to a boring degree, said some who know them best.
The biggest key to the Boehner-McConnell relationship, numerous staffers and members said, is a desire to avoid surprises. They hold weekly meetings, alternating whose office they meet in, and aides say they talk much more frequently than that on the phone. When on the Senate side, the chain-smoking Boehner pays McConnell the biggest deferential compliment in his arsenal.
"When the speaker goes to visit the leader, the speaker does not smoke," said Barry Jackson, Boehner's former chief of staff.
As Congress is increasingly defined by outsized political personalities—newer members who care little about solving problems and a lot about their own ambition—Boehner and McConnell are considered mostly devoid of public ego, exactly where they want to be professionally, and with no interest in the feuds and backbiting that have marred past leaders' relationships.
"Everyone talks about the president and 'No Drama Obama.' But when the two of them are dealing with each other, it's straight business," Jackson said. "They're professional. They'll joke with each other and share political gossip "¦ but their conversations tend to be really well focused on what needs to get done."
Whether that collegiality can hold up in the face of pressures each leader faces in his chamber remains to be seen. Boehner must appease House conservatives who as recently as last week tried to strip him of his title. McConnell must govern without a filibuster-proof majority, meaning that Democratic votes will be more important.
An initial test of that dynamic will come when the House sends the Senate a bill funding the Homeland Security Department loaded with several provisions targeting White House immigration policy. McConnell has yet to comment on the legislation publicly (aides say he's still discussing the issue with his conference). But the Senate is not expected to pass the measure as is, and the way the two leaders iron out the chambers' differences to keep DHS funded will be instructive of their relationship moving ahead.
"Actions they have to take complicate the other's life, and they know that," Jackson said. "The shared kind of culture and mentality of the institution makes it so that when those issues arise, it makes them not be irritants."
So, to avoid any confusion, the two remain in close contact. Don Stewart, McConnell's deputy chief of staff, said that Boehner ran the DHS plan by McConnell before announcing it, but emphasized that the two "don't surprise each other" and "they don't tell each other how to run their house."
Stewart jokes that he's worn a groove in that path between McConnell's and Boehner's offices, a 30-foot walkway that extends behind the Strom Thurmond Room near the Old Senate Chamber to Boehner's alcove on the other side of the Capitol. The two staffs, he said, are "very close," a sentiment that was echoed by current and former staffers on both sides.
In their meetings, Boehner and McConnell not only discuss policy and legislative action in each chamber, they are also keen on keeping each other apprised of the mood and tenor of their members, factors that can have as big an effect on Congress as does actual legislation.
"They have a good relationship but "¦ it's a professional relationship," the former McConnell aide said. The two don't sit around over drinks or cigars, palling around every week. When they're together, they're focused. Remember, the aide advised, the two have been working on this relationship for nearly a decade.
"You know, they're very different people personality-wise. Mitch doesn't golf, Mitch doesn't tan. They both like red wine, but I would say that he doesn't favor it like John Boehner does," the former aide said.
That is not to say there has never been a strain on the relationship. One former House Republican leadership aide said they respect each other's turf to such a degree that the relationship breaks down only when one or the other cannot deliver on his promises. That happened during the first fight over raising the debt ceiling in 2011, when McConnell was counting on Boehner to deliver House votes for a two-month extension. Boehner's efforts fell flat when his conference turned its back on him.
"That was a rough period for them," the aide said. "But it won't be any drama you'll ever see.
"The one thing for sure is that while they may have some differences, they're going to deal with them themselves, and with their top staffers. Mitch, in particular, almost demands that: 'We're not going to work against each other publicly.' That's one of the things that really grinds his gears, and John respects that."
Although they're hardly buddy-buddy, Boehner and McConnell share a deep trust and closeness that extends down to the staff level. Mike Sommers, Boehner's chief of staff, speaks with top McConnell aide Sharon Soderstrom as much as Boehner does to McConnell. In fact, other House leadership aides have in the past been surprised and dismayed when Soderstrom knows more than they do.
Although Boehner's boyish, country-club Republican exterior could not clash more with McConnell's calculated, procedure-driven character, the two share an abiding respect for the institution of Congress. McConnell is an admirer of Henry Clay, once a House speaker, and Boehner and McConnell often talk in the same terms about returning Congress to regular order.
Sen. Lamar Alexander characterized Boehner as more of a back-slapper, while calling McConnell "a poker player." But the two are both "institutionalists," he said.
"I've watched the Senate and the House for about 40 years, and they get along about as well as any two Republican leaders have in that period of time.... They don't surprise each other, they respect each other, and they both are interested in getting results," Alexander said. "So I think we're very fortunate that they have that chemistry."
Both are students of "the old school," as former Senate Minority Whip Jon Kyl put it. They have a similar vision of the way Congress should be—and once was—run that will be key as McConnell, and, to a lesser extent, Boehner, work to change the body.
Meetings between the two leaders during Kyl's time in the Senate were brief and serious, and it appears that little has changed since he returned to Arizona. Kyl argued that although Boehner is "one of the boys, in a sense," the speaker "is pretty much all business" in his work. "And McConnell is pretty much all business at all times," Kyl said, "unless he's talking about Louisville basketball."
Correction: An earlier version of this article misstated the title of Don Stewart, McConnell's deputy chief of staff.