Where the House Was LostThe new Congress convenes as a House divided, with Democrats and Republicans representing districts marked by towering contrasts along lines of race, education, and age, a Next America analysis shows.
Using census data, the analysis found that Republicans have consolidated a commanding advantage in districts where whites exceed their share of the national population—especially in those places where fewer whites than the national average hold at least a four-year college degree.
House Democrats, meanwhile, remain competitive in districts with larger than average numbers of college-educated whites and still control most districts where minorities exceed their share of the national population.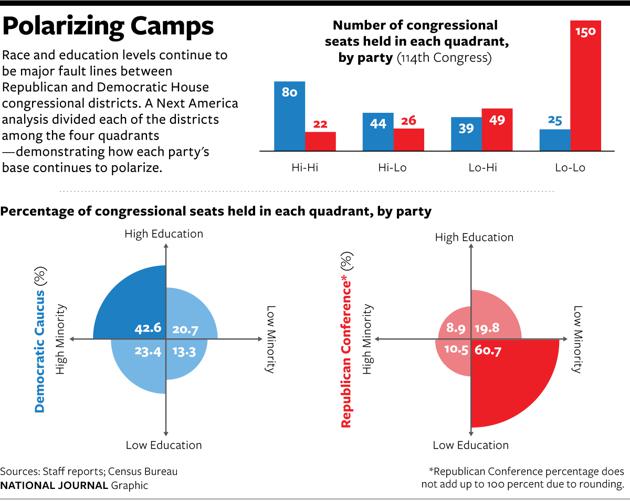 The cumulative effect of these patterns is to produce a map of congressional strength that largely tracks each party's advantages and weaknesses at the presidential level. Republicans now control the vast majority of House districts filled with the same white voters—particularly blue-collar and older whites—that underpin their presidential-level coalition. Democrats, in turn, depend on districts that revolve around the same diverse, younger, and better-educated voters that drive their modern presidential coalition. "I don't think there is any question that our politics are becoming more nationalized, at least for federal offices," says longtime Republican pollster Whit Ayres.