The GOP's Control of Congress Is Only Getting Stronger
Changing demographics may give Democrats an edge in presidential contests, but the floor is falling out from under the party in many congressional districts.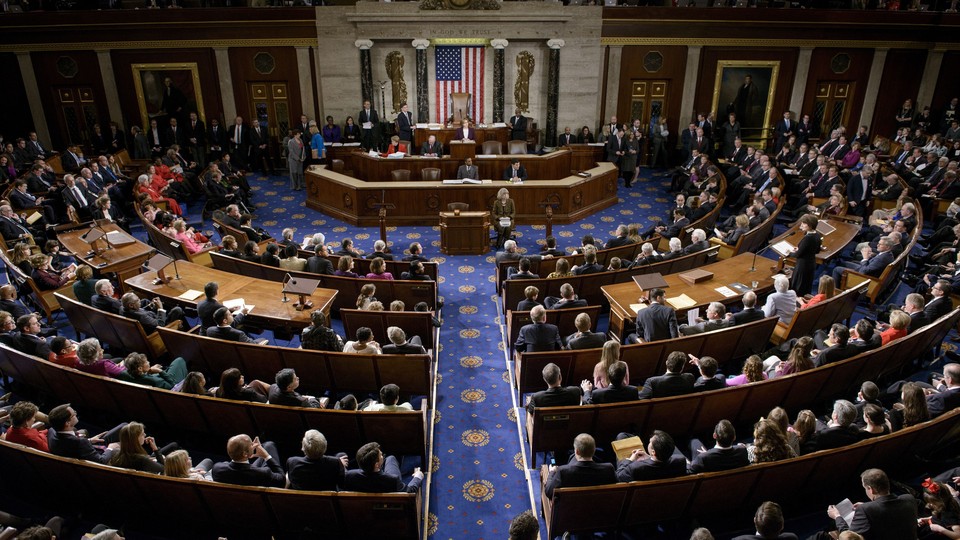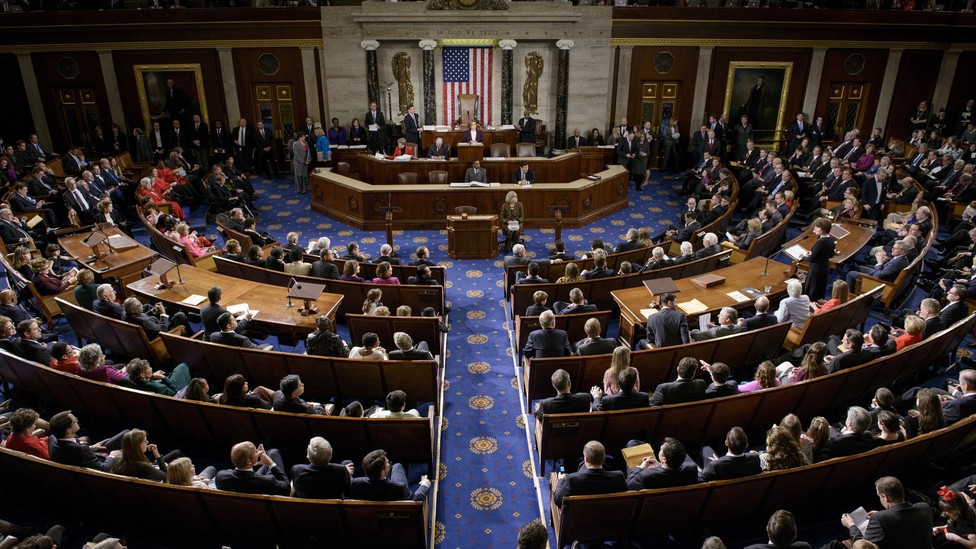 Where the House Was LostThe new Congress convenes as a House divided, with Democrats and Republicans representing districts marked by towering contrasts along lines of race, education, and age, a Next America analysis shows.
Using census data, the analysis found that Republicans have consolidated a commanding advantage in districts where whites exceed their share of the national population—especially in those places where fewer whites than the national average hold at least a four-year college degree.
House Democrats, meanwhile, remain competitive in districts with larger than average numbers of college-educated whites and still control most districts where minorities exceed their share of the national population.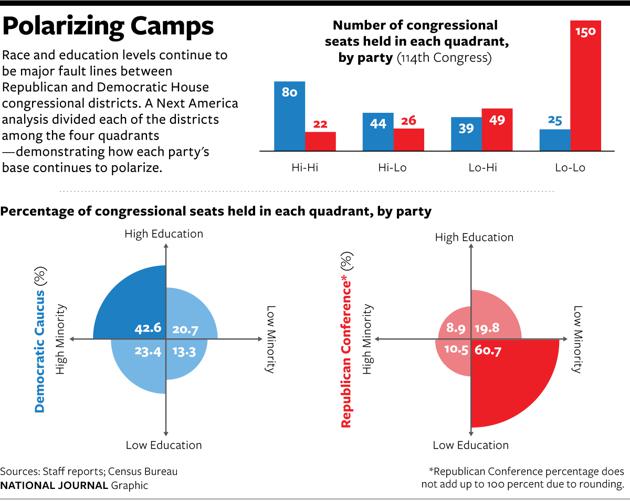 The cumulative effect of these patterns is to produce a map of congressional strength that largely tracks each party's advantages and weaknesses at the presidential level. Republicans now control the vast majority of House districts filled with the same white voters—particularly blue-collar and older whites—that underpin their presidential-level coalition. Democrats, in turn, depend on districts that revolve around the same diverse, younger, and better-educated voters that drive their modern presidential coalition. "I don't think there is any question that our politics are becoming more nationalized, at least for federal offices," says longtime Republican pollster Whit Ayres.
The challenge for House Democrats is that their while their voter coalition has proved large enough to carry the popular vote in five of the past six presidential elections, it remains intensely concentrated, mostly in urban areas. That concentration provides a systematic advantage to Republicans in the struggle for the House—even before considering the GOP's edge in control of redistricting after the 2010 census.
The new analysis shows that whites exceed their share of the national population in 263 House districts—fully three-fifths of the total number of seats. And Republicans now hold a crushing 199 of those 263 white-leaning seats, putting them on the brink of a House majority before they even begin competing for more diverse seats. The Republican lead is nearly as great in the 245 districts where fewer than average whites hold a college degree.
"Republicans are going to have a structural advantage because their votes are distributed more efficiently across more districts than Democratic voters are, even without gerrymandering," says political scientist Gary C. Jacobson, an expert on congressional politics at the University of California (San Diego). "For a long time, Democrats have been overrepresented in big cities, where there are minorities and liberals and college-educated people and gays, and underrepresented everywhere else. That's not going to change."
These trends have profound implications not only for the parties' electoral prospects, but also for how they interact in office. The numbers underscore the extent to which the two parties now represent two Americas: While 81 percent of the House Republicans in the new Congress hold districts that are more white than the national average, 66 percent of House Democrats represent districts in which minorities exceed their national presence. And while 63 percent of House Democrats hold districts in which the share of college-educated whites exceeds the national average, 71 percent of House Republicans hold districts with a fewer than average proportion of such people. "It means the gulf between the political perspective of the Democratic and Republican caucus in the House is widening with every election," Ayres says. "The common ground between those two caucuses is becoming less and less, and the challenge of forging bipartisan coalitions for any of our problems is becoming greater and greater."
To understand the impact of demography on the House, the Next America analysis examined data from the Census Bureau's 2013 American Community Survey. The analysis segmented House districts based on two factors: whether the share of their nonwhite population exceeded or trailed the national average of 37.6 percent, and whether the share of their white population with at least a four-year college degree exceeded or trailed the national average of 33.08 percent. The numbers reflect the results for each district's entire population. The minority share typically will be lower among eligible voters, and lower still among registered and actual voters. The analysis focused on the education level among whites, not the entire population, because education is a much more significant dividing line in the political behavior of whites than of minorities.
Sorting congressional districts by these two variables of race and education produces what we have previously called the four quadrants of Congress: districts with high levels of racial diversity, and high levels of white education (what we call "hi-hi" districts); districts with high levels of racial diversity and low levels of white education (hi-lo districts); districts with low levels of diversity and high levels of white education (lo-hi districts); and districts with low levels of diversity and low levels of white education (lo-lo districts).
In addition, the Next America analysis studied the patterns of age, income, and presidential voting across House districts. The analysis offers a new lens to understand how Republicans have established their biggest advantage in the House since before the Great Depression; why the growth and dispersal of the minority population hasn't benefited Democrats more politically; and how the nature of the terrain that each party represents in the House confounds conventional assumptions about their electoral coalition. Next America will report on the results of this study in a series of stories over the next week.
Each of the four quadrants of Congress displays a distinct political personality. At both the presidential and congressional level, exit polls show that Democrats now run much more strongly among minorities than whites; and among whites, Democrats perform better with those who hold at least a four-year college degree than those who do not. For instance, the 2014 exit poll conducted by Edison Research found that in House races nationwide, Democrats carried 89 percent of African-Americans and 62 percent of Latinos, compared with just 38 percent of whites; the party's candidates also ran 7 percentage points better among college-educated whites, many of whom are drawn to the party on social issues, than with more culturally conservative noncollege whites.
As a result, the "hi-hi" districts that bring together larger than average numbers of both minorities and college-educated whites represent the party's foundation in the House. Despite their losses elsewhere, Democrats will still control 80 of the 102 high diversity-high education districts in the 114th Congress that convened this week. These include the prototypically diverse urban and inner-suburban districts represented by Democrats such as Gerry Connolly and Don Beyer in Northern Virginia; Diana DeGette from Denver; Tammy Duckworth and Luis Gutierrez around Chicago; Charles Rangel and Eliot Engel in New York; and a long list of California Democrats including Zoe Lofgren, Anna Eshoo, Judy Chu, and Nancy Pelosi. This terrain elects many of the party's minority members and is solidly Democratic: in 2012, President Obama carried 85 of these districts and a combined 65 percent of their votes.
In the new Congress, Democrats will also control 44 of the 70 districts with high levels of diversity but low levels of white education. These include some solidly Democratic districts, such as the minority-heavy seats held by Bobby Rush in Chicago, Jose Serrano in New York City, and John Conyers in Detroit. But they also include some more closely contested terrain, such as the seats held by Democrats Ann Kirkpatrick in Arizona, Raul Ruiz in California, and the suburban Las Vegas district that Steven Horsford lost to Republican Cresent Hardy last November. Obama in 2012 won 47 of these districts and a combined 58 percent of their votes.
The Democratic share of the combined seats in these two quadrants has changed little since the 111th Congress in 2009-10, the last time the party held the House majority. But in seats where whites exceed their national share of the population, the floor has fallen out for House Democrats.
In the new Congress, Republicans will hold 49 of the 88 districts with low levels of diversity and high levels of white education. That's a significant improvement for the GOP since 2009 in these districts, but this heavily suburban terrain remains the quadrant most closely divided between the parties. It's also the most competitive quadrant at the presidential level: Against Mitt Romney, Obama carried a slim 51 percent majority of its total votes, but only 43 of the 88 districts.
This quadrant includes many Democrats in socially liberal white-collar suburban districts, such as Jim Himes in Connecticut, Niki Tsongas in Massachusetts, and Jared Polis in Colorado. The Republicans in this quadrant include conservatives such as New Jersey's Scott Garrett, Texas's Lamar Smith, and newly elected Virginia Reps. Dave Brat and Barbara Comstock, but also a disproportionate portion of the party's moderates such as New Jersey's Leonard Lance and Rodney Frelinghuysen, and Patrick Meehan from Pennsylvania.
The core of the GOP majority is the party's crushing advantage in the final quadrant: "the lo-lo" seats where both the minority population and the share of college-educated whites trail the national average. In the new Congress, Republicans will hold 150 of the seats in this quadrant, compared with just 25 for Democrats, an advantage of fully 6-to-1. These include a broad swath of districts extending from suburbia into rural areas across the South (such as those represented by Renee Ellmers and Virginia Foxx in North Carolina, Lynn Westmoreland and Doug Collins in Georgia, and Mick Mulvaney and Tom Rice in South Carolina); much of the Republican strength in border states (such as the seats held by Harold Rogers and Ed Whitfield in Kentucky, Sam Graves and Blaine Luetkemeyer in Missouri, and Marsha Blackburn and Stephen Fincher in Tennessee); as well as places outside the urban core in Rust-Belt states such as Iowa (Steve King), Wisconsin (Paul Ryan), and Michigan (Fred Upton and Dan Benishek).
As we'll discuss further in this series' next piece, nothing has done more to power Republicans' ascendance in the House since 2010 than their success in routing Democrats across these working-class, culturally conservative, often exurban and rural districts—many of which once served as the strongholds for the moderate House Democratic "blue dogs." Republicans have now hunted those blue dogs nearly to extinction, and stamped this terrain as deeply, perhaps irreversibly, red.
In 2012, Obama won just 34 of the 175 districts in this quadrant and captured only a combined 42 percent of their votes. That was a sharp decline from the combined 49 percent of the vote Obama captured in the lo-lo districts against John McCain in 2008. That's partly because after the last redistricting, the districts now follow different boundaries than they did then. But the change is also related to the continued erosion of support among working-class and older white voters that once again proved an insurmountable obstacle for many Democratic House and Senate candidates in 2014.
"It will be very difficult for districts like the one I used to represent to be captured by the Democratic caucus message," says former Democratic Rep. John Tanner of Tennessee, who served as a leader among the blue dogs while serving in the House from 1989 through 2010. "In rural areas—not only in the South, but across the country—the people don't view the government the way [the generation] coming out of the Depression did. The idea of less government and less taxes is very appealing to them."
The effect of these trends is visible in the foreboding bottom line facing House Democrats. Powered primarily by their preponderant advantage in the districts low in both diversity and white education levels, Republicans have consolidated a crushing hold on 76 percent of the 263 districts where whites exceed their share of the national population, and 72 percent of the 245 districts(many of them overlapping) with a smaller than average share of white college graduates.
House Democrats still control a solid 72 percent of the 172 seats that are more diverse than the national average, and 63 percent of the 190 seats with a larger than average number of white college graduates. But, in each case, those groupings represent a distinct minority of all districts.
That trend toward concentration among their best groups suggests how difficult it will be for Democrats to recapture the House while relying solely on the younger, diverse, and socially liberal "coalition of the ascendant" that has powered their victories in the presidential popular vote since 1992. While Obama has twice proven that Democrats can capture the White House while losing a clear majority of whites, the patterns of support across the four quadrants signal that House Democrats can't expect to consistently hold a majority any time soon without improving on that performance. "My view for 10 years down the road is that Democrats are still a majority party at the presidential level and they may become increasingly so because of demographic shifts," says Jacobson. "But it will be a very long time before the Republican structural advantage won't make it difficult for Democrats to win the House."
Next: Where the House was lost.
---
Stephanie Stamm contributed to this article