A Better Way to Say 'Lame Duck'
The phrase, borrowed from the 19th century, is a terrible term. The Internet furnishes a replacement that, however obscene, is clearly superior.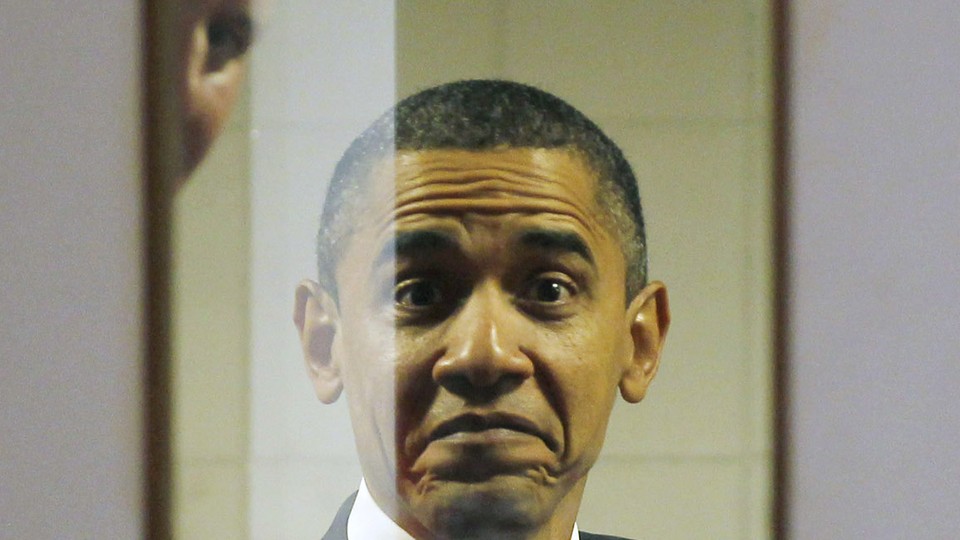 Every president must contend with the fundamental mortality of his political life. It's not just that presidencies have built-in expiration dates; it's that the ability to steer the course of the nation disappears long before the day his successor takes office. President Obama, for his part, is easing into the golden years of his administration with the help of the typical tonics: time with his family. A more relaxed fit in his dad jeans. Golf.
But "Lame duck," with apologies to our sixteenth president, is a terrible term. It is jargon-y. It is partisan. It is poorly descriptive. It is offensive to both humans and, we can reasonably assume, the entire waterfowl community.
This was, of course, posturing. It was partisanship. It wasn't, however, lame-duckery. The problems Obama will inevitably face executing his vision for the country have less to do with the time left in his presidency than they have to do with its politics—with the fact that he will need to execute it with the help of a Republican Congress. If it doesn't look like a lame duck or quack like a lame duck ... is it still a lame duck?
What a weird and honest and superior way to describe the twilight phase of a presidency: a way that captures the liberation, as well as the imminent expiration, of an administration's final years. The "Zero Fucks" frame is fitting, if you can get beyond the profanity, not just because it's more accurate than the Lincolnian waterfowl metaphor, but also because it's borrowed from the vernacular of the Internet.
It's fitting that the era the speech was ushering in—the end of the 44th president's administration—take its name from the 21st century, rather than the 19th. It's fitting as well that "lame duck," that negative term, should have a slightly more swaggery counterpart. Caring requires investment. And a "no fucks" phase is a fitting way to recognize that ceasing to care confers its own sort of freedom.