The Alternate Histories of Mario Cuomo
The three-term New York governor famously passed both on a bid for the presidency and a seat on the Supreme Court. What might have been?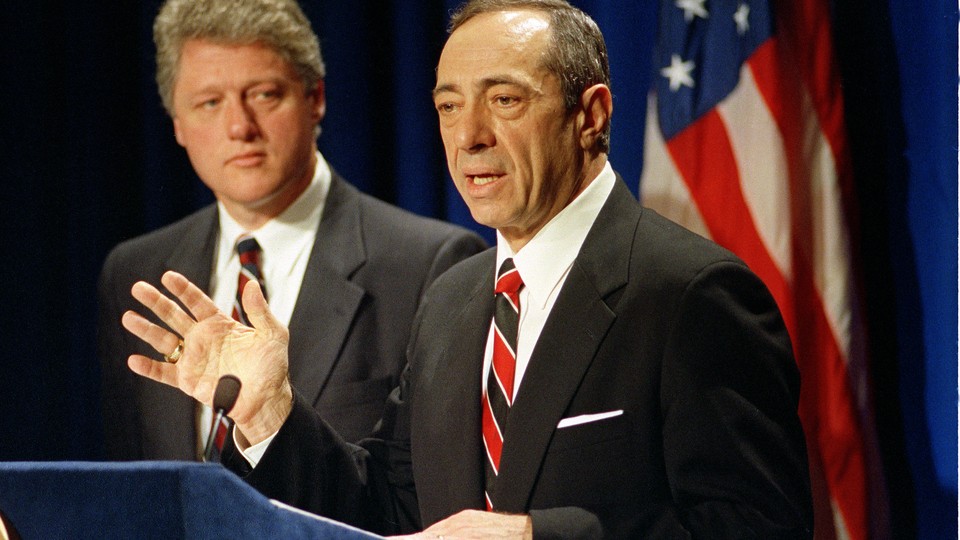 The tributes to Mario Cuomo remember him as a three-term governor of New York and the voice of late-20th-century Democratic liberalism, a politician whose talents in campaign poetry probably exceeded his governing prose. But as much as any political figure in the last generation, Cuomo's legacy is about what might have been.
He initially earned the nickname "Hamlet on the Hudson" for his agonizing indecision over whether to run for president, first in 1988 and then more dramatically in 1992. Cuomo came so close to entering the latter race that, on the day of the December 1991 filing deadline for the New Hampshire primary, he had two chartered planes (one for his press corps) waiting on the tarmac in Albany, according to a contemporaneous New York Times account. In case he was cutting it too close, he had also dispatched an aide to Concord with a copy of signed papers to file on his behalf. But when Cuomo emerged to reporters awaiting his decision at the state capitol, he told them he was not running. He cited the need to resolve a budget impasse with Republicans, but as Ken Auletta recalled on Thursday night for The New Yorker, the real reason may have had more to do with his hatred for travel and "his distaste for the grovelling, the fundraising, the selling, the motels" that are the stuff of presidential campaigns.
Would Cuomo have won? He certainly wasn't a shoo-in for the Democratic nomination, but he likely would have entered the race as the early frontrunner. As Steve Kornacki points out, the final national poll taken before Cuomo opted out showed him with support from 29 percent of Democratic voters and a clear lead over a field of seven. His absence opened up the race and hastened Bill Clinton's rise. Just as it's impossible to say if Cuomo would have defeated Clinton, who knows if Cuomo's old-school liberalism—as opposed to Clinton's more centrist New Democrat message—would have toppled President George H.W. Bush? But even if he hadn't won, Cuomo could have deprived one Clinton (and possibly two) of the presidency.
Incredibly, the decision not to seek the presidency in 1992 was just one of two history-changing choices Cuomo made in the early part of that decade. Just 15 months later, in March 1993, he had become then-President Clinton's top choice to replace the retiring Justice Byron White on the Supreme Court. As George Stephanopoulos wrote in his memoir, All Too Human, "Clinton was ready to appoint Cuomo, assuming (as we did) that the background check didn't reveal anything disqualifying."
Again, Cuomo agonized. He changed his mind at least twice and at one point, he dodged the president's call because, Stephanopoulos wrote in bolded italics, "he couldn't decide what to do—again." After saying no and then reversing himself briefly, Cuomo finally withdrew definitively, telling Clinton that a lifetime appointment to the court would force him to "surrender so many opportunities of service" for the rest of his career. Clinton ultimately chose Ruth Bader Ginsburg instead, and she sits on the court today, nearly 22 years later.
Would a Justice Cuomo have been demonstrably different than a Justice Ginsburg? The quick answer would seem to be no. Ginsburg has been a reliably liberal vote, and Cuomo's similar support for abortion rights and opposition to the death penalty were well known. That says little, however, about how Cuomo would have voted on countless other issues that have come before the Supreme Court in the last two decades, including terrorism, the limits of executive power, and federalism. (It's also possible that Cuomo and Ginsburg would have served together, since Clinton could have nominated Ginsburg instead of Stephen Breyer as his second appointment a year later.) The ripple effects of Cuomo's decision extend to the Obama administration. With his health having failed only in the last several months, it's reasonable to surmise Cuomo would have stayed on the bench into Barack Obama's presidency, giving him an opportunity to make a third nomination to the Supreme Court. While she has had her own recent health scares, Ginsburg has given no indication she plans to retire anytime soon, nor has Breyer.
Cuomo, meanwhile, would go on to lose his bid for a fourth gubernatorial term in New York in 1994 and recede from the spotlight. Yet he proved, through both his eloquence and his reticence, that you don't need to hold national office to make a national impact.