The 2016 Play: Attack Your Rivals at Home
In search of campaign cash, GOP hopefuls are crossing boundaries not only at will, but also on purpose.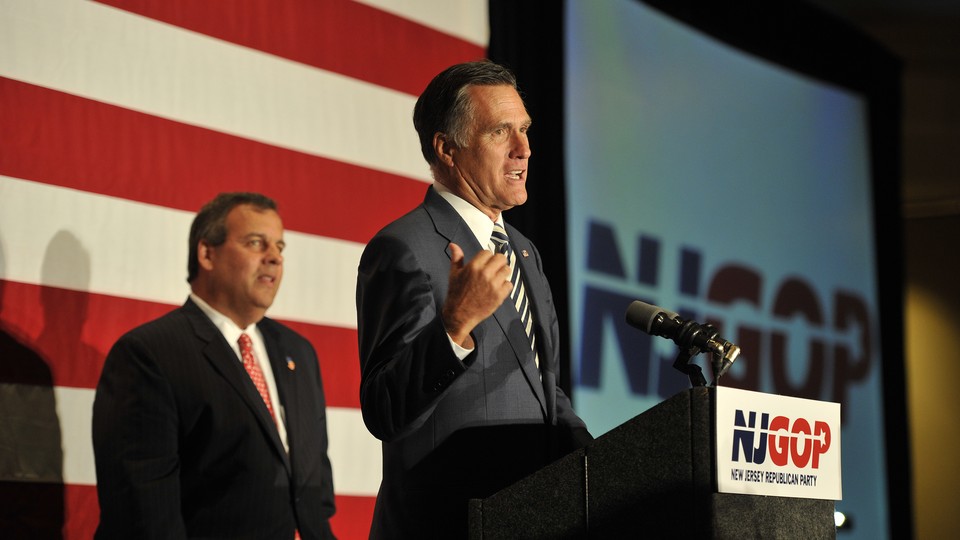 As aspiring Republican presidential candidates compete for donor support, the old rules no longer apply.
Gone is any vestige of respect for "home turf," a now-abandoned campaign ethos that at times made candidates think twice before seeking support from their rivals' home states or previous financial backers. Instead, 2016 is a free-for-all, where candidates not only ignore boundaries, they also actively seek out their rivals' supporters in a bid to crowd them out of the competition for cash.
In January alone, Jeb Bush waded into Chris Christie's territory, meeting with a group of influential New Jersey Republicans in Manhattan. And on the day Mitt Romney announced he was considering a third bid for the White House, Bush was in Boston soliciting funds from former Romney backers. Bush also enlisted the help of several former Romney fundraisers to organize events in California.
Romney, meanwhile, has had no qualms about gauging the interest of some of the top fundraisers in Florida, where Bush was once governor and which is home to Sen. Marco Rubio, a likely entrant into the 2016 fray.
Wisconsin Gov. Scott Walker, meanwhile, is slated to make a March stop in Harris County, Texas—a former home for both Bush and for Sen. Ted Cruz, another likely 2016 White House contender—for a Republican Party dinner.
Presidential primaries have never been genteel affairs, and 2016 isn't the first time that candidates have gone to their rivals' state in search of donor dollars. But in the past, there was at least some consideration of home turf.
In February 2011, Romney, then the front-runner for the Republican nomination, approached Christie about starting to raise money in New Jersey. Christie, who was being wooed by several Republicans thinking about a White House run and hadn't yet ruled one out himself, wasn't ready to let Romney on his turf just yet. "If you raise money in New Jersey in any kind of aggressive organized way, it's going to make it very unlikely that I'll be able to support you," Christie told Romney, according to Washington Post reporter Dan Balz's book Collision 2012.
This time around, such a move appears out of the question. So why has the race become this cutthroat this quickly?
First, 2016 is shaping up to be the most competitive primary in recent memory, with a double-digit roster of top-tier candidates with a real shot at the nomination. And so if a candidate thinks there's an edge to be gained by overrunning the old etiquette, he has every reason to do so.
"If you think you have a chance to cut into the financial base of one of your potential opponents, that's probably the best way of discouraging them from running," said Vin Weber, a former House member who cochaired Romney's 2012 campaign and attended a meeting with Bush in Washington last week.
And, second, there's no clear front-runner. Romney may have hesitated before storming New Jersey in 2012 because there was a decent chance that, down the line, he'd be hoping for the governor's endorsement after locking up the nomination. In this primary, the obstacles to winning the nomination are so high that no candidate can afford to hold anything back.
So far, with Bush and Romney sucking up much of the oxygen on the establishment side of the GOP field, Christie appears at risk of becoming the odd man out. Christie, who launched a new leadership PAC on Monday, attended a meeting last week with business officials in Virginia hosted by GOP donor Bobbie Kilberg, who worked in both Bush administrations and hasn't yet committed to a candidate. But Christie will have his work cut out for him if he hopes to compete with the likes of Bush and Romney for funding.
"It gives him more problems, particularly among the fundraisers "¦ but he's got some good fundraisers," former New Jersey Gov. Thomas Kean—a Christie mentor who backed Romney in 2012—said of Bush and Romney's recent moves. "He's not going to lack money to run. He may not have as much as he would like to have for early primary states, but he's got some now."
For all the push and pull, however, many highly sought donors are still watching the field before cutting any checks.
"The vast majority, particularly when you have the Bush family and possibly Mitt in there—these are people they know well, people they've supported in the past, so they're going to lay back a bit before they start committing," Kean said.
Still, some fundraisers with ties to multiple contenders are beginning to make up their minds. David Beightol, a lobbyist who helped raise money for Romney's 2012 bid and Walker's campaigns for governor, said that after attending the meeting in Washington with Bush last week, he is leaning toward supporting the former Florida governor should he run in 2016.
"[Jeb] and Mitt are so similar in so many ways. I think it's almost impossible to decide which one would actually be a better president, because they both bring so much to the table," Beightol said. "At the end of the day, I think you have to make a calculus of who's got the best chance of getting elected. Right now, I'd lean towards Jeb there."