Ted Cruz's Take on the State of the Union
The Texas senator weighed in on President Obama's address on multiple platforms Tuesday night.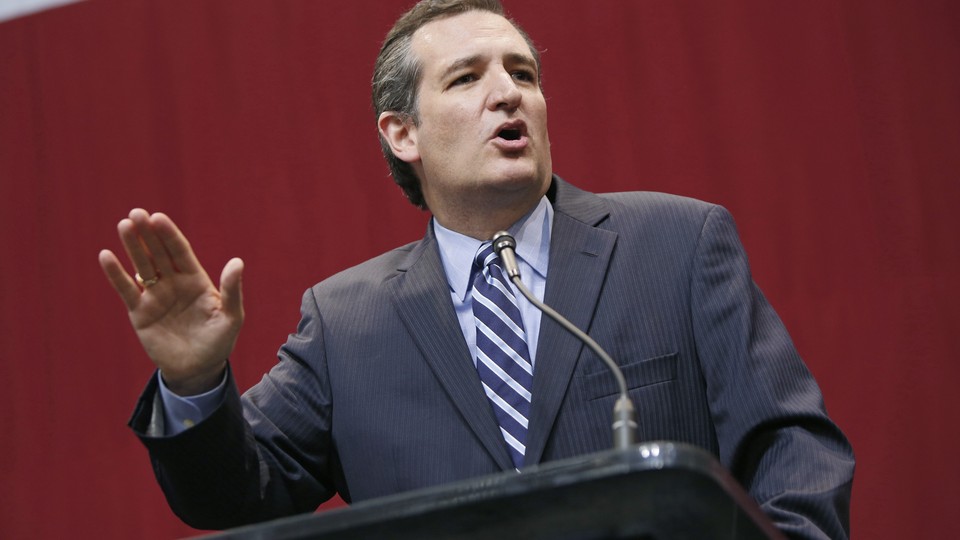 In responses on YouTube, Facebook, and Fox News Tuesday night, Ted Cruz weighed in on President Obama's bold State of the Union address with predictably fiery rhetoric.
But, wait—let him start over. His first casual video response, first posted on YouTube and filmed in a noisy area of the Capitol, cut out less than a minute in when the Texas senator closed his eyes and told his obliging aide, "Eh, let me start over." The video was taken down shortly after, and republished on Facebook without the outtake.
In the video, Cruz slammed Obama for appearing emboldened despite Republicans' midterm wins. Past presidents who'd suffered similar midterm election blows, Cruz said, would have told voters, "'I hear you, I hear your message, and we will change paths.'"
Obama's did not take this tack, instead delivering an off-the-cuff instant classic: "I have no more campaigns to run. I know, because I won both of them."
Cruz didn't seem to find this funny.
"Tonight the president told the American voters not only does he not hear their message, but he intends to do precisely the opposite," Cruz said in his video message. "He intends to double down on the failed policies of the last six years. He intends to have yet more and more government spending and taxes and debt and all of the policies that are hurting hardworking Americans."
He also hit Obama on what have become two of the senator's regular talking points: the president's "illegal and unconstitutional" executive action on immigration, and Obama's failure to say the words "radical Islamist terrorism."
"We cannot win a war on radical Islamic terrorism with a president unwilling to even say the words 'radical Islamic terrorism,'" Cruz said.
On Fox News, he repeated his ire, but with a twist. Using the language of the left-wing Occupy movement, he said the country is "divided" when it comes to the economy.
"It's true that the top 1 percent are doing great under Barack Obama today," Cruz said to Fox's Megyn Kelly. "The top 1 percent earn a higher share of the national income than any year since 1928. The sad reality is that with big government, under the Obama administration, the rich and powerful in the Obama administration have gotten fat and happy."
Again promising that the new Republican Congress would make good on its promises to repeal Obamacare and stop the president's executive action on immigration, Cruz faulted Obama for failing to work "in a bipartisan way," urging the nation to get over him.
"It's time to move beyond him," Cruz said in his video message, "and to focus instead on new and bold leadership to bring back jobs, to bring back economic growth, to bring back opportunity, to rekindle the miracle of America."
This story has been updated to clarify Cruz's reaction to Obama's statements