Ted Cruz Is Working to Give the Oil Industry What It Wants. So Why Are They Complaining?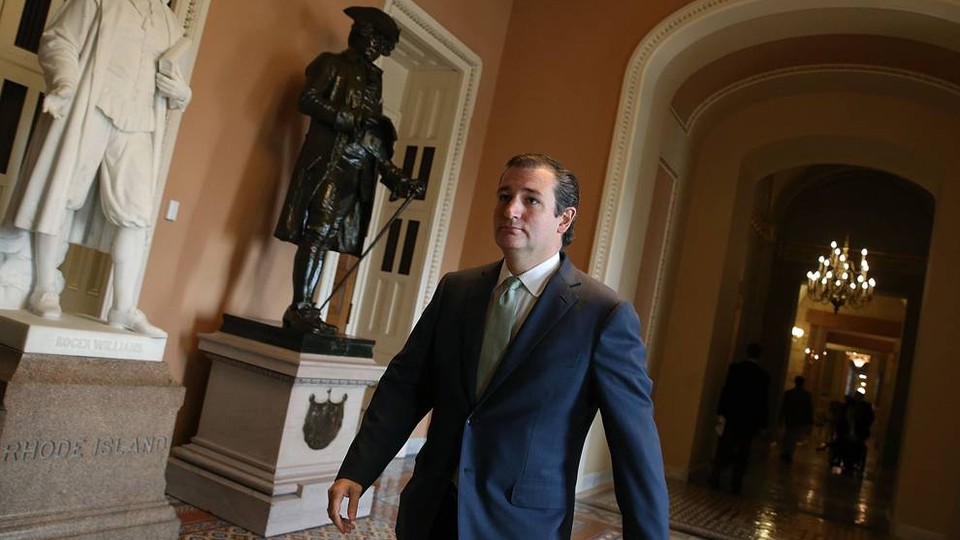 Normally, lobbyists are thrilled when the Senate readies a vote on a high-stakes policy they support.
Not this time.
The oil industry has been working overtime in the past year to get Congress to overturn the ban on crude-oil exports. And Republican Sen. Ted Cruz of Texas is pushing to add an amendment to the bill approving the Keystone XL oil pipeline that would roll back 1970s-era restrictions on sending U.S. oil overseas.
But in a case of "Be careful what you ask for," multiple industry lobbyists tell National Journal that this vote is not what they want at all, because it's happening too quickly. And industry envoys are privately pressing Cruz and his staff to either withdraw the amendment entirely or stop short of calling for a vote.
Cruz isn't often at odds with the oil industry. The likely Republican presidential contender is an ardent supporter of the American energy boom made possible by the combination of hydraulic fracturing and horizontal drilling. Cruz thinks that lifting the ban makes economic sense, and pushing for that now could provide him with a platform to talk up his support for domestic energy production while bolstering his record as a free-market conservative.
"He believes this is good policy and an important component to bringing back jobs and economic opportunity," Cruz spokeswoman Catherine Frazier said on Tuesday.
But ending the ban on crude exports is a relatively new policy proposal. It has sparked a rift within the oil industry, as some refiners oppose repealing the ban, and it has become a touchy subject for senators wary that rolling back the restrictions could cause gas prices to spike. From the point of view of export lobbyists, the fact that the Keystone XL bill is highly partisan and set to be vetoed by President Obama doesn't help.
To counteract those fears, export advocates have planned a wide-ranging outreach campaign aimed at convincing lawmakers that lifting the ban would benefit the U.S. economy without causing pain at the pump. But effective lobbying takes time. And few industry players expected that the debate over crude exports might make its way into the Senate spotlight so early in the year.
"It's way too early to have this debate," said a refinery industry executive pushing to lift the ban. "This is a complicated issue, and lawmakers and the American public don't fully understand it, and we need more time to explain why this is good policy."
The jury is still out on how a flood of oil onto world markets would impact gas prices.
Studies are starting to pile up suggesting that lifting the ban either would have minimal affect or could even cause gas prices to fall, but lawmakers remain uneasy.
On Tuesday, a string of Republican senators, including Cory Gardner of Colorado, Kelly Ayotte of New Hampshire, Shelley Moore Capito of West Virginia, Rob Portman of Ohio, and Susan Collins of Maine, all said they did not yet know how they would vote on the Cruz amendment.
Export lobbyists worry that all those undecideds will quickly turn to "no" votes if the amendment is brought to a vote. Supporters of overturning the ban say that senators might oppose the amendment since it would be a politically safe choice, and they worry that a wave of "no" votes could undermine support for lifting the ban.
"The fear is that once senators take a no vote they could become locked in, and it could really halt momentum," the refinery lobbyist said.
Publicly, the industry has also made clear it does not want to see oil exports on the table during the Keystone XL debate.
"We want this to be a clean bill and would hope that Senate leadership and Senator Cruz would look to have this debate and this discussion as we move forward into the year beyond the Keystone vote," said Erik Milito, the American Petroleum Institute's director of upstream and industry operations.
ConocoPhillips CEO Ryan Lance said on Wednesday that he believes the crude debate is not "quite ready yet" for prime time in a joint interview with the Houston Chronicle and the Wall Street Journal. "I don't think we've done enough advocating and educating on all the issues around crude oil exports," he said.
But whether that cry will fall on deaf ears remains to be seen.
"I think most people understand that you're not in a position to stop Senator Cruz from pursuing the issues he wants to pursue," said a lobbyist who consults with the oil industry and is familiar with the flurry of lobbying activity the amendment set off. "Cruz will certainly follow the force of his conviction."
"[Lifting the ban] is good, pro-growth policy, which is why he has taken the opportunity to file the measure as an amendment to the Keystone bill, just like many other senators have offered amendments with their own priorities. We look forward to seeing how the legislative process plays out," Frazier said Thursday.
Several advocates working to lift the ban also said that the industry does not want debate on crude exports to come up in the midst of a Keystone XL vote, out of fear that the highly-charged politics of the pipeline could rub off on exports.
"What you don't want is for this to get sucked up into a much larger and potentially toxic debate on Keystone and for positions to get entrenched early on," the lobbyist said.
Senate leadership has declined to offer full-throated support for the amendment. Leadership has final say over which amendments will be considered. And so far, Senate Majority Leader Mitch McConnell has said he won't block any amendments.
McConnell has not yet said if he supports lifting the ban on oil exports, and his office declined to answer whether he would support the Cruz amendment.
Robert Dillon, a spokesman for Senate Energy and Natural Resources Committee Chairwoman Lisa Murkowski, one of the most outspoken backers of lifting the ban, would say only that Murkowski "welcomes Senator Cruz's support on this issue." Dillon declined to say how Murkowski would vote.
An aide to Senate Majority Whip John Cornyn of Texas, who has also expressed support for lifting the ban, would not indicate if the senator had decided how he would vote.
It's unclear if Cruz will call for debate on the amendment or a vote. Cruz could opt to do neither, or the senator could press for debate but table the proposal prior to a vote.
If the amendment is voted down, lobbyists plan to continue marshalling evidence to make their case that the ban should be lifted, and they are optimistic that as more research emerges they will be armed and ready to convince senators to change their minds and votes.
Regardless of what happens with the Cruz amendment, hearings on lifting the export ban are expected to be held in Murkowski's committee, and lobbyists are hoping that a measure to lift the ban could be attached to broader energy legislation that she has said she is working to draft.
"This issue is going to be around for a while no matter how you slice it," the refinery executive said. "I think we might see a lot of shadowboxing in the next few weeks, but I believe the real fight is still to come."
This story has been updated with additional information.
---
Ben Geman contributed to this article