Scott Walker Isn't Sorry
The Wisconsin governor concedes nothing to his critics, and Republican voters are embracing his message.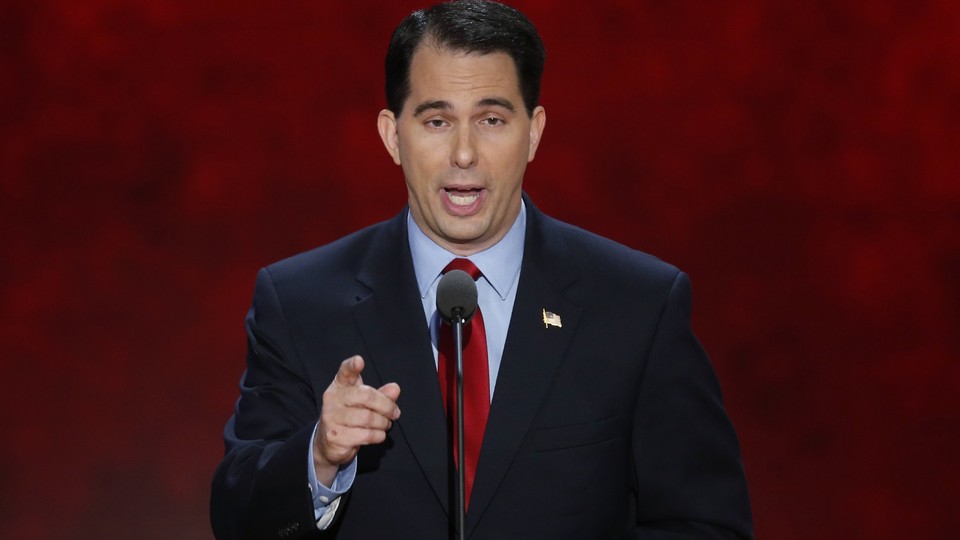 Few national commentators predicted it, but we're in the middle of a Scott Walker boomlet. It began earlier this month when Walker shrewdly used Chris Christie's owner's box bromance with Jerry Jones to highlight his own, comparatively blue-collar, devotion to the Green Bay Packers. And it exploded at last Saturday's Iowa Freedom Summit, where according to Slate's John Dickerson, it was clear that Walker "outshines the competition." After taking Iowa "by storm," reported The Hill, "Scott Walker's stock is soaring."
Walker's rise illustrates the pitfalls of media coverage of the GOP race. Not many national reporters live within the conservative media ecosystem. They therefore largely assume that in order to win over the non-white, female, millennial and working class voters who rejected John McCain and Mitt Romney, Republican presidential candidates must break from conservative orthodoxy, if not substantively, then at least rhetorically. Journalists are also drawn to storylines about change. Thus, when potential GOP candidates show signs of ideological deviation, the press perks up. After 2012, Marco Rubio garnered enormous media attention for his efforts at immigration reform. Rand Paul's transgressions—whether on foreign policy, civil liberties or race—make headlines almost every week. In covering the launch of his new Super PAC, journalists made much of Jeb Bush's discussion of income inequality and his fluent Spanish. Most recently, reporters have lavished attention on Mitt Romney's new focus on the poor.
Walker's rise is a reminder that among Republican primary voters, and especially Iowa-caucus goers, the market for ideological or even stylistic innovation, may be smaller than the media assumes. Because the most striking thing about Scott Walker's speech at the Freedom Summit, and his emerging campaign message more generally, is how retro it is. Walker concedes nothing to the conventional wisdom about what the GOP must do to compete in a more culturally tolerant, ethnically diverse and economically insecure America. And the GOP faithful love it.
It starts with ethnicity and race. Since 2012, many prominent Republicans have made overtures to African Americans and Latinos. Paul Ryan has been hanging around with African American ministers. Rand Paul has spoken at Howard University and met with activists in Ferguson. Jeb Bush's SuperPAC vows that "We will not cede an inch of territory—no issues, no demographic groups, no voters." Even Representative Curt Clawson, who delivered the Tea Party response to President Obama's State of the Union Address, managed a few lines of Spanish.
Not Walker. His speech in Iowa not only slammed President Obama's executive action legalizing some undocumented immigrants. It didn't even include the love-letter to legal immigrants that Republicans typically use to shield themselves from charges of being anti-Hispanic. In addition, Walker said nothing about reaching out to African Americans and boasted about Wisconsin's voter-ID law, which many African Americans and Latinos see as means of reducing their turnout. Even the imagery on Walker's website stands out. People of color make up roughly half the faces in the photo-montage used by Jeb Bush's Right to Rise PAC (not including Jeb's himself). In the video for Walker's new PAC, by contrast, the opening faces are relentlessly white. You don't encounter an African-American until roughly halfway through. And unlike Jeb's website, Walker's isn't translated into Spanish.
As Alec MacGillis explained in an excellent New Republic profile last summer, greater Milwaukee exists in a kind of political time warp. Because its African-American population arrived later than in other northern cities and because its white population fled to the suburbs later, the racially-tinged, suburban-versus-urban politics that have faded in New York, Chicago and Philadelphia remain strong in Wisconsin. When running for governor, Walker even said, "We don't want Wisconsin to become like Milwaukee."
While every Republican presidential hopeful wants to be seen as Reaganesque, other leading contenders clearly hope to improve on the Gipper's relationship with people of color. Walker, by contrast, isn't updating the 1980s script at all.
He's not updating it on economics either. In recent months, many of Walker's likely GOP opponents have moved beyond a purely anti-government message to suggest conservative-sounding ways government can give Americans an economic boost. Paul Ryan and Marco Rubio have proposed new anti-poverty tax credits. Mitt Romney has backed a higher minimum wage.
Walker's having none of it. His message is simple and old-fashioned: "Take control from the federal government and big-government special interests and give it back to hard-working taxpayers."
In fact, Walker won't even concede that declining upward mobility is a problem. Jeb frankly admits that, "while the last eight years have been pretty good ones for top earners, they've been a lost decade for the rest of America … the income gap is real." Ryan declared last year that, "we're losing not only mobility, we understand that, but whole generations of Americans don't know what this is." But for Walker, it's still Morning in America. At the Freedom Summit, he actually asserted that the United States is "one of the few places left in the world where it doesn't matter what class you were born into, it doesn't matter what your parents did for a living. In America, the opportunity is equal for each and every one of us." As even National Review has noted, that just ain't so.
After the 2012 election, many pundits deemed it inevitable that Congressional Republicans would respond to Romney's defeat by passing immigration reform. They didn't. Now pundits are lavishing attention on those GOP presidential candidates who are trying to update their party's image and message. But Scott Walker is betting that conservative activists aren't interesting in adapting to Obama's America. And if last weekend's Freedom Summit is any guide, he may be right.