Scientists Move Doomsday Clock Closer to Apocalypse
Citing nuclear proliferation and climate change, the Bulletin of the Atomic Scientists on Thursday set the clock to three minutes to midnight.
It's 2015, and Cold War fears of nuclear Armageddon have largely faded from public consciousness. But scientists Thursday moved the minute hand of the Doomsday Clock, which for decades has signaled the urgency of threats to humanity, to the second most critical position in its history: three minutes to midnight.
"Unchecked climate change, global nuclear weapons modernizations, and outsized nuclear weapons arsenals pose extraordinary and undeniable threats to the continued existence of humanity, and world leaders have failed to act with the speed or on the scale required to protect citizens from potential catastrophe," wrote the Bulletin of the Atomic Scientists, which has published the Doomsday Clock since 1947, in explaining Thursday's adjustment.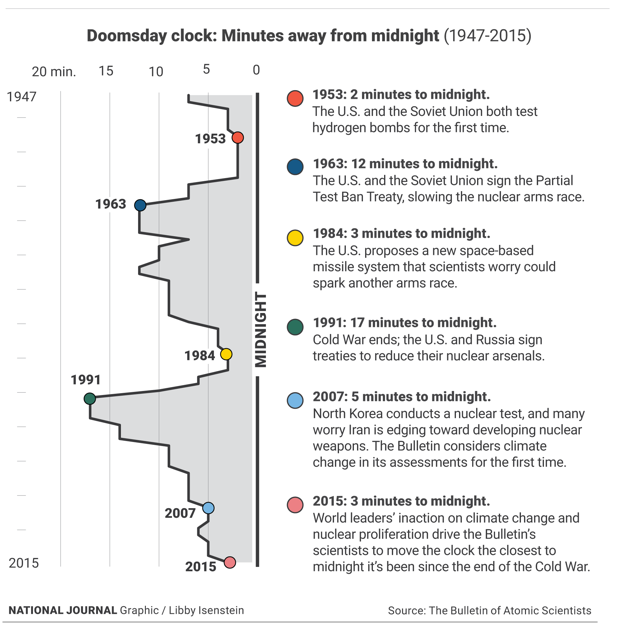 At its conception, the Bulletin's doomsday predictions focused only on the dangers of nuclear proliferation, but in the last decade, its scientists have also begun considering the effects of climate change in their macabre horology.
"This is about doomsday. This is about the end of civilization as we know it," said the Bulletin's executive director, Kennette Benedict, at the Thursday announcement.
Only once in history has the minute hand hovered closer to midnight. In 1953, after the U.S. and the Soviet Union both tested the world's first hydrogen bombs, the panel of scientists set the clock at two minutes to midnight. "Only a few more swings of the pendulum, and, from Moscow to Chicago, atomic explosions will strike midnight for Western civilization," the Bulletin wrote then.
Things weren't always this bleak. The clock was pushed back to the all-time high of 17 minutes from midnight in 1991, when the Cold War officially ended and nuclear disarmament began in earnest. The clock has been ticking since, however, as disarmament treaties fell apart and global terrorism became an increasingly urgent concern.
The Doomsday Clock is controlled by the Bulletin's board of directors, with help from the organization's board of sponsors, a group of scientists that includes 18 Nobel laureates.