Romney 2016 Just Picked Up an Early Endorsement
The as-yet unannounced campaign can count on at least one supporter in Congress.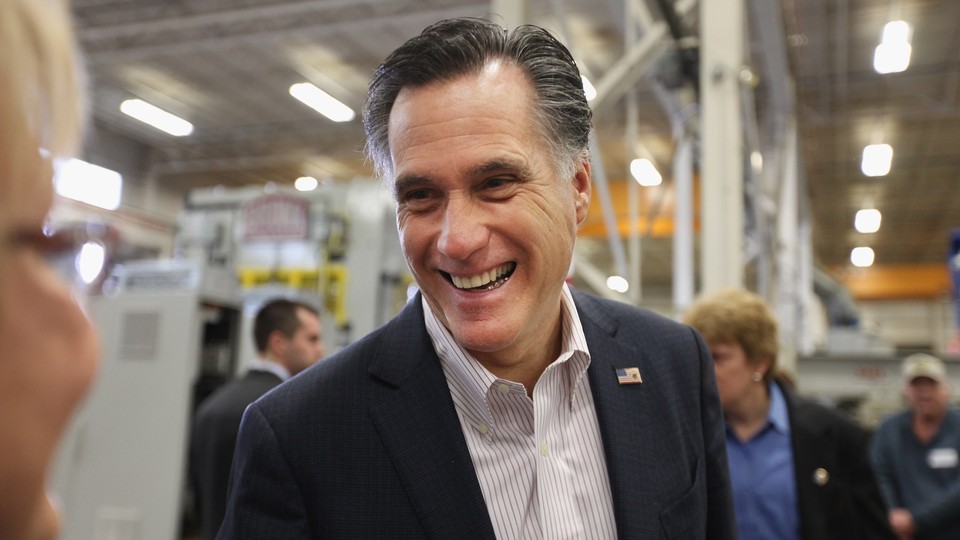 Just days after announcing that he's seriously considering a third presidential run, Mitt Romney has earned himself an early endorsement: the coveted praise of Rep. Mike Kelly.
On NewsMax TV on Tuesday, the Pennsylvania Republican sang Romney's praises when asked by host Ed Berliner what he made of the former Massachusetts governor's announcement to donors that he's thinking about running.
"Gov. Romney is the only person that has the credentials. He's done it in the past, he can do it again," Kelly said. "Why three to four million Republicans stayed home and didn't vote from him I will never understand."
Kelly continued piling on the compliments, until Oscar-like music signaled the end of the segment and Berliner had to cut him off.
"Governor Romney is the most efficient and effective person we can put in that leadership position right now, somebody who we can look to," Kelly said. "He's a man of faith, he's a man of success, and he's a man who understands this country and our role in it. He's the guy who called Russia out when everyone else turned and laughed. He was absolutely right. He understands the economy."
This endorsement, albeit small-time, is surely welcome news for those in Romneyland. Other politicians have either stuck to backhanded compliments casting Romney as a washed-up interloper, and many of his 2012 supporters in Congress aren't rushing to his side this time around. Sen. James Risch of Idaho, an early Romney backer in 2008 and 2012, told National Journal earlier this week that he wouldn't make an endorsement any time soon.
"Mitt is a great guy. He served his country well and would be a great president, but let's wait and see how this shakes out," Risch said. "Every race is different, the dynamics are different, the landscape is different, so you never know."
Aside from Kelly, one other member of Congress, Sen. Orrin Hatch of Utah, has said "nothing would make him happier" than Romney—a close friend—running again, but Hatch did not explicitly say he'd endorse him.