Republicans Plot an Immigration Fight
With a deadline looming next month, the GOP will find out if its new power is enough to undo President Obama's executive actions.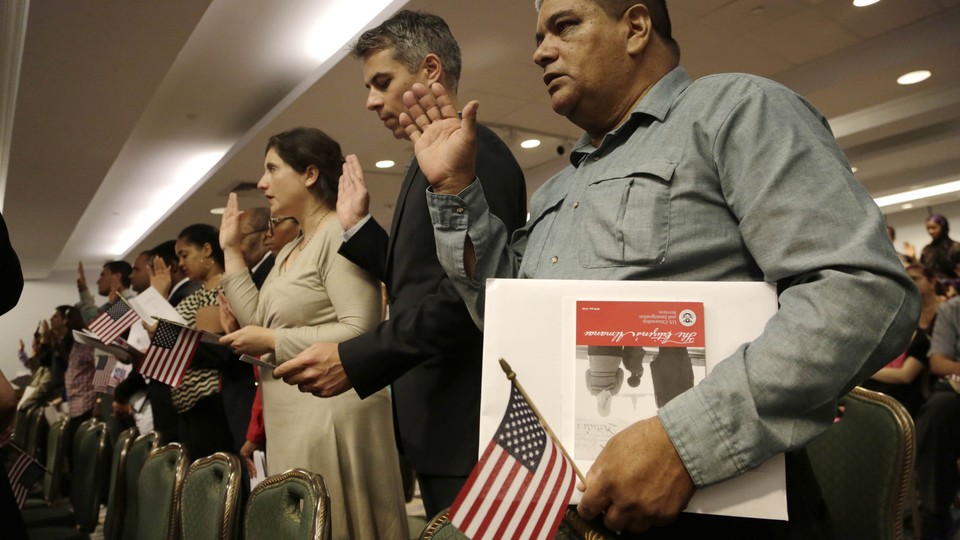 Republicans won't have to wait long to find out exactly how much power their new Senate majority gives them in Washington.
Keeping a promise they made at the end of last year, party leaders want to use a bill funding the Department of Homeland Security to stop President Obama from carrying out his plans to unilaterally shield millions of undocumented immigrants from deportation. "I said we'd fight it tooth and nail when he had our new majorities in the House and Senate, and I meant it," Speaker John Boehner told reporters on Thursday.
Recall that Boehner and Mitch McConnell, now the Senate majority leader, decided in the fall to put off an immediate clash with the president after he announced his intention to bypass Congress and overhaul parts of the immigration system himself. Rather than risk a government shutdown in December, they shook off complaints from conservatives and passed the $1.1 trillion "cromnibus," funding the entire government with the exception of DHS through September. Money for Homeland Security runs out in late February, offering the GOP majority its first deadline—and what it hopes will be its first leverage point—of the new Congress.
The question now is what Republicans will do and how far they'll get. In meetings on Capitol Hill this week, lawmakers have discussed what they can add to a spending bill that would restrict Obama's ability to implement the changes he announced in November. Normally, this would be a pretty straightforward proposal, as Congress routinely puts conditions on how federal dollars can be spent. But immigration services are funded by user fees, not congressional appropriations, so lawmakers will have to get creative. "The main, overriding goal is to defund the president's illegal actions," Representative Matt Salmon, an Arizona conservative, said on Thursday.
A bigger problem for Republicans is the legislative endgame. It's pretty much a given that Obama would veto any bill that tries to undo the orders he unveiled with such gusto in the fall. That raises the possibility of at least a partial shutdown of the Department of Homeland Security, a scenario that leaders in both parties don't even want to contemplate (particularly as they offer condolences for this week's terrorist attack in Paris and remind the public that threats to the U.S. are ever-present). "At the end of the day, we're going to fund the department, obviously," McConnell said on Wednesday.
So what kind of leverage to the newly empowered Republicans actually have? Not much, fears Representative Steve King, the anti-amnesty crusader from Iowa. "It will not work, and it can't work," he said of the leadership's strategy. King wanted the GOP to fight Obama's immigration order back in December, even if it resulted in a broader government shutdown. His argument goes like this: Because the immigration services are self-sustaining with user fees, they would go on even if DHS's taxpayer funding lapses. Border patrol agents and other security personnel, meanwhile, would be considered "essential employees" and would go to work, but their paychecks would be delayed—not exactly a recipe for tight border enforcement. And of course, Obama would try to pin all the blame on Republicans. "It's a perfect position for the president to thumb his nose at Congress, and we walked right into it and smiled and stuck our head in the noose," King said in an interview. "The leadership wants Congress to believe that somehow we've got leverage. Instead, we've given the president all the leverage."
Republican leaders know their plan might not work, but they've promised at least to try. Despite the new 54-seat GOP majority, it's not even clear that a bill blocking Obama's immigration directive would pass the Senate, as McConnell needs at least six Democrats to sign on to overcome a filibuster. The House wants to pass its yet-to-be-unveiled proposal by next week to give the Senate plenty of time to consider it or pass a competing version (and to maybe forestall a seemingly-inevitable last-minute funding scramble.)
To the GOP's constant frustration, Obama has used his executive authority liberally in recent years. Whether by crisis or compromise, or perhaps both, we should know within six weeks if the new Republican Congress has the strength to stop him.