We Know What Obama Will Say Tonight, but Not How He'll Say It
More than the traditional laundry list of proposals, it's the president's tone toward Republicans that will be key.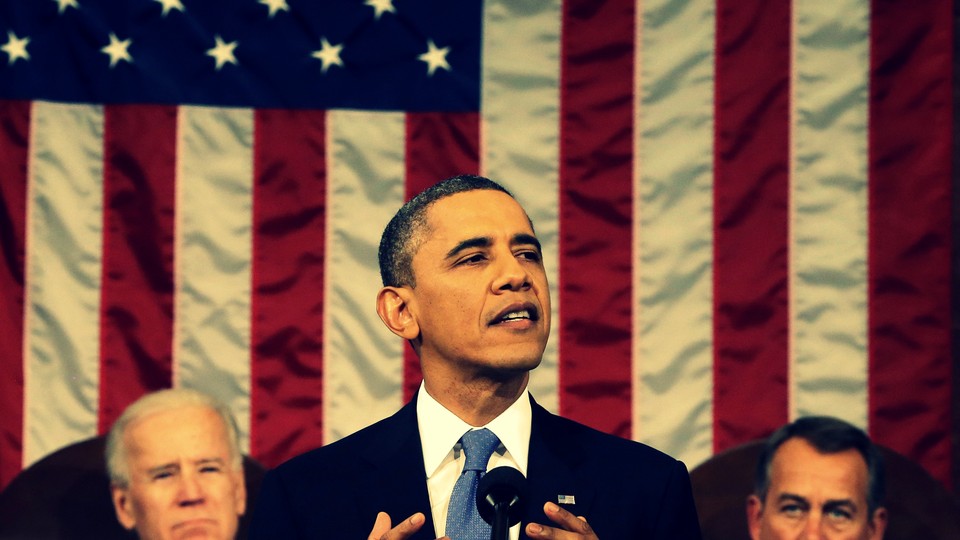 In the weeks leading up to his penultimate State of the Union address, President Obama and his advisers have taken the unusual step of revealing just about all of his major proposals in advance of the speech. They have offered an unprecedentedly detailed portrait of what the president plans to say on Tuesday night. What matters now is how he says it.
The theme of the speech will be "middle-class economics," and the centerpiece is a tax cut for working families that would be paid for with higher taxes on investments and inheritances for the wealthy. Obama will tout his plan to make the first two years of community college free for up to 9 million students, as well as his call for increased paid sick leave for employees. And he'll surely promote a proposal to boost cyber-security for consumers by increasing enforcement capabilities and requiring companies to reveal data breaches within 30 days.
If this all sounds like one gigantic spoiler, blame the White House. Rather than use the State of the Union as a "big reveal" moment for new presidential policy proposals, Obama is inverting the process. In addition to announcing landmark changes to immigration and Cuba policy late last year, the president has spent the past two weeks publicizing other key pieces of his agenda. Obama has joked to audiences that with just two years left in office, he's "kind of in a rush" to get his ideas out there. But the idea of the preview tour, as Politico reported last week, stems from the belief inside the White House that the century-old tradition of the formal State of the Union speech is outdated in 2015 and that Obama could generate more attention for his proposals by parceling them out piece by piece.
With so much of his agenda known, why bother watching Obama's address at all? For starters, the tone of his speech will offer the best clue yet as to how he'll approach the new Republican majority in Congress. The president will be addressing a House chamber populated with more GOP lawmakers than at any time in decades, a reality that should lower the applause meter (and maybe make the speech move a little quicker?). Obama's populist tax plan, swiftly rejected by Republican leaders, suggests the president will be combative—there will be no repeats of Bill Clinton's famous 1996 concession that "the era of big government is over." And his decision to issue a series of veto threats just days into the new Congress irked Republicans. But there are a few areas in which Republican leaders—themselves eager to demonstrate their effectiveness to voters—genuinely believe they can make progress with Obama.
The first is trade, a rare issue that links the president and top Republicans against opposition from the Democratic base. If Obama renews his call for Congress to give him authority to fast track the negotiation of trade deals, he'll receive a warm ovation from most Republicans, who want him to work harder to build support among Democrats wary of free trade. "The president has to lean into some of the things he says he supports," House Majority Leader Kevin McCarthy told reporters at the GOP retreat in Pennsylvania last week. Republicans point to cyber-security and infrastructure as other areas with the potential for bipartisan action.
Obama's speech could also mark the start of the first formal congressional debate over his war against the Islamic State, nearly six months after the military began airstrikes in Iraq and later Syria. Republican leaders left a meeting at the White House last week believing that the president was finally ready to send to Congress a proposed resolution authorizing military force against ISIS. Speaker John Boehner has been demanding that proposal for months and has promised to help Obama get it passed through the House, if only the president would make the first move. With the attacks in Paris having refocused attention on the terrorist threat to the West, the stakes for the military campaign against ISIS appear even higher.
Foreign policy will necessarily take up a good chunk of Obama's speech. After global crises dominated headlines in 2014, how could it not? Nonetheless, expect the president to devote the heart of his address to the economy. With unemployment down to 5.6 percent, job growth humming, and gas prices low, it's in the best shape since Obama took office, and there's no way he'll pass up the opportunity to take credit before 30 million viewers. The rebound has also helped boost Obama's approval rating back to 50 percent in an ABC News/Washington Post poll, its highest in a year-and-a-half. Stagnant wage growth has been the missing piece, and the progressive proposals he's already announced are oriented around addressing that goal, and the wealth gap more broadly. They may not be brand-new, or designed to pass a hostile Congress, but they are likely to help shape both his own legacy as well as the nascent campaign to replace him. And who knows? Maybe Obama has saved a surprise or two for Tuesday night.