President Obama and David Cameron Speak Out After Terrorism in Europe
The two leaders just finished a press conference in D.C. The biggest news: Obama says he will veto further Iran sanctions.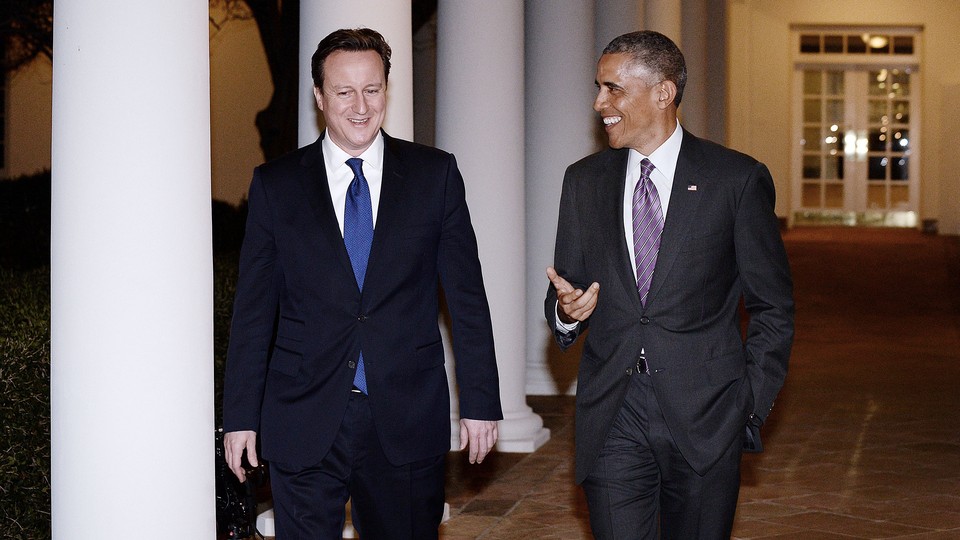 After a tumultuous two weeks of terror and emotional responses in Europe, British Prime Minister David Cameron is in Washington to meet with President Obama, largely about security and cyber issues. On Friday, they used a joint news conference to show off the strengths of their "special relationship" to the press.
Obama kicked off his opening statement explaining just why he reportedly calls Cameron "bro." Why so casual? "Put simply, David is a great friend," Obama said Friday.
"Great Britain is our indispensable partner," Obama said. "And David has been personally an outstanding partner." Cameron, in his opening statement, called Obama a "great friend to Britain and to me personally."
In addition to economic security, Cameron focused on terrorist organizations such as ISIS, and the domestic threats they inspire, calling their basis a "poisonous ideology."
"The world is sickened by this terrorism, so we will not be standing alone in this fight," Cameron said. "We know what we're up against, and we know how we will win."
Cameron also announced that he and Obama "have agreed to establish a joint group to identify what more we can do to counter the rise of domestic violent extremism and to learn from one another."
Cameron, who is gearing up for elections, made sure to emphasize the work he and Obama have done to pull the U.S. and U.K. economies out of their slumps.
But the biggest moment of the presser was on Iran. Obama addressed the ongoing negotiations with Iran over its nuclear program, and a bill that lawmakers are expected to introduce next month that would increase sanctions on the Iranian regime. It's a bill the president says he will veto.
"Through some very strong diplomatic work, we united the world and isolated Iran. And it's because of that work that we brought them to the negotiating table." But Obama is still putting the odds of a comprehensive agreement with Iran at "probably less than 50-50." Iran, he said, is run by a regime that "is deeply suspicious of the West, deeply suspicious of us."
Obama said new sanctions legislation would likely cause the negotiations to collapse. "And if that happens, there is no constraint on Iran at that point going back and doing exactly what it had been doing before they came to the table."
He also said that if negotiations fail, the likelihood of military confrontation goes up, "and Congress will have to own that as well."
For that reason, Obama said he plans to veto any new sanctions that come to his desk. Obama, in speaking with the Democratic congressional caucus yesterday, said, "I respectfully request them to hold off for a few months to see if we have the possibility of solving a big problem without resorting potentially to war. And I think that's worth doing."
Obama later clarified that if diplomacy doesn't succeed now, the U.S. won't be on "immediate war footing" with Iran.
Similarly, Cameron voiced his disagreement with new sanctions that could fracture negotiations with Iran, saying he spoke to U.S. senators during his visit to "simply make a point."
Discussing the recent spate of terrorist attacks in Europe, Obama said that the United States has "one big advantage in this whole process." The advantage, he said, is the fact that the Muslim communities in the U.S. are assimilated and "feel themselves to be Americans."
That's not the case in parts of Europe, Obama said, which is "probably the greatest danger that Europe faces." He suggested that European governments work on strengthening ties between their cultures and Muslim immigrants, rather than responding "with a hammer and law-enforcement and military approaches to these problems."
While Cameron agreed on that point, he also pointed out that some who have those advantages in a multiracial society still get seduced by "this poisonous, radical death cult of a narrative."
To combat terrorist threats communicated through social media and the Internet, Obama and Cameron announced that they will be reviewing cybersecurity and challenges that may surface with new technologies.
The presser wasn't all completely serious and policy-forward. In the first question from the press, Obama was asked about what he made of reports that Mitt Romney is considering running for president again. "No comment" was as far as he went.
The meeting between the two leaders follows a series of terrorist attacks in France that left 17 people dead. More than 40 world leaders marched along hundreds of thousands of people in Paris last weekend in honor of the victims. Cameron was there, but Obama was not. The White House was criticized for not sending the president—or at least the vice president—to the rallies, and the administration later admitted it should have sent someone "with a higher profile." Secretary of State John Kerry visited France Friday to express his sympathy, saying, "I really wanted to come here and share a hug with all of Paris and all friends."
The news conference also serves to present a united front against terrorism in the face of additional threats this week in Europe. On Thursday, Belgian police said they thwarted "a major terrorist attack," engaging three would-be attackers in a shootout that left two gunmen dead. And on Friday, more than two dozen suspects were arrested in coordinated French, German, and Belgian police raids.
---
Marina Koren and Matt Berman contributed to this article