On the Hill, Many Gay Aides Lack Workplace Protections
Hoyer, others urge member offices to put in place their own policies to protect LGBT staffers.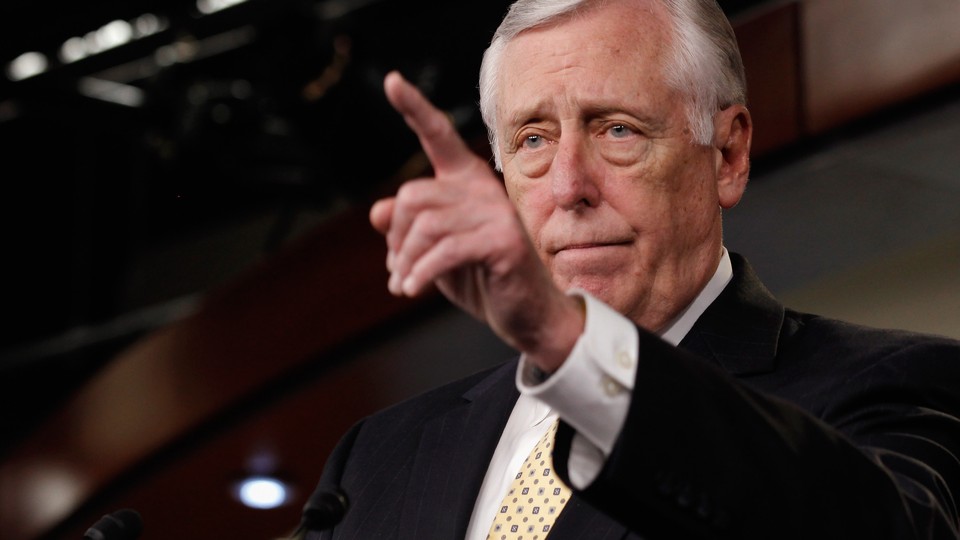 Mitchell Rivard scanned through the House Members' Handbook in 2013, proofreading as he went, when a line gave him pause: Personnel decisions must be free from discrimination based on race, color, national origin, religion, sex, and more. Nowhere did it mention sexual orientation or gender identity.
Inserting the language into an individual office policy was an easy decision for Rivard's boss, Democratic Rep. Dan Kildee of Michigan. Though LGBT staffers—such as Rivard, who is gay—go without official House-wide employment protections, this wouldn't be the case for Kildee's own staff.
Many individual members have made the same decision as Kildee, but others have not. So House Minority Whip Steny Hoyer and some other advocates want them done in bulk. That's why Hoyer sent a letter to fellow House Democrats Monday night urging them to add these protections to their individual policies, and attached a sample workplace anti-discrimination policy that includes protections based on sexual orientation and gender identity. It was signed by Rep. Jared Polis, LGBT Equality Caucus cochair; Rep. Robert Brady, the House Administration Committee ranking member; and Rep. Mike Honda.
"It is critical that we demonstrate to our hardworking LGBT employees in the House not only that their work is valued but that they are valued and protected as individuals and as Americans," Hoyer said in an emailed statement, adding that he hopes members of both parties "put this policy in place for their offices."
A recent call for change
In December, Hoyer penned a letter to House Rules Committee Chairman Pete Sessions urging that the chamber protect LGBT staffers from employment discrimination in the House rules package.
Sessions told National Journal that he mulled over the request, talked to some lawyers, and ultimately decided to leave it out.
"I look at this as an at-will contract and an agreement and a relationship between a member and whoever they hire," the Texas Republican said. Sessions said the current federal law providing general workplace protections guides the House rules, and that it's a good law.
That rejection prompted Hoyer to craft his own antidiscrimination template, an effort to address a loophole in the workplace rights act guiding Congress. Called the Congressional Accountability Act of 1995, it grants labor, workplace safety, and civil rights to more than 30,000 employees in the House, the Senate, and some legislative branch agencies. The act addresses some forms of discrimination, protecting employees from prejudice on a list of bases including race, national origin, color, sex, religion, and disability.
"I think that Congress should be leading rather than following," Honda told National Journal. "The lack of this consideration just only shows the Rules Committee leadership is not up to date, and they are consciously avoiding including this in the list of folks that need to be protected."
In the past, House Speaker John Boehner has opposed a federal bill, saying that people are already protected in the workplace and that adding more protections could provide a basis for "frivolous lawsuits" that potentially burden businesses.
"I am opposed to discrimination of any kind in the workplace and anyplace else," Boehner said in a 2013 press conference. His office had not responded to a request for further comment as of Monday evening.
Instead, some states and presidents have been leading the charge for inclusion. In 1998, President Clinton added sexual orientation to a previous executive order barring several forms of discrimination against federal employees. In July, President Obama added gender identity to the list. Yet, this doesn't pertain to the legislative branch nor the nation as a whole.
Since there isn't a federal law protecting the nation's LGBT community from employment discrimination, the passage of such protections is left up to the states. As many as 21 states and Washington, D.C., prohibit employment discrimination on the basis of sexual orientation; 18 states' and the District's laws also include gender identity, according to the Human Rights Campaign.
In the legislative branch, it's different. A wholesale change requires passing a federal law. The House, Senate, or individual offices could alter their rules, and this change would allow an employer to take personnel action against those who allegedly discriminate. But an alleged victim wouldn't necessarily be able to take the matter to court because it's not against federal law (though there have been some limited exceptions).
A changing tide
The meeting spot needed to be off Capitol Hill. In the late 1980s, Bob Witeck was coordinating a discussion among a group of gay congressional employees and staff for what was then called the Human Rights Campaign Fund.
These meetings weren't unusual, and they opened communication on gay-rights issues between Hill staff and political/legislative advocates, sharing plans and strategies among the group in a safer way than direct lobbying. At the time, some of the staffers were still closeted in their own offices, said Witeck, a former Hill staffer. Some feared for their jobs. Others felt that upward mobility in their career was at stake.
"Staying in the closet was safer, safer, safer," Witeck said, "especially if you wanted to get ahead, you wanted to get promoted, you wanted to have a job."
And even if in private a lawmaker was supportive or apathetic, political optics remained a worry.
"As any congressional staffer, one rule you always have to take into consideration is, very clearly, don't embarrass your boss," said Witeck, who came out to his colleagues and boss, GOP Sen. Bob Packwood of Oregon, while working on the Hill.
This traditionally closeted culture has since opened. Justin Unga, communications director for Rep. Katherine Clark, went from working for a small business in Arizona—where he went back in the closet, worried that his boss wouldn't be accepting—to Capitol Hill, where he is comfortably out. But enumerated employment protections would still be a welcome change.
"It would certainly help me feel a lot better," Unga said. "I've been in a position where no such protections exist, and I had to change portions of myself to stay in a job where I otherwise would be in jeopardy."
Currently, employment-discrimination claims on the basis of sexual orientation or gender identity aren't tracked. If anywhere, these data would come from the Office of Compliance—which is charged with enforcing the Congressional Accountability Act and thus collects discrimination complaints—but since sexual orientation and gender identity aren't protected classes, the office doesn't have data on such violations. And because the act requires that claims remain confidential, it could not disclose if it ever receives such complaints, according to Scott Mulligan, Office of Compliance deputy executive director.
Herein lies a catch-22.
"It's always really tricky," said Sarah Warbelow, the Human Rights Campaign's legal director. "One of the challenges [is] when there are not protections for people under the law, they don't complain because they don't feel that they have a remedy."
But that doesn't mean HRC hasn't heard such complaints. While the advocacy organization doesn't provide direct services, it does receive calls from those with discrimination allegations asking where to turn.
"Over the years, we've definitely received complaints for individuals in all areas of government about experiencing discrimination either based on their sexual orientation and gender identity," Warbelow said.
A societal switch
In addition to Hoyer's sample policy, the LGBT Congressional Staff Association has taken on the issue, informing new and veteran lawmakers of changes they could make to their office policies to expand discrimination protections for their employees.
"We've been working to make sure offices know to check their own policies," said Rivard, the association's spokesman, "because some of them very well may not have enumerated provisions for sexual orientation and gender identity even though they may be an ally of the LGBT community and want to protect all their employees. They may just not know."
Many Democratic members include this in writing in their handbook and all practice it on a day-to-day basis, according to Drew Hammill, a spokesman for House Minority Leader Nancy Pelosi.
In 2010, the military's "don't ask, don't tell" policy was repealed. In 2013, the Supreme Court struck down a law blocking federal recognition of same-sex marriages. And as of this year, 89 percent of Fortune 500 companies include sexual orientation in their antidiscrimination policies; 66 percent include gender identity, according to HRC's Corporate Equality Index 2015.
"That's a sea change," said former Hill staffer Robert Raben, "but that's a sea change in culture. Congress has had nothing to do with it."
This stands in stark contrast to the early 1990s, when Raben helped found the LGBT Congressional Staff Association. That year, some members of the Oklahoma delegation refused to hire LGBT employees. So some aides already working in House offices decided to formally organize, showing the lawmakers the community was already present inside the Capitol. And it started with just a handful of staffers, those who knew their bosses would support them, said Raben, who worked for one of the first openly gay members, Rep. Barney Frank.
"There were dozens and dozens of more closeted men and women who were delighted that we were doing this," Raben said, "but didn't want to put their name on anything."