Obama's Oil Complex
The administration plans to open East Coast waters to future drilling even as it toughens protections in Alaska.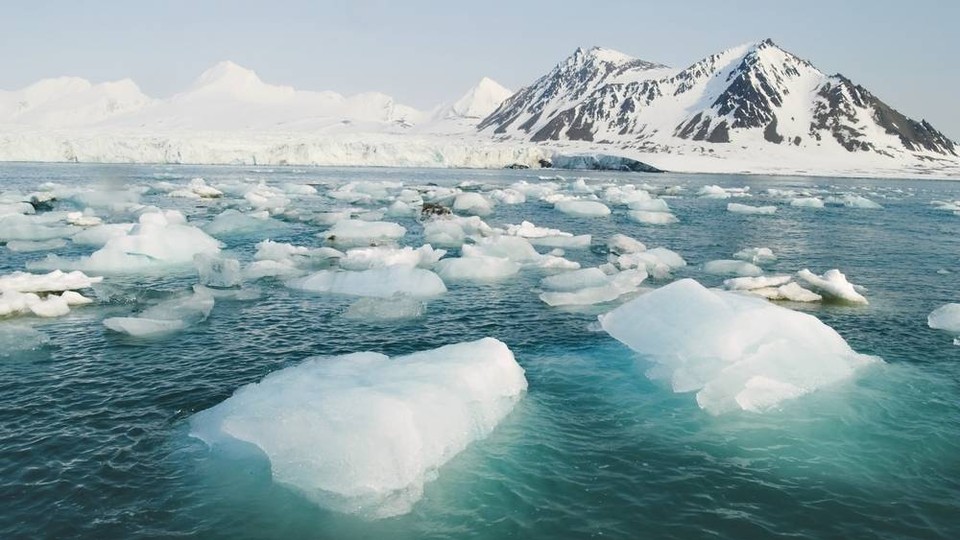 When it comes to oil drilling and environmental restrictions, the White House is all over the map this week—literally.
President Obama on Sunday said he wants to permanently declare more than 12 million acres of Alaska's Arctic National Wildlife Refuge as wilderness, blocking oil and gas development in the coastal plain of the refuge that the state and oil companies have long coveted for drilling.
But Obama's Interior Department is also set to propose allowing new offshore drilling in the Atlantic Ocean, which is currently off-limits to development, multiple sources tell National Journal. The draft plan could be announced as soon as Tuesday, and it's expected to include leasing off the coasts of North and South Carolina, and Virginia.
The same plan, a schedule of oil-and-gas drilling lease auctions between 2017 and 2022, will also propose new restrictions against exploration in Arctic waters off the Alaska coastline, according to the office of Republican Sen. Lisa Murkowski of Alaska.
For the White House, the suite of policy decisions reflects a politically complicated relationship with domestic oil development, and it will invite separate battles with both Republicans and green activists.
Energy consultant Kevin Book says Obama's overall energy policy, not just oil and gas, is "give a little, take a little." He points out regulatory restrictions on mountaintop coal mining in Appalachia, while regulators haven't gone after Western states' coal production.
When it comes to oil and gas specifically, Book sees a "greening up," pointing to recent policies such as planned methane pollution regulations. "It seems like in the final two years there may be more take than give when it comes to oil and gas," said Book, the managing director of ClearView Energy Partners.
Environmentalists, since early in Obama's first term, have used closed-door meetings with White House officials and public advocacy to press for new protections for the Arctic, including the refuge. Drilling isn't allowed in ANWR now, and it would take an act of Congress and a supportive president to approve it, but green groups want even firmer protections.
At the same time, the administration has for years been applauding the surge in domestic oil production, which, while largely on state and private lands, hasn't stopped Obama from reminding voters it has occurred on his watch.
Obama has pushed for Atlantic Coast leasing before. In late March 2010, he gave a speech announcing an Interior lease sale plan that would open areas in the mid- and south Atlantic to drilling. Long-standing congressional bans had fallen apart in 2008 amid soaring oil prices.
But just three weeks after the announcement, the Deepwater Horizon drilling rig blew up in the Gulf of Mexico, claiming 11 lives and touching off the worst oil spill in U.S. history. The White House backed off, and the plan kept the Atlantic off-limits even though the legislative moratoriums were gone.
Obama's ANWR proposal is also a throwback of sorts, putting the long-simmering, emotional battle over the refuge back in the political spotlight.
Murkowski, who strongly favors development, spoke personally with Interior Secretary Sally Jewell on Friday evening after meeting with a top Interior aide about various Alaska policies earlier in the day, spokesman Robert Dillon said. Murkowski is furious over the White House efforts on ANWR, offshore drilling, and other policies she calls a "stunning attack" on her state's sovereignty.
"I have tried to work with this administration—even though they've made it extremely difficult every step of the way—but those days are officially over. We are left with no choice but to hit back as hard as we can," said Murkowski, the chairwoman of the Senate Energy and Natural Resources Committee and the subpanel of the Appropriations Committee that oversees Interior's budget.
According to Murkowski's office, the 2017-2022 plan will put wide swaths of Arctic waters off Alaska's coast off limits. A number of energy companies already hold leases in portions of the Beaufort and Chukchi seas, and Murkowski's office said they're concerned that while those leases are protected, new restrictions nearby could make developing them more difficult.
Wilderness protection was not a big focus for the White House during Obama's first term, but the administration has gotten far more aggressive in the second by designating a series of major new national monuments.
But Obama doesn't have the same power to permanently keep ANWR off-limits to drilling without Congress, and the chances of congressional approval of Obama's wilderness pitch are remote.
In most respects, Interior's new conservation plan announced Sunday changes little because the area is already off-limits to rigs, but activists were nonetheless delighted by what they say is now a formal pro-protection stance by Interior regulators.
According to Interior, it's the first time the department has taken a formal position on ANWR management since 1987, when the Reagan administration urged Congress to open it up for drilling.
"This is the first proactive conservation step on the refuge in a really long time," said Kristen Miller, conservation director for the Alaska Wilderness League. "This is an amazing step."
But while he's drawing cheers from his green base on ANWR, Obama will face opposition from environmentalists by including Atlantic Coast waters in the new offshore leasing plan.
Claire Douglass, the campaign director for climate and energy with the group Oceana, said the organization is working with other environmental groups and local communities to push back. She called oil-and-gas leasing a threat to coastal industries such as tourism and fishing.
"We expect it in the draft; however, we are confident that the administration will do the right thing and listen to the local opposition and take out the Atlantic from the final program," Douglass said in an interview.
This story has been updated.