Obama Urges Democrats to 'Stand Up Straight,' Mocks GOP
In Philadelphia, the president sought to energize what has been a weakened and divided party.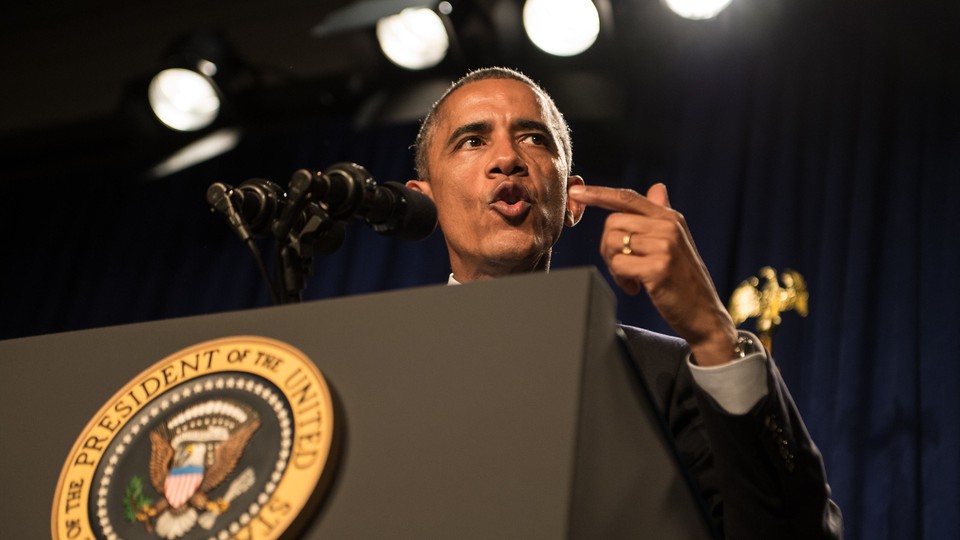 PHILADELPHIA — President Obama delivered a campaign-like rallying cry Thursday evening to the House Democratic caucus, a group that—despite a historic electoral defeat and deep divides on several fronts—claims to be leaving its three-day Philadelphia retreat as a united group of happy warriors.
Obama implored his Hill allies to defend their values, reminding them of their accomplishments and jabbing Republicans in the process. He told the caucus that Democrats can't win "when we're shy about what we care about, when we're defensive about what we've accomplished, when we don't stand up straight and proud." As members rose to their feet, he ticked off Democratic achievements in areas like health care, immigration, and college affordability. To mounting applause, he told the gathering to "stand up and go on offense and not be defensive about what we believe in. That's why we're Democrats!"
Lawmakers responded enthusiastically to Obama's speech after a day spent downplaying reports that their party is a downcast, divided lot. Party leaders say they're invigorated, united by a streamlined election strategy, an increasingly popular president—and even inspiration from the movie Selma.
Obama sought to build on that sentiment, reminding members that their efforts haven't been without results. "Because you and I together made some tough choices, sometimes some politically unpopular choices, America has come back," he said.
Despite differences on economic policy, legislative strategy, and even internal rules, House Democrats said their group is more optimistic than frustrated. "There's a narrative that the Democrats are in disarray," said Rep. Jan Schakowsky. "I don't see evidence of that. "¦ There's a new, incredible resolve."
Party leaders' projection of optimism will face tough tests over the coming term. Outnumbered Democrats will be hard-pressed to influence policy with a 58-seat deficit in the House, and that stark number will also make for an uphill battle in reclaiming the majority.
Those challenges can be met, Obama said, because people are realizing the merit of Democratic policies. "What we know is that middle-class economics works," he said. "That's pretty rare where you have two visions, a vigorous debate, and then you test who's right. And the record shows that we were right."
He jabbed at Republicans, who he said are just now realizing that the 1 percent are succeeding while many more Americans struggle in poverty. "Even though their policies haven't quite caught up, their rhetoric is starting to sound pretty Democratic," he said. "I consider imitation the highest form of flattery."
Obama also mocked Mitt Romney, his 2012 Republican presidential foe, who has suggested he might adopt a new issue focus if he runs again in 2016.
"We've got a former presidential candidate on the other side who suddenly is just deeply concerned about poverty. That's great. Let's go. Come on. Let's do something about it," Obama said.
Obama's speech came after an intense focus on middle-class wages at the retreat—a message Democrats say was muddled before the midterms but revived in Obama's State of the Union address. That speech, said Rep. Donna Edwards, was a "strong statement about the direction that he wants to go over these next few years"—and House Democrats aim to benefit from the agenda of their "messenger-in-chief." Obama will lay out his priorities in more concrete terms Monday when the administration unveils its budget proposal.
Like his House counterparts, Obama stayed on message when it came to the middle class. "Are we going to be an economy in which a few do spectacularly well, or are we going to be an economy in which everybody who's willing to work hard can do well and succeed?" he asked. "What everybody here understands is that the ground that middle-class families lost over the past 30 years still has to be made up. The trends that have squeezed middle-class families and those striving to get into the middle class—those trends haven't been fully reversed."
Party leaders were not shy about repeating that middle-class mantra over and over throughout the week, admitting that "23-point plans" instead of simple statements of values had doomed their midterm efforts. Rep. Steve Israel, who helmed the Democratic Congressional Campaign Committee in 2014, also blamed issues like Ebola, ISIS, and Russia's hostilities in Ukraine for drowning out his party's election message in news coverage. "I couldn't buy my way onto some of your networks," Israel said to reporters.
While it's clear next year's message will have the simpler focus of boosting middle-class wages, Democrats don't yet have an answer for how they define that ever-targeted income group. House Minority Leader Nancy Pelosi said the party was trying to reach "the middle class and all who aspire to it. It's a big range." Caucus Chairman Xavier Becerra talked about growing up poor and said the Democrats weren't "putting walls up" that would exclude people from the middle-class discussion.
Israel, meanwhile, said he wants poor people to join the middle class and middle-class people to become wealthy. "It's about mobility more than the middle class," he said. That was echoed by Minority Whip Steny Hoyer. "If you look at the past, all classes rose and America was better," he said.
For now, such vague definitions and aspirations won't hamstring Democrats' efforts. Deep in the minority, their role is relegated mostly to opposing GOP legislation—which they say they'll do with renewed vigor. "There's no question that the caucus is absolutely united around "¦ creating a contrast with Republicans," Israel said.
Several members also credited the "spirit of Selma" with renewing their fighting spirit. Many members recently watched the civil rights film in a screening at the Capitol, and Rep. James Clyburn screened a pair of historic Martin Luther King, Jr. speeches for members Wednesday night.
Rep. Ben Ray Lujan, the new head of the DCCC, tried to bolster that energy with numbers, telling colleagues that the Republican majority is "maxed out" and will have a hard time protecting its gains. Democrats stopped short of predicting they'd retake the House, however—and Obama joked that the stress of running House Democrats' campaign arm would have the 42-year-old Lujan looking more like the snowy-haired Israel in short order.
Whether Democrats' optimism will last beyond their Philadelphia pep rallies—or extends to the members who did not attend—is an open question. As Obama wrapped up, he charged those in attendance to "make sure that we are crystal clear about what we stand for and what we are fighting for."
When they return to Washington, House Democrats will face internal debates on issues like trade, Iran sanctions, and authorizing Obama to send more troops to the Middle East. Trade in particular has been an issue of deep division, with many in the caucus rallying their colleagues to oppose Obama's plan to "fast-track" a deal with Pacific Rim countries. Edwards characterized a Tuesday morning panel on that issue as a "lively discussion" with "a lot of different viewpoints."