Obama Proposes to Declare ANWR Area as Wilderness
The move rekindles fight over oil drilling on Alaska's coastal plain.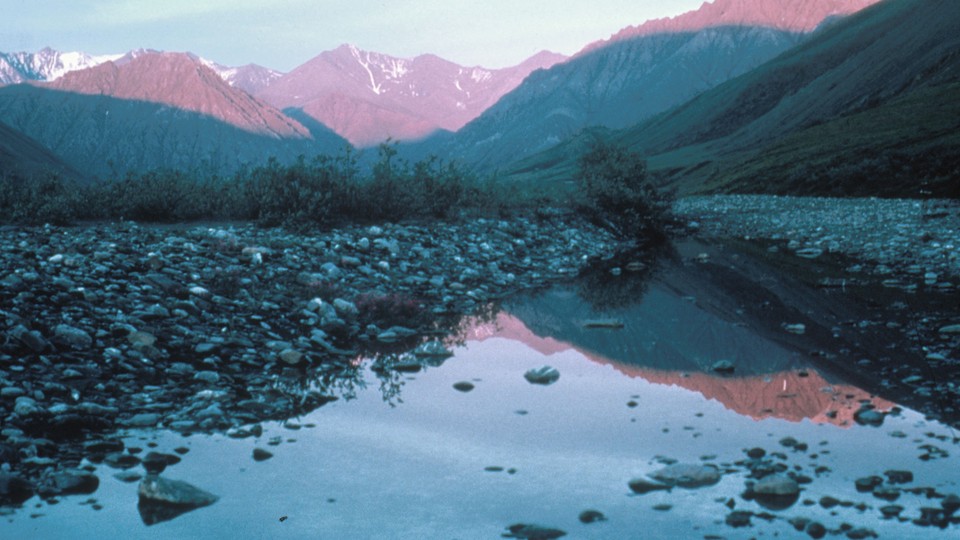 President Barack Obama will ask Congress to declare over 12 million acres of Alaska's Arctic National Wildlife Refuge as wilderness, he announced Sunday, rekindling a decades-old fight over oil drilling there.
In a video message, Obama called the portions of ANWR he wants to protect as "pristine, undisturbed" and "very fragile." He asked the GOP Congress to protect the area "as a wilderness so we can make sure this amazing wonder is protected for future generations."
The debate over oil drilling in ANWR was a mainstay as Republicans held Congress from the mid-1990s until the Democrats won the House and Senate in 2006, and was a central part of government shutdown fights between Congress and President Bill Clinton.
The plan was first reported Sunday morning by the Washington Post.
The proposal takes direct aim at Alaska Sen. Lisa Murkowski, the new chairwoman of both Senate Energy and Natural Resources Committee and the Appropriations subpanel that controls the Interior Department's budget.
"What's coming is a stunning attack on our sovereignty and our ability to develop a strong economy that allows us, our children and our grandchildren to thrive," Murkowski said in a statement. "It's clear this administration does not care about us, and sees us as nothing but a territory. The promises made to us at statehood, and since then, mean absolutely nothing to them. I cannot understand why this administration is willing to negotiate with Iran, but not Alaska. But we will not be run over like this. We will fight back with every resource at our disposal."
Although congressional action to declare the area as wilderness is unlikely, the Interior Department plans to begin managing the area as wilderness, Murkowski's office, which was briefed by the administration on Friday, said.
The Interior Department also plans to withdraw areas of the Arctic Ocean from oil and gas leases in its new five year oil and gas drilling plan, "which will effectively ban development in large swaths of the Chukchi and Beaufort seas," Murkowski's office said.
The new protections in Alaska follow Obama's decision in December to indefinitely extend a drilling ban in Bristol Bay off Alaska's southern coast.
Interior did not comment Sunday on restrictions in the upcoming 2017-2022 offshore oil-and-gas leasing plan.
Oil giants Shell, ConocoPhillips and Statoil hold drilling leases in Arctic waters off Alaska's northern coast, a region that Interior estimates could contain more than 23 billion barrels of recoverable oil.
Shell has been the most aggressive in seeking to explore for oil in the U.S. Arctic. But major mishaps during its initial development attempt in 2012, the collapse in oil prices that's crimping industry spending, and uncertainty about the regulatory status of its leases have left questions about when the company will resume efforts to drill there. Shell has filed a scaled-back plan with regulators that's focused only on the Chukchi Sea.
Robert Dillon, a spokesman for Murkowski, said he did not expect Interior to outright block drilling in tracts of the Arctic seas that have already been leased to energy companies. But he said the upcoming restrictions could nonetheless hinder development, depending on how it affects issues like movement of vessels through the area.
"There is a possibility it could impact existing leases. We just don't know," he said.