Obama Proposes Opening Atlantic Ocean to New Oil Drilling
Five years ago, the administration scrapped plans to sell drilling rights off the East Coast after the BP spill, but a top official said protections have been enhanced.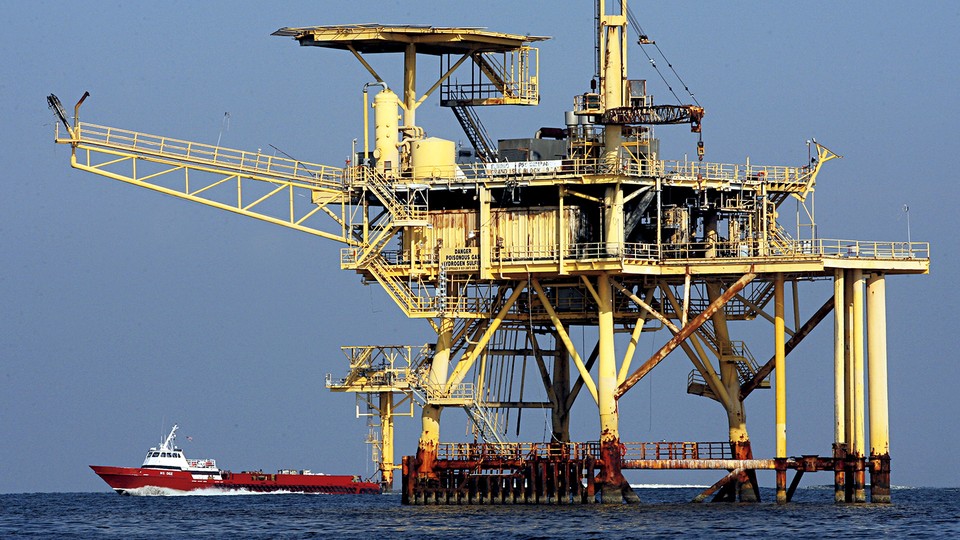 The Obama administration floated draft plans Tuesday to allow the auction of oil-and-gas drilling rights in federal waters off the coasts of North and South Carolina, Georgia and Virginia.
The move to open East Coast waters to drilling rigs comes five years after the administration, in the wake of the 2010 BP oil spill, backed away from an earlier proposal to lease tracts in the Atlantic.
But Interior Secretary Sally Jewell said that tougher regulations and oversight since the Deepwater Horizon disaster have improved safety.
Interior issued industry safety requirements after the fatal BP catastrophe that dumped several million barrels of oil into the Gulf of Mexico. And an upcoming regulation will set new standards for subsea "blowout preventers," the kind of equipment designed to halt runaway wells that failed in the BP accident.
"We have done a huge amount of work since the Gulf of Mexico spill to understand what happened there, to ensure that we are updating our standards so that we learn from the challenges that happened there, and the chance of them happening again is significantly reduced," Jewell said Tuesday in a call with reporters.
But Interior is nonetheless moving slowly on allowing East Coast development. The new proposal does not envision a lease sale occurring there until 2021. Jewell said more information is needed first about the resource potential and spill response capability.
The plan also requires that any drilling would be at least 50 miles from the coast, which the department said would minimize conflicts with Defense Department activities, renewable-energy development, fishing, and wildlife habitat.
Interior's proposed Atlantic Coast leasing is part of a wider plan released Tuesday for selling drilling rights in the Gulf of Mexico, where U.S. offshore development is now centered, and off Alaska's coast in the period between 2017 and 2022.
The timing of the potential Atlantic Coast sale means it would be a long time before any oil or natural gas would be produced there. The period between auctions for offshore drilling rights and energy production can easily span a decade as companies devise drilling plans, seek regulators' permission to conduct exploratory drilling for subsea oil, and take various other steps.
Congressional bans on East Coast drilling lapsed in 2008, but the Obama administration has kept the region off-limits by declining to offer leases there.
At the same time, the White House is also moving to put nearly 10 million acres of Arctic waters off Alaska's coast permanently off-limits to oil-and-gas development.
It's part of a wider focus on Alaska and the Arctic by Obama of late, which includes blocking drilling in Bristol Bay off the state's southeastern coast in December and, on Sunday, proposing to putting the Arctic National Wildlife Refuge permanently off-limits, too.
Jewell said the latest five-year leasing plan balances access to resources with conservation.
"This is a balanced proposal that would make available nearly 80 percent of the undiscovered technically recoverable resources, while protecting areas that are simply too special to develop," she said.
Officials also emphasized that the plan could change significantly. "We are in the early stages of what is a multiyear process," Jewell told reporters, noting that proposed lease sales in the various regions could be narrowed or removed outright en route to finalizing the plan.
Interior's proposal is facing immediate pushback from both sides of the political aisle, but for different reasons.
Sen. Edward Markey of Massachusetts, a liberal Democrat, said the plan puts his state at risk.
"Offshore oil spills don't respect state boundaries. A spill off the coast of North Carolina could affect Massachusetts. We saw what happened after the BP spill. My state's fishing and tourism industry can't afford that kind of tragedy," he said.
The department is also under attack from a top Republican over the new Arctic restrictions, even though the plan does schedule new lease sales in Arctic waters that aren't subject to Obama's new moratorium.
"This administration is once again promising Alaskans that it will allow exploration sometime in the future "" but not right now," said Sen. Lisa Murkowski of Alaska, who heads the chamber's Energy and Natural Resources Committee.
"I think we all know what promises from this administration are worth. They promised Alaska multiple lease sales under the current five-year plan, but so far there have been none, as sales continue to be postponed even past when the president will no longer be in office," Murkowski added.