Obama: 'No Challenge Poses a Greater Threat to Future Generations Than Climate Change'
The president in his State of the Union address vows to block Capitol Hill efforts to thwart his green agenda.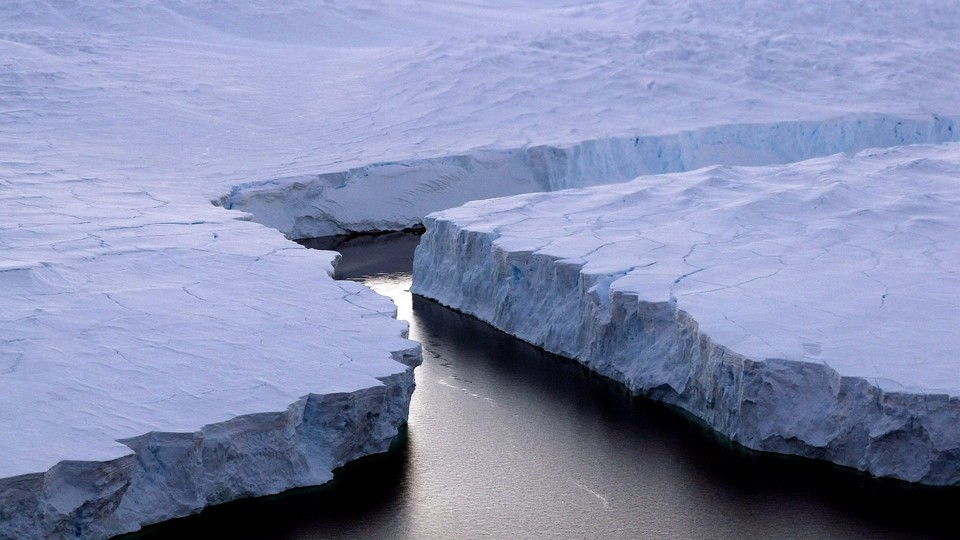 President Obama, delivering his first State of the Union speech to a Congress under total GOP control, on Tuesday vowed to thwart Capitol Hill efforts to undermine his climate change and environmental policies.
The speech arrives as ascendant Capitol Hill Republicans are planning legislative assaults on policies including Environmental Protection Agency carbon-emissions rules for power plants.
"No challenge—no challenge—poses a greater threat to future generations than climate change," Obama said, noting that 14 of the 15 warmest years on record occurred this century.
"The best scientists in the world are all telling us that our activities are changing the climate, and if we do not act forcefully, we'll continue to see rising oceans, longer, hotter heat waves, dangerous droughts and floods, and massive disruptions that can trigger greater migration, conflict, and hunger around the globe. The Pentagon says that climate change poses immediate risks to our national security. We should act like it," Obama said.
He touted his climate efforts, preservation of wilderness areas, and other policies before warning: "I will not let this Congress endanger the health of our children by turning back the clock on our efforts."
The speech suggested that Obama sees little opportunity to find common ground with the new Congress on energy policy and climate change. It did not include new proposals that would require congressional action, unlike some past versions of the annual address.
In 2011 Obama called for a national "clean energy" standard under which 80 percent of the nation's electricity would come from zero-carbon or low-carbon sources by 2035. In 2013 he floated an "Energy Security Trust" that would funnel $2 billion over a decade in revenues from offshore oil-and-gas drilling into research to speed development of transportation technologies like electric vehicles and biofuels. Neither proposal went anywhere on Capitol Hill.
Now, however, nearly all of Obama's agenda is about pushing ahead with a series of executive actions on energy and climate policy, such as a plan announced last week to curb emissions of the potent greenhouse gas methane from oil and gas operations.
"The truth of the matter is that the president has the existing authority to do much of what he wants to do as he rounds out his second term," Heather Zichal, a former top Obama climate and energy aide, said in an interview.
He also highlighted joint work with China that White House officials hope will pave the way for a meaningful international climate change deal at United Nations talks in Paris late this year. "Because the world's two largest economies came together, other nations are now stepping up, and offering hope that, this year, the world will finally reach an agreement to protect the one planet we've got," Obama said.
Under the deal with China struck in November, China agreed to a peak in its soaring carbon emissions by 2030 at the latest, and to boost the share of its energy use from carbon-free fuels—renewables and nuclear—to 20 percent by 2030. The U.S., for its part, pledged to cut its greenhouse-gas emissions by 26 to 28 percent below 2005 levels by 2025, building on the existing target of a 17 percent cut by 2020. China is the world's largest greenhouse-gas emitter, and the U.S. is No. 2.
Zichal, who left the White House in late 2013, said Obama's decision to highlight the U.S.-China agreement was important.
She said it counters Republicans who have alleged the U.S. would hinder its own competitiveness while doing nothing to halt climate change by acting to stem emissions without action by China and other major economies.
Obama is "taking away that talking point from Republicans," Zichal said.
While touting work on climate change, Obama also noted soaring U.S. oil and natural-gas production and the sharp decline in reliance on oil imports. He reminded voters that gasoline prices are falling. "[T]hanks to lower gas prices and higher fuel standards, the typical family this year should save $750 at the pump," Obama said.
Obama also needled Republicans who deflect questions about whether human-induced climate change is real. "I've heard some folks try to dodge the evidence by saying they're not scientists; that we don't have enough information to act. Well, I'm not a scientist, either. But you know what—I know a lot of really good scientists at NASA, and NOAA, and at our major universities," Obama said before listing the risks of unchecked global emissions.
The White House telegraphed Obama's emphasis on climate change Monday. Officials announced that Nicole Hernandez Hammer, a Floridian who has studied sea-level rise, would be among first lady Michelle Obama's guests at the annual speech.
"As a sea level researcher she has studied how cities and regions most vulnerable to the effects of climate change also have large concentrations of Hispanics," the White House said of Hammer, a Guatemalan immigrant who works with the group Moms Clean Air Force.