Obama Goes Halfway Around the World to See a Friend
After decades of frosty relations with India, the White House is hailing Prime Minister Modi's invitation and the coming weekend as a breakthrough.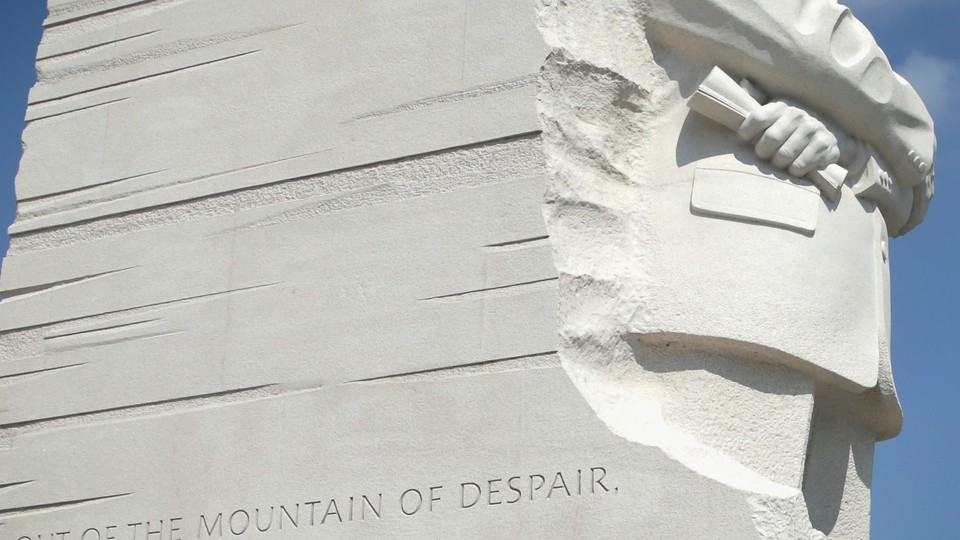 Foreign policy analysts—and even some top officials in both governments—feared the worst for U.S.-India relations when Narendra Modi won a landslide election as Indian prime minister last May. Everything seemed stacked against a warming of ties. For President Obama, there was his famed aloofness and an above-it-all approach to diplomacy that hadn't nurtured many friendships. For Modi, there was a lingering grievance against Washington because he had been denied a visa and refused permission to enter this country. It was punishment for his failure as a local official to halt violence when Hindu pilgrims fought Muslims in 2002 and more than 1,000 died.
It was a grim situation, made even worse by the fact that Obama already missed outgoing Prime Minister Manmohan Singh, whom he had singled out in a 2012 interview with Foreign Policy magazine as one of five world leaders he felt close to.
As the White House fended off questions about Modi's visa status, no one could imagine less fertile ground for a strong Obama-Modi relationship to take root. But, to almost everybody's amazement, that is what will be on display not even eight months later when the president travels this weekend to India for three days of public symbolism and private talks with his new close friend, the prime minister.
It is the symbolism that is grabbing the early headlines: Obama is the sixth president to visit India, but the first to go back a second time while in office. More important to the Indians, he is going as Modi's personal guest to celebrate India's most important holiday, Republic Day, which commemorates the day in 1950 when the Indian constitution went into effect and full independence was achieved. Obama will march in a parade alongside Modi, then review the parade with the prime minister and attend other celebratory events.
After decades of frosty relations during the Cold War and only fitful thaws in recent years, the White House is hailing the invitation and the coming weekend as a breakthrough that could lead to further progress on the sticky issues of defense cooperation, climate change, nuclear liability, and immigration.
Aides and outside analysts seem surprised at how closely the two leaders have bonded. Some trace it back to their remarkably similar campaigns that catapulted them from outsiders to perches atop their governments. Others note the similarities of their ambitions to change the way their capitals operate. And others recall a last-minute decision by Obama to accompany Modi to the Martin Luther King Jr. Memorial in Washington during the prime minister's trip here last September.
The president was not initially scheduled to accompany Modi to the memorial. But he understood the crucial link between King and Mahatma Gandhi, the leader of Indian independence and apostle of nonviolence. Bystanders could not hear what the two leaders were saying, but Obama could be seen gesturing and seemed to be explaining some of the King quotes on the monument. By all accounts, it was an important bonding moment for the two men.
"During the visit here, they struck up a very good chemistry," said Ben Rhodes, Obama's deputy national security adviser for communications.
But more went into the budding relationship. They discovered they had much in common, from their common backgrounds to their sense of showmanship in politics.
"Both leaders have not come through very elite backgrounds: Modi a tea seller who only through democracy could become prime minister," said Tanvi Madan, director of the India Project at the Brookings Institution. This led to a bonding of two politicians who found themselves trying to follow powerful dynastic families into office.
Both also rose on the power of oratory. Modi "is a fierce orator," said Madan. Both made strong appeals to rising generations with Modi the first prime minister born after independence and Obama the first American president after the baby-boom generation. And both had very personal appeals. Of Modi, Madan said, "He does like to speak to large crowds." But she said his campaign "wasn't really about the party. It was about him."
Modi's showmanship was very much on display during his September trip to the United States. The prime minister went to the East Coast's center of showmanship, New York City's Madison Square Garden, to flash his star quality. With 19,000 fans cheering and chanting his name, he gave his speech from a rotating stage while admirers waved a poster eerily similar to Shepard Fairey's iconic "Hope" poster for Obama's 2008 campaign.
"The Modi campaign, his communications staff, technologists on the campaign—were very much inspired by President Obama's campaign," said Madan. She said Modi "took it to another level," even using holograms in his campaign, "but really connected on these issues of how you campaign to win elections" and also the challenge of how to deliver on promises after you raised expectations.
White House aides also suggested the two leaders bonded over their campaigns. "In their first conversation after Prime Minister Modi's election," said Rhodes, "they noted some similarities in terms of how their campaigns changed the way in which politics was practiced in our respective countries. So they both came into office following high-energy campaigns that utilized very broad-based voter outreach."
Aides realized that the two leaders had hit it off. But they still were taken aback when Modi invited Obama to be the guest of honor at Republic Day with its exhaustive television coverage all across India. "It took us by some surprise," Rhodes told reporters. The surprise stemmed from what Rhodes gently called "a history that is complicated," one in which generations of Indian leaders stubbornly resisted all efforts to draw India into the American orbit. It is because of that history that the White House sees this invitation and this trip as "potentially transitional if not transformative" in U.S.-Indian relations.
"In India, it's going to be a really big deal," said Richard Rossow, who holds the Wadhwani Chair in U.S.-India Policy Studies at the Center for Strategic and International Studies. He said the president is looking beyond the good personal relations. "Does he want a best friend, or does he want somebody that's going to carry through on commitments? It's clearly the latter," said Rossow. "Are they buddy-buddy? That's for them to tell you about. But more importantly for the president of the United States, he sees a counterpart that will actually try to deliver on things that are promised in those meetings. And I think that is probably the best way that they can show friendship."