Obama: Forget Keystone, Pass an Infrastructure Bill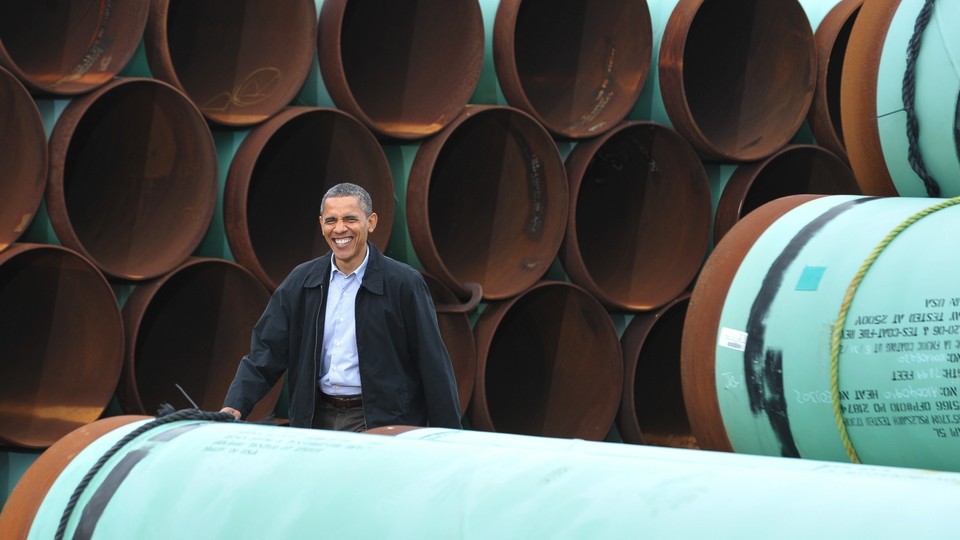 President Obama needled congressional Republicans for their early focus on the Keystone XL pipeline in his State of the Union address Tuesday, saying that Congress should instead be working on a long-term infrastructure bill.
"Twenty-first-century businesses need twenty-first-century infrastructure"Š—"Šmodern ports, stronger bridges, faster trains and the fastest Internet. Democrats and Republicans used to agree on this," Obama said.
"So let's set our sights higher than a single oil pipeline. Let's pass a bipartisan infrastructure plan that could create more than 30 times as many jobs per year, and make this country stronger for decades to come," he added.
The Republican Congress has made approval of the Keystone XL oil sands pipeline an early priority, with the House passing a bill in its first week and the Senate currently debating amendments to its own version. That's despite a promise by the White House to veto the bill because it would circumvent the White House's normal review process. Obama has also been increasingly skeptical of the Alberta-to-Gulf Coast pipeline in public, noting its potential climate impact while downplaying the economic benefits.
Meanwhile, lawmakers on both sides of the aisle have called for consideration of a long-term transportation bill, which supporters say would create jobs, stir the economy, and fix the country's crumbling roads and bridges. Passing such a measure—which would require a new funding stream to replace the dwindling gas tax—has proven difficult in recent years.
Obama's tweak of the pipeline focus mirrors that of several Senate Democrats, who have said the pipeline project would create far fewer than the thousands of jobs Republicans and pipeline supporters have promised.
In her opening statement at a committee markup on the pipeline bill, progressive star Sen. Elizabeth Warren, D-Mass., asked members "What if we focus on highways instead of pipelines?"
The project did merit a mention in the Republican response, with Iowa Sen. Joni Ernst saying the pipeline could "support thousands of jobs and pump billions into our economy, and do it with minimal environmental impact," citing the State Department. Ernst said Republicans were working across the aisle to pass the "Keystone jobs bill" and said Obama "will soon have a decision to make: will he sign the bill, or block good American jobs?"
The State Department's 2014 Environmental Impact Statement did estimate that construction of the pipeline would contribute $3.4 billion to the gross domestic product while creating more than 42,000 direct, indirect and induced jobs. Of those jobs, however, only 3,900 would be in construction (many temporary) and operation of the pipeline would only support 35 permanent jobs and 15 temporary ones.
Ernst also said that a majority of Americans support construction of the Keystone XL pipeline. Recent polling suggests that American support is slipping, however, and an NBC News/ Wall Street Journal survey released on Tuesday reported that only 41 percent of Americans want to see the pipeline built.