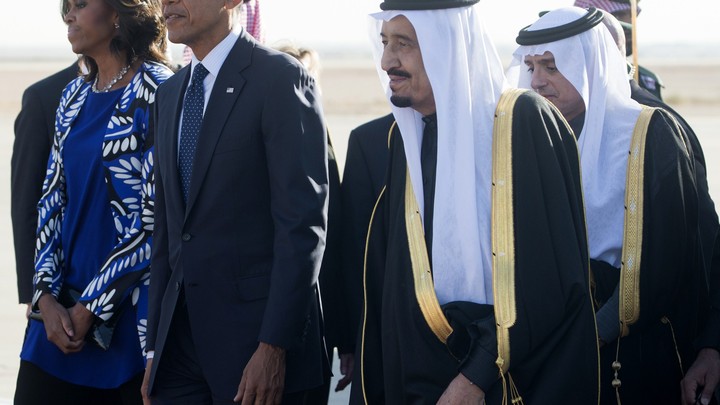 The audience was a lot smaller this time, just a handful of royals in a desert palace instead of more than 1 million Parisians filling Boulevard Voltaire. But only 16 days after the White House acknowledged that President Obama blew it by not joining the anti-terrorism march in Paris, he got something right.
By altering his schedule in India and dropping a tourist trip to the Taj Mahal that could have been awkward and, instead, leading a bipartisan American delegation to Saudi Arabia, the president did what was needed to keep U.S.-Saudi relations on track in the wake of the death of King Abdullah. The ham-handedness so evident in the Paris episode was replaced by a diplomatic finesse that extended beyond simply rerouting Obama from Agra to Riyadh.
That touch was also evident in the makeup of the official delegation that accompanied him. It was more than simply bipartisan; it also included leading members of Congress and big names from past administrations of both parties. The message to Saudi Arabia was clear:  this is a relationship that matters to this president but also to the foreign policy establishments of both parties.
It is a message that needed to be sent at this moment. Although it is hard to find a time when the Middle East cannot be called volatile, that description is particularly apt at this time.
"You have a civil conflict in Yemen; you have al-Qaida in the Arabian Peninsula the most active threat in targeting the United States; you have the question of what to do about Iraq, what to do about Syria," said Anthony Cordesman, a longtime expert on the region who has held several government posts.
Further complicating American diplomacy and elevating Saudi Arabia's importance is the remarkable weakness of Egypt, the continuing weakness of Iraq, and what Cordesman calls "unsettled structures across the Arab world." And don't forget the unchanging fact that petroleum has an outsized impact on the global economy at a time when its recovery remains shaky.
"You look at all that and you also consider the fact that you have a number of friction points over Egypt, Iraq, Syria, and you can see why something that is this critical and strategic gets the president's attention," added Cordesman, who is now with the Center for Strategic and International Studies.
Obama was in Saudi Arabia less than five hours and spent less than three hours with Abdullah's successor, King Salman. But that was more than enough time to lay the groundwork for a relationship with the new king. And, perhaps even more important given the reports of Salman's poor health, this was time enough to start building a personal relationship with the Saudi leaders who will follow Salman to the throne.
That includes Crown Prince Muqrin, the new Deputy Crown Prince Muhammed bin Nayef, and the new defense minister "" the king's son "" Prince Muhammed bin Salman. Given the persistent questions about the mental faculties of the king, there is great emphasis on these three as representing the next generation of Saudi leaders. That alone raised the stakes for their session Tuesday with the visiting U.S. president.
The fact that the royal family moved so quickly to put the new leadership team in place made it possible for the White House to drop its early plan to have Vice President Joe Biden represent Obama in Riyadh. The fact that Nayef was in that team also assured that the talks could be productive, because he is considered one of the most important people in the world when it comes to anti-terrorism. With the United States and Saudi Arabia allied in the fight against Islamic State extremists, the White House wanted Obama to have a chance to talk directly with Nayef even as the Saudi transition is under way.
"What's very clear to us is that King Salman has sent a signal of continuity," said Ben Rhodes, deputy director of Obama's National Security Council. In return, the White House wanted to send a similar signal of continuity in the U.S.-Saudi strategic relationship. And that meant trying to build a personal relationship with Salman similar to what the president enjoyed with Abdullah.
"It will be important for the president to establish that relationship with King Salman," said Rhodes. "He had a close relationship with King Abdullah. They could pick up the phone. They didn't always agree, but they could be candid in their differences. But they also were able to do a lot of things together."
Of the next generation of leaders, Rhodes hailed Muqrin and Nayef as "very close friends of the United States." He said the White House sees the new team as "partners who we've worked with closely and who will want to stay invested in the efforts like the counter-ISIL campaign, like the pursuit of regional stability that have been the hallmark of our cooperation."
That might be a lot to extract from such a short visit, but the image of Air Force One's arrival in Riyadh was powerful. Also powerful was the makeup of the official U.S. delegation. It included top officials from the administrations of Presidents Ronald Reagan, George H.W. Bush, Bill Clinton, and George W. Bush. There were former Secretaries of State James A. Baker III and Condoleezza Rice and former National Security Advisers Brent Scowcroft, Sandy Berger, and Stephen Hadley, as well as former counterterrorism adviser Frances Townsend.
"These images are important, and they have a major impact on relations," Cordesman said. "Whether that should be true in a theoretical sense is a completely different issue. The fact is that they do."
We want to hear what you think about this article. Submit a letter to the editor or write to letters@theatlantic.com.