Now Speaking for the Republicans: Benjamin Netanyahu
Speaker John Boehner invited the Israeli leader to address Congress—and rebut President Obama—for the second time in four years.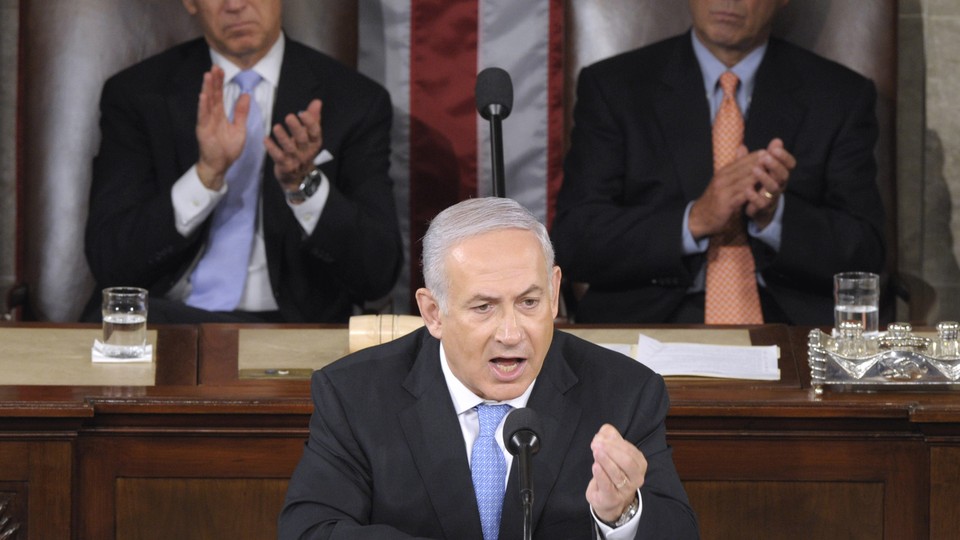 Republicans who panned President Obama's State of the Union address Tuesday night have responded by inviting one of their favorite speakers back for a return engagement: Benjamin Netanyahu.
The Israeli prime minister last addressed Congress in 2011, delivering a speech that drew a more enthusiastic response from GOP leaders than any from the American president. Speaking as if he could have been elected from the Philadelphia suburb where he graduated high school, Netanyahu was interrupted more than two dozen times by bipartisan standing ovations as he firmly laid down his parameters for a peace deal with the Palestinians at a moment of tension with President Obama.
His speech was so well-received—and Netanyahu is so personally popular among Republicans—that Speaker John Boehner on Wednesday asked him back to address a joint meeting of Congress for the second time in less than four years. In fact, Netanyahu would become the first foreign leader since Winston Churchill to appear before Congress three times. (He also spoke during his first run as prime minister in 1996.)
This invitation, however, is even more important for a number of reasons. First, the February 11 speech will come just over a month before Israel's legislative elections, and the prestige of an address to Congress could boost Netanyahu domestically. (Nevermind that it was Netanyahu's own Likud party that accused Obama of interfering in Israel's elections just two years ago.) Yet it also coincides with a mounting confrontation between Congress and President Obama over Iran sanctions legislation, and Boehner pointedly announced the invitation just about 12 hours after the president, during his State of the Union address, pleaded with lawmakers to give nuclear talks with Tehran more time.
"New sanctions passed by this Congress, at this moment in time, will all but guarantee that diplomacy fails—alienating America from its allies; making it harder to maintain sanctions; and ensuring that Iran starts up its nuclear program again. It doesn't make sense. And that's why I will veto any new sanctions bill that threatens to undo this progress."
In effect, Boehner is asking Netanyahu—a leader with whom the president's relationship has been icy, to say the least—to respond to Obama and make the case against a deal with Iran. In announcing the invitation, the speaker specifically said he wanted the prime minister to address "the grave threats radical Islam and Iran pose to our security and way of life."
"There is a serious threat that exists in the world, and the president last night kind of papered over it," Boehner told reporters Wednesday morning. He said he did not consult with the White House over the invitation to Netanyahu, noting that "the Congress can make this decision on its own." Boehner is also on more solid footing knowing that it isn't just Republicans who want to pass a new sanctions bill over the president's objections. As he was speaking to reporters, Senator Robert Menenedez, the top Democrat on the Foreign Relations Committee, was chastising the administration at a hearing on Iran. "I have to be honest with you," Menendez told a pair of senior officials, "the more I hear from the administration and its quotes, the more it sounds like talking points that come straight out of Tehran."
It's not hard to predict what Netanyahu will say to Congress next month; he's been warning against a nuclear agreement with Iran from the moment the Obama administration entered into negotiations. The big question might be whether he can rally enough support in Congress to give Republicans a veto-proof majority that would ensure the passage of a sanctions bill Obama doesn't want. Boehner insisted on Wednesday morning that he wasn't "poking anyone in the eye" with his invitation to Netanyahu. But that's sure not how it looks.