Most States Suing Obama Over Immigration Have Small Undocumented Populations
And now a group of more than 30 cities--most with large immigrant communities--has filed a brief in support of the president's action.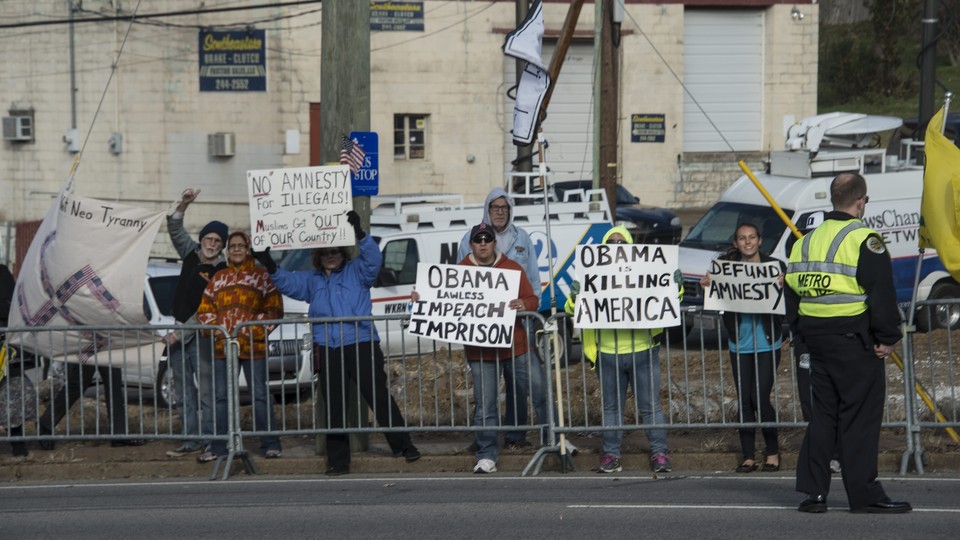 Call it a clash of civilizations, American-style.
On Monday, a group of 33 cities--most racially diverse and Democratic-leaning--filed a legal brief supporting the executive action President Obama announced last November that provides legal protection to as many as 5.2 million undocumented immigrants. The cities intervened to defend Obama's action against a lawsuit seeking to block it, a suit filed by 26 Republican-leaning states, most of which have been touched only lightly by immigration.
In a telling comparison, the cities backing Obama in the federal case actually house a larger population of undocumented immigrants than the states opposing him, according to estimates by the nonpartisan Migration Policy Institute.
"It has always been striking to me that these places that have very few immigrants are the most [unnerved] by their presence," says sociology professor Manuel Pastor, director of the Program for Environmental and Regional Equity at the University of Southern California. "But in the places that have long-settled immigrant populations--and, in particular, have large shares of the undocumented--these populations have become deeply interwoven into the fabric of the overall community."
The standoff between the cities and states over a policy that crystallizes anxiety about the nation's tumultuous demographic change compresses more of modern American politics into a single confrontation than might seem possible.
The most obvious difference between the city and state coalitions is their partisan leaning. Of the 26 states that joined the lawsuit, 24 have Republican governors. In the  two other states (Montana and West Virginia), Republican attorneys general joined the case while the Democratic governors pointedly refused to do so. Of the four Democratic attorneys general in office in the 26 states when the case was filed, only Arkansas' Dustin McDaniel signed on.
By contrast, the mayors who joined the litigation are all Democrats, including Eric Garcetti in Los Angeles, Bill de Blasio in New York City, Rahm Emanuel in Chicago, Kasim Reed in Atlanta, Michael Nutter in Philadelphia, and Annise Parker in Houston. The U.S. Conference of Mayors and the National League of Cities, which are nonpartisan and include mayors from both parties, also joined the suit--but no Republican mayors are participating as individuals.
That alignment reflects the "density divide" that now sees Democrats dominating the vast majority of the nation's urban centers and Republicans ruling almost everywhere outside of them. While Obama won by about 5 million votes in 2012, he lost more than three-fourths of the nation's 3,112 counties, and relied on his 100 best counties to produce more of his overall vote margin than any winner since at least 1920.
Many of the cities supporting Obama in the case are at the forefront of the growing racial diversity remaking the country. For instance, in each of the six cities noted above that intervened, minorities constitute about three-quarters or more of the students in the K-12 public school system.
Big cities are also on the front line of dealing with the nation's estimated population of roughly 11 million undocumented immigrants. Of those 11 million, just over 5 million are expected to qualify for legal protection under Obama's executive action.
The population of undocumented immigrants has substantially dispersed since the last major legalization under Ronald Reagan in the 1980s. But even so, a significant portion of that population remains concentrated in the largest cities.
A Next America analysis of Migration Policy Institute data found the counties that include cities intervening in the lawsuit are home to an estimated 4.76 million undocumented immigrants. Of those, 2.06 million are projected to qualify for legal protection under Obama's order. Topping the list are Los Angeles (with 466,000 eligible), New York City (238,000 eligible), Houston (196,000 eligible), and Chicago (171,000 eligible).
All told, the 26 states suing Obama house 4.45 million undocumented immigrants--about 300,000 less than the cities intervening to support him, according to the MPI data. The MPI estimates the states opposing Obama have 2.05 million undocumented immigrants eligible for the action, about the same as the cities. But subtracting the totals for cities like Houston and Atlanta that have intervened for Obama from the states opposing him, reduces the state total of eligible undocumented immigrants to about 1.8 million, below the city tally.
Except for Texas, every state suing to block Obama has fewer undocumented immigrants potentially eligible for the executive action than Los Angeles alone; Florida is the only other state in the suit that has more potentially eligible than New York City. "Many of our cities are larger than those states that are even suing," Los Angeles Mayor Garcetti pointedly said recently.
More broadly, the states opposing Obama also tend to be those more sheltered from the broader wave of immigration that has washed over America since the 1960s. Examining census data on the distribution of foreign-born residents yields a revealing pattern. Of the 20 states whose foreign-born residents represent the smallest share of their overall population, 15 are suing Obama. Of the 20 states whose foreign-born residents represent the largest share of their overall population, 15 are not suing Obama. (The five that have joined the case are Arizona, Florida, Georgia, Nevada, and Texas.)
Put another way, just eight of the 26 states supporting the lawsuit land in the top half when states are ranked by the share of their total population that was born abroad. In nearly half of the states participating in the lawsuit, foreign-born residents account for fewer than one in 20 state residents.
Still, as Pastor points out, many of the conservative states experiencing the sharpest backlash against illegal immigration are those like Alabama, South Carolina, and Georgia whose Hispanic populations are growing rapidly, albeit usually from a low base. "The tensions around immigration seem to flare up when it's both new and rapid," he notes.
Even in states with few racial minorities or foreign-born residents, those groups tend to concentrate more heavily in the urban centers. That can open a cultural and political chasm, as described by Salt Lake City Mayor Ralph Becker at a recent Next America forum. "I think in Salt Lake City, we're so accustomed to [diversity] and so enjoy it that it's not an issue," says Becker, a Democrat who joined the lawsuit to support Obama's action. "But at the state level, there's a pretty good gap, particularly when you look at a state Legislature that is predominantly white, male, Mormon, and elderly."
The contrast between the legal papers filed by each side is telling. In their brief, the states stress their contention that Obama lacks the authority for his order. But the states also portray the undocumented population primarily as a liability to their communities. Under Obama's order, they contend, the states "will be forced to expend substantial resources on law enforcement, health care, and education," including providing public school education and emergency health care services. (Undocumented immigrants will remain ineligible for the federal health care law under Obama's order.)
But in their filing, the cities defend Obama's authority while also portraying their undocumented populations as assets for their communities. Obama's order "will fuel economic growth in cities across the country, increase public safety and public engagement, and facilitate the full integration of immigrant residents by promoting family unity and limiting family separation," the cities contend. "These positive impacts are possible because executive action will permit undocumented immigrants to better reach their potential and contribute to their communities."
While advocates on both sides believe that Andrew Hanen, the conservative federal district judge in Texas now hearing the case, is likely to rule against it, Obama's supporters remain cautiously optimistic that higher courts will ultimately uphold his action. In a 2012 ruling on Arizona's tough enforcement law, the Supreme Court underscored the primacy of federal authority on immigration issues.
If Obama's immigration action ultimately moves forward, it will likely ignite further conflict between blue-leaning urban centers and more-conservative surrounding areas, particularly in the states that sued to block the action. The federal government is relying heavily on local nonprofits and municipal governments to undertake outreach to the potentially eligible. Some supporters fear that conservative states fighting the order such as Arizona, Georgia, and Texas may pressure or compel more left-leaning city governments to curtail their efforts. "That's exactly what we are preparing for," said Marielena Hincapie, executive director of the National Immigration Law Center, which supports Obama's action. "There is a little bit of a showdown that will be happening between municipal governments and states." In that scenario, this week's legal skirmish between blue cities and red states may be just round one.
---
Janie Boschma contributed to this article