Why Would Romney Run?
The two-time candidate is considering a third presidential campaign, but will the country need a turnaround artist in 2016?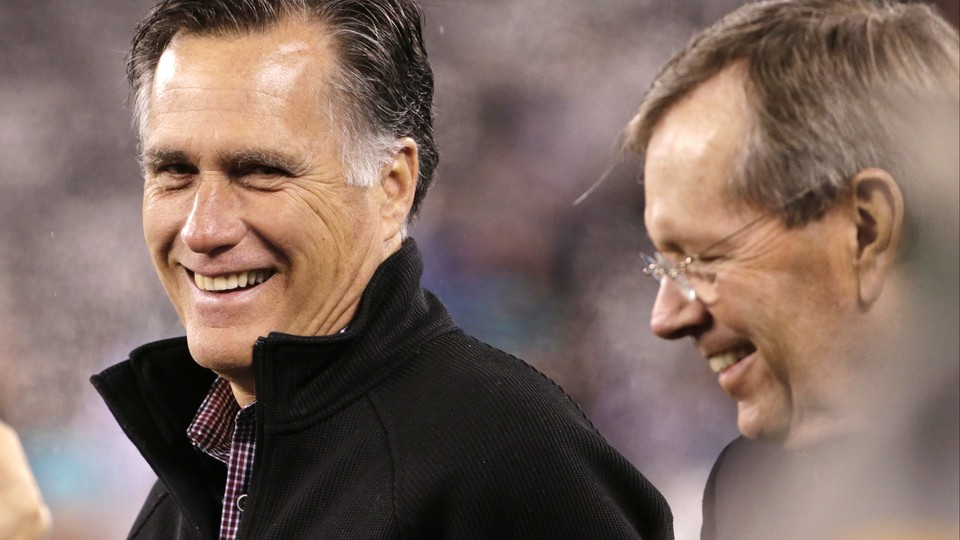 The news reported late Friday afternoon by The Wall Street Journal that Mitt Romney is considering a rare third try for the presidency is surprising for several reasons. The most obvious is that he has lost two times before and has insisted repeatedly that he wasn't interested in the ignominious hat trick. More recently, the likely candidacy of Jeb Bush, another former governor of the establishment variety, seemed to kill off the possibility of another Romney run once and for all.
But perhaps the most compelling argument against another campaign by the well-regarded financial turnaround artist is that in the years since he last ran, the economy has actually turned around. Look no further than the monthly jobs report released by the Labor Department on Friday, which showed the unemployment rate had dropped to a six-year low of 5.6 percent and that employers added an average of 289,000 jobs during the final quarter of 2014. Of course, the economy is far from perfect, and potential candidates of both parties are rightly focused on the lack of strong wage growth and persistent income inequality. Yet as Romney showed so clearly in 2012, the wealthy founder of Bain Capital is not the leader for a populist time, especially when inequality is expected to be the dominant economic issue of the election.
The Romney 2016 boomlet first emerged toward the end of President Obama's "lost year" of 2013, when a cascade of foreign crises and continued gridlock in Congress led to polls showing buyer's remorse. Those foreign crises have not entirely abated, of course, and Romney's once-mocked statement that Russia was the U.S.'s "number one geopolitical foe" still looks pretty prescient. But the economic recovery that helped reelect Obama in 2012 accelerated to an expansion in 2014. That 5.6 percent unemployment rate? It's now lower after two years than the 6 percent Romney promised to achieve in four.
Romney is no doubt enticed by polls that show him leading a Republican primary and by the prospect of splitting a crowded field of promising-but-flawed GOP candidates. A race for the establishment vote among him, Bush, and New Jersey Governor Chris Christie, would be fascinating, and Romney at least doesn't have the baggage of Bush's family or the federal investigation now dogging Christie. But at a time when the economy is strengthening and could be genuinely strong by the time the first primary votes are cast, what is the rationale for Romney's third bid for the White House?