Mitt Romney Will Not Run in 2016
The former candidate announced his decision to supporters on a conference call this morning.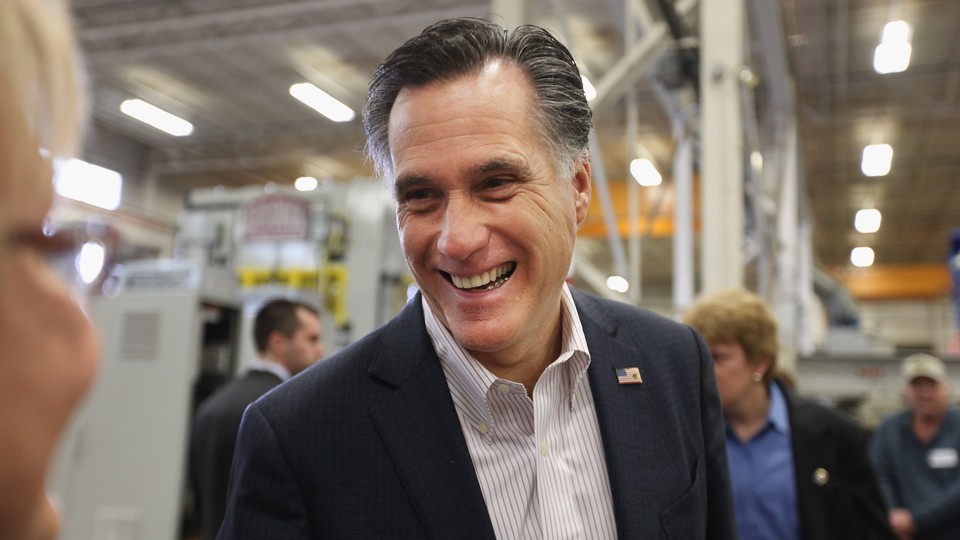 Mitt Romney has officially announced that he will not be running for president. The statement came on a conference call with supporters and reporters Friday morning.
"After putting considerable thought into making another run for president, I've decided it is best to give other leaders in the Party the opportunity to become our next nominee," he said.
Romney says that it is "unlikely" that he'll change his mind, and he will tell supporters that he is not organizing a PAC, taking donations or hiring a campaign team. The news of his decision was first reported by radio-show host Hugh Hewitt.
In an apparent jab at former Florida Gov. Jeb Bush, who is 61, Romney emphasized the need for a fresh face for the GOP.
"I believe that one of our next generation of Republican leaders, one who may not be as well known as I am today, one who has not yet taken their message across the country, one who is just getting started, may well emerge as being better able to defeat the Democrat nominee," he told supporters on the call. "In fact, I expect and hope that to be the case."
In a statement posted on Facebook shortly after Romney's announcement, Bush wished his would-be rival the best.
"Though I'm sure today's decision was not easy, I know that Mitt Romney will never stop advocating for renewing America's promise through upward mobility, encouraging free enterprise and strengthening our national defense," he wrote. "Mitt is a patriot and I join many in hoping his days of serving our nation and our party are not over. I look forward to working with him to ensure all Americans have a chance to rise up."
According to the Times, as the decision spread among donors before the call Friday, donors began calling other establishment candidates, such as New Jersey Gov. Chris Christie, to lend their support. Romney is scheduled to have dinner with Christie Friday evening, the Times reports.
In a brief email, which went out to supporters late Thursday night, Romney announced his "update" call and included details of how to call in. It was a busy morning for RomneyWorld: The call came after he convened a separate conference call with an inside circle of advisers and aides, according to ABC News.
On Thursday, Romney lost an important member of his campaign machine: David Kochel, an Iowa strategist who worked for the former governor for his campaigns in 2008 and 2012. Kochel will be a senior strategist for Bush's new political action committee, Right to Rise.
Since the former Florida governor's December announcement that he will "actively explore" his own 2016 bid, the two have been in a battle for establishment donors and support. Kochel's defection is a blow for Romney, and may have been the catalyst for the call.
Part of Romney's push forward had been his belief, according to Bloomberg, that other establishment candidates—Bush, Christie and Florida Sen. Marco Rubio—aren't up to snuff. But his Friday remarks indicate that he thinks his presence in the race would be more damaging to his goal of electing "a conservative leader to become our next president."
"You know that I have wanted to be that president," he said. "But I do not want to make it more difficult for someone else to emerge who may have a better chance of becoming that president."
News of the 2016 shakeup didn't escape the Democratic Caucus' retreat in Philadelphia, which convened earlier this week. In a leadership press conference Friday afternoon, House Minority Leader Nancy Pelosi speculated that Romney wouldn't have a chance against the Democrats in 2016. But she also had kind words for the former governor, calling him a "wonderful American" with a "lovely family."
"He probably concluded the prospect of success was not there," Pelosi said. "He's served our country in many ways. I don't want to make a joke of his candidacy."
Even if he isn't running, Romney had been performing well in early polling. He is currently leading all of his possible GOP rivals, according to the latest polls. In a Thursday Fox News poll, Romney tops the rest of the GOP field with 21 percent support among self-identified Republicans. Bush ranks fourth with 10 percent support.
This story has been updated to reflect news from Romney's comments, and for additional reporting and context.