Matt Bevin to Make Shock Run for Kentucky Governor
The tea-party favorite is running again, and that means another tough primary challenge for a state party that has seen plenty of them.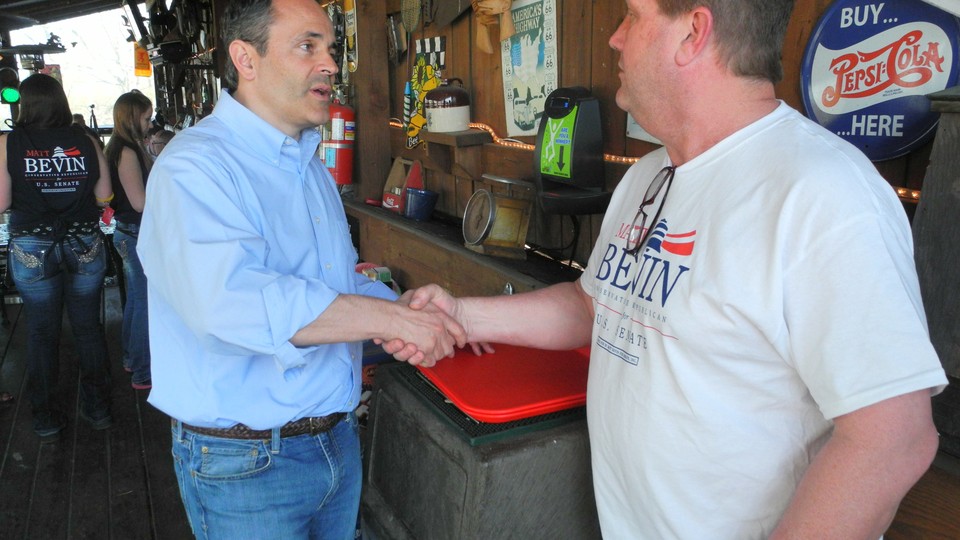 Matt Bevin is back, and that means trouble for Kentucky's Republican establishment.
Months removed from a Republican Senate primary loss to Mitch McConnell, the fiery tea-party candidate launched another statewide race Tuesday, this time for Kentucky governor.
Bevin's unexpected and late entry—he officially joined the race less than two hours before the state's 4 p.m. deadline—is a boon for the party's most conservative elements, as it will boost their voice in a crowded campaign. But for the party as a whole, it complicates an already difficult task: preventing the competitive primary from crippling its candidate before the general election begins.
With Bevin, Republicans now have a four-way race. State Agriculture Commissioner James Comer is the perceived front-runner, but he was already competing against wealthy Louisville businessman Hal Heiner and former Kentucky Supreme Court Justice Will Scott. And with Bevin, the GOP adds a candidate with a combative history—particularly in his nasty race against McConnell last year.
And if the party is unable to prevent its primary season from becoming an all-out brawl, it risks losing the governor's mansion yet again: Republicans have long sought the Kentucky governorship—and thought they had opportunities to take it in recent races—but the state hasn't had a Republican governor since Ernie Fletcher was ousted after one term in 2007. And over the past 50 years, Republicans have held the state's top spot for only eight.
"They'll beat each other up. Even if they're all good candidates, we'll have four months having a family feud, or at least a family discussion, and that's going to put [Democrats] in a good position," said Trey Grayson, Rand Paul's 2010 Senate primary opponent.
Democrats, meanwhile, are set up to avoid a tough primary fight. They will almost certainly nominate Attorney General Jack Conway, who lost the 2010 U.S. Senate race to Paul. Conway's biggest primary obstacle was removed Monday when Secretary of State Alison Lundergan Grimes opted to seek reelection to her current post.
On the Republican side, Bevin's entry makes any victor's path more complicated.
Bevin is most likely to upset the game plan of Comer, who so far has out-organized and out-polled his opponents. Comer has worked for months to consolidate support from tea-party types—and those efforts were met with early success. He posted the strongest fourth-quarter fundraising numbers of any of his rivals at the end of 2014, and he has been racking up endorsements from figures, including Rep. Thomas Massie and former GOP Sen. Jim Bunning. But Bevin is a state tea-party champion, and he threatens to take some of that support back.
Comer is also aiming to play up his rural roots and contrast that with the urban profiles of Heiner—a former Louisville metro councilman and onetime mayoral candidate—and the Democrats' Conway, another Louisville native.
"Comer's going nuts because he does not want Bevin in this race," said former state Democratic Party Chairman Danny Briscoe. "[Bevin's] a tea-party guy, probably the best-known tea-party person in Kentucky, and he's not from Louisville. His votes will be off of Comer's tally. That's someone who could have a real impact."
Comer and Heiner both engender the respect of most Kentucky Republicans. Neither McConnell nor Paul have expressed any intention of endorsing in the primary, and they appear content to fully support either should one of them be their party's nominee, though they have yet to comment on Bevin. (Grayson, who had McConnell's support in his 2010 primary race against Paul, said, "I always joke I'll be the last guy [McConnell] endorses in a primary. I say he's learned his lesson from me.")
Unlike Bevin, Heiner isn't viewed as someone likely to kick up dust in the primary, except in one regard: money. Heiner's total net worth isn't exactly known—he hasn't been required to file comprehensive personal financial disclosures for elective positions he's sought in the past—but he put $4.2 million of his own money into the race early last year and appears capable of putting in more. His deep pockets enabled him to become the first candidate to air TV ads this month, giving him the opportunity to define himself, and others, early.
"This race will tell the story of how much money can matter in a race," said Holly Harris, a former top aide to Comer. "Comer has potential to be a very strong fundraiser. He has raised a significant amount of money, but when you're looking at someone that every time you raise a million, they can put in two, that's very daunting."
For Heiner's opponents, given the state's $1,000 individual contribution limit, being forced to compete with his money could result in a GOP nominee walking into the general election low on cash against a Democrat who's had four months to compile it.
Despite a history of coming up short and a newly difficult primary, there's reason to believe that 2015 could be the GOP's year.
Popular Democratic Gov. Steve Beshear is retiring after two terms, and Republicans have made significant gains down the ballot in recent years. Democrats still control five of six statewide offices and have majority control in the state House, but Republicans have slowly expanded their majority in the state Senate and have controlled the chamber for more than a decade. The GOP also won control of county and municipal offices—as well as dominated Democrats in recent U.S. Senate races. (McConnell, despite his primary scrap with Bevin, trounced Grimes by a 56-41 percent margin.)
The state GOP's failure to grab the top spot has become all the more frustrating for the party faithful as the Southern states around them have become more Republican-dominated. The Kentucky House is the only state legislative chamber that Democrats still control in the South. Beshear will leave office as one of few Democratic governors left in the region: Missouri and West Virginia are still run by Democrats, but from Arkansas to Florida, Republicans have pitched a gubernatorial shutout.
But the GOP is hoping to push the boundary north: "All the signs are that Kentucky's just getting close to breaking out our way," McConnell said in an interview with the Lexington Herald-Leader earlier this month.
Even Democrats concede a Republican takeover is possible. "The trend, if you graphed it, is going straight down," Briscoe said. "There are a lot of people who think that direction is inevitable, and if we get a Republican governor, it will be inevitable."