Loretta Lynch's Mission to Convince Congress She's Not Eric Holder Is Working. So Far.
After one day of hearings, the potential attorney general is winning over some Republicans.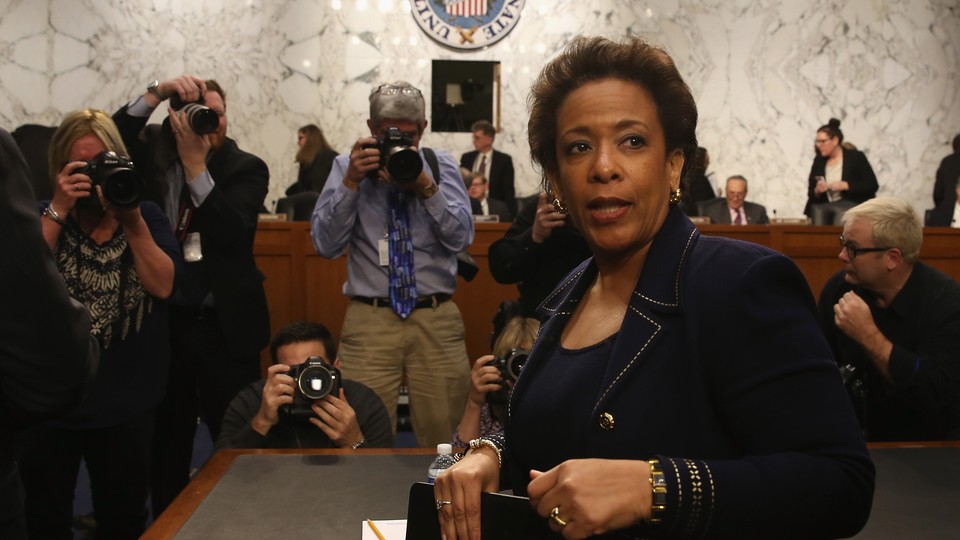 Loretta Lynch had one job in the first round of her confirmation hearings to be America's top lawyer Wednesday: Convince congressional Republicans she is nothing like Eric Holder, who would be her predecessor if she becomes attorney general. So far, she's making a strong case to the Republicans she has to win over.
In her opening statement, Lynch confronted the frayed relationship with Congress that has evolved during Holder's tenure head-on as she assured members that a top priority was "fostering a new and improved relationship with this committee," a relationship "based on mutual respect and constitutional balance."
That, however, didn't keep Republicans from voicing skepticism and holding her out as a scapegoat for their frustrations with the Obama administration. From President Obama's actions on immigration to the IRS's alleged targeting of conservative groups seeking nonprofit status, Republicans wanted to know if Lynch had anything in common with the man she'd be succeeding.
"You're not Eric Holder, are you?" Sen. John Cornyn, R-Texas, asked during his line of questioning.
Republican Sen. Orrin Hatch of Utah asked Lynch if she would promise to defend the Constitution even if it put her at odds with the president she was serving.
"Absolutely, sir," she responded, and Hatch chimed in: "I'm glad you said that. Attorney General Holder answered that same question in the same way."
"By breaking his promise, he cast doubt about others who make the same commitment as you did today," Hatch said.
Several Republicans who started the day unsure about Lynch, however, emerged from the hearing Wednesday applauding her performance.
"She's been saying all the right things. I think she comes from a background of being a prosecutor who was on the front lines, and that gives me some hope that she will be independent," Sen. Lindsey Graham, who engaged in a particularly tough line of questioning with Lynch, told National Journal. "I'm impressed. She has done nothing to talk me out of supporting her."
Judiciary Committee Chairman Chuck Grassley, a hard-liner who has pledged to reinvestigate Obama administration scandals such as Fast and Furious, offered careful praise for Lynch's ability to make it through long lines of questioning.
"I'm gonna wait and read the whole record, including analysis of people testifying tomorrow for and against her," Grassley said. "She's a very good lawyer. She is handling herself well, but I don't want to make any final judgment."
Although Lynch endured plenty of grilling Wednesday, her tougher challenge may come Thursday when a series of witnesses testifies against her.
The list of witnesses looks like a roster of Holder's top critics. At the top of the list: Sharyl Attkisson, an investigative journalist who doggedly reported stories about Fast and Furious and is suing the Obama administration for allegedly spying on her as she investigated Holder's role in the gun-walking scandal; and David Clarke, the Milwaukee sheriff, Second Amendment advocate, and sometimes pundit who called on officials, including Holder, to apologize in August for "insinuating that our law-enforcement officers across the United States engage in some nefarious or systematic and cultural attempts to violate people's civil rights" as Holder tried to navigate controversy in Ferguson, Mo.
Then there is Catherine Engelbrecht, president of True the Vote, who has been an outspoken opponent of calls by Holder to patch the Voting Rights Act back together after the Supreme Court struck down some key provisions.
Throughout the first day of her hearing, Lynch's tone was firm but conciliatory as she attempted to navigate the tangled political legacy Holder will be leaving at the Justice Department. Sen. Richard Blumenthal, D-Conn., said that in discussions with his Republican colleagues, Lynch's grace under pressure had made an impression.
"It was about as accomplished and adroit of a witness as I have seen in my four years. ... They thought she was dynamite." Blumenthal said. "The ones I talked to were leaning in her favor."
Of course, there were still some Lynch couldn't win over.
Sen. David Vitter, R-La., noted during the hearing he was disappointed with Lynch's position that the president was within his legal bounds of prosecutorial discretion when he announced he would allow millions of immigrants to stay in the United States even though they came here illegally.
"I thought the opinion was reasonable," Lynch said during the hearing.
Sen. Jeff Sessions, R-Ala., says he has serious doubts that Lynch has the ability or the willingness to block the president and side with Congress.
"We've heard this before, and we have the most politicized Department of Justice ever," Sessions told National Journal. "I have not said what I would do, but I am at this point very troubled."
While Holder pushed progress on civil rights, he often moved forward as the GOP screeched about overreach. In 2011, he called the Defense of Marriage Act unconstitutional and made it clear he'd no longer defend it in the courts. Under his command, DOJ challenged a litany of voter ID cases and made strides to reform the criminal justice system. Holder gave speeches decrying the stark inequality that exists between blacks and whites who go through the system and he has pushed to restore voting rights to former felons. All of that, Sessions argued, is an example of DOJ being used for political purposes.
Holder's legacy—his combative nature in hearings, his unwillingness to turn over documents, which landed him in contempt of Congress in the House—all weighed heavily on Lynch's hearing.
Democrats assailed Republicans for using the hearing to seek repudiation of the Obama administration.
"The confirmation of America's highest-ranking law-enforcement agent is not the time or place to vent frustration," Sen. Chuck Schumer, D-N.Y., said at the hearing.
Sen. Dianne Feinstein, D-Calif., said that if anyone had made it clear she was willing to assert herself when she needed to against the administration, it was Loretta Lynch.
It was clear, Feinstein said, that Lynch "was going to be an independent individual who was going to be an independent attorney general."
"She made the best introductory remarks of any prospective attorney general I have heard in defining precisely what the role is," Feinstein said.