Joni Ernst's State of the Union Response Gives the GOP a Fresh Face
The freshman Republican senator delivered a decidedly mild-mannered speech in the Republican Party's official response.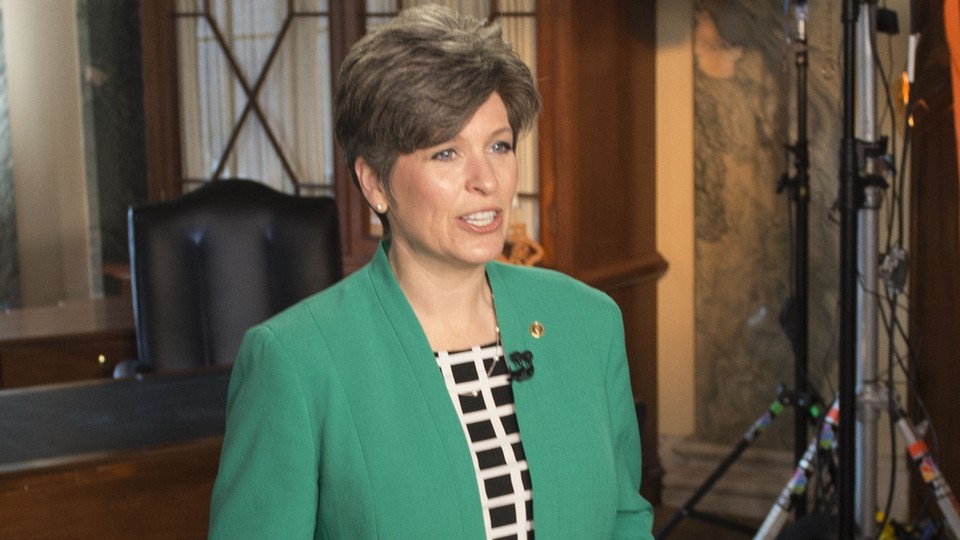 There was no talk of castrating hogs in Joni Ernst's response to President Obama's State of the Union address Tuesday night. And there wasn't a water bottle in sight.
Instead, the freshman Republican senator from Iowa delivered a straightforward, almost mechanical speech calling for bipartisanship in Congress. She told viewers—and President Obama—that "there's a lot we can achieve if we work together."
Ernst, the official, smiling face of the GOP Tuesday night, was sworn into the Senate a mere two weeks ago. But during her campaign in a tight midterm race last year, she made her mark as the face of a reimagined Republican Party—at least, the goal of a GOP reimagining. She's the first woman ever elected to Congress from Iowa, and also the first female combat veteran to serve in the Senate—she was in the U.S. Army Reserves and the Iowa National Guard for 21 years.
Invoking her own humble upbringing in rural Iowa, Ernst recalled having to wrap her "one good pair of shoes" in plastic bread bags to protect them on rainy days. Though her parents didn't have much, she said, they "worked hard for what they did have." She lamented that families today have "less and less to show for" their hard work.
"We see our neighbors agonize over stagnant wages and lost jobs," she told viewers in a brief address. "We see the hurt caused by canceled health care plans and higher monthly insurance bills."
Drawing on the GOP's big win in November's midterm elections, Ernst said the party heard the country "loud and clear" when voters elected a wave of Republicans and put the party in control of both chambers of Congress. And though she generally stuck to a conciliatory tone when referring to Obama, she alluded to the president's promised veto of the controversial Keystone pipeline as an example of obstruction to a "serious job-creation" proposal.
"President Obama has been delaying this bipartisan infrastructure project for years, even though many members of his party, unions, and a strong majority of Americans support it," Ernst said. "The president's own State Department has said Keystone's construction could support thousands of jobs and pump billions into our economy, and do it with minimal environmental impact."
Highlighting her military experience, Ernst delivered the speech from the Senate Armed Services Committee room, having joined the committee at the start of the new Congress. Even her shoes fit the message: She rocked arguably chic camo heels for the occasion.
The SASC room, Ernst said, "is where we'll debate strategies to confront terrorism and the threats posed by al-Qaida, ISIL, and those radicalized by them." Giving her condolences to victims in France, Nigeria, Australia, and Canada, she called for a "comprehensive plan to defeat" terrorists.
Ernst also touched on other standard GOP goals. The new Republican-controlled Congress, she said, will fight to "repeal and replace" Obamacare; "work to correct" Obama's executive action on immigration; "confront Iran's nuclear ambitions;" "advance solutions to prevent" cyberattacks; slash "wasteful spending and balance the budget;" and, of course, "defend life."
A former state senator, Ernst shot to political fame in the Republican primary last year by talking up her rural Iowa roots, most memorably with an ad recounting her experiences castrating pigs on her family's farm. In the spot, she made the case that when she got to Washington, she'd know how to cut pork—and promised the "big spenders" on the Hill that she'd "make 'em squeal."
That much-hyped spot played a pivotal role in her rise above the crowded GOP primary. As the general election kicked into gear, she was still seen as the underdog to her Democratic opponent, four-term Rep. Bruce Braley, in the race for Sen. Tom Harkin's former seat. Braley made a series of missteps, though, such as writing off GOP Sen. Chuck Grassley as "a farmer from Iowa who never went to law school," and Ernst ended up beating him by more than eight points.
Ernst hasn't had much time to make anyone in Washington squeal. But Tuesday's response signals the party is looking to move in her direction as 2016 looms.