John Boehner's Agonizing Afternoon
The speaker won a third term, but not before a record 25 Republicans refused to vote for him.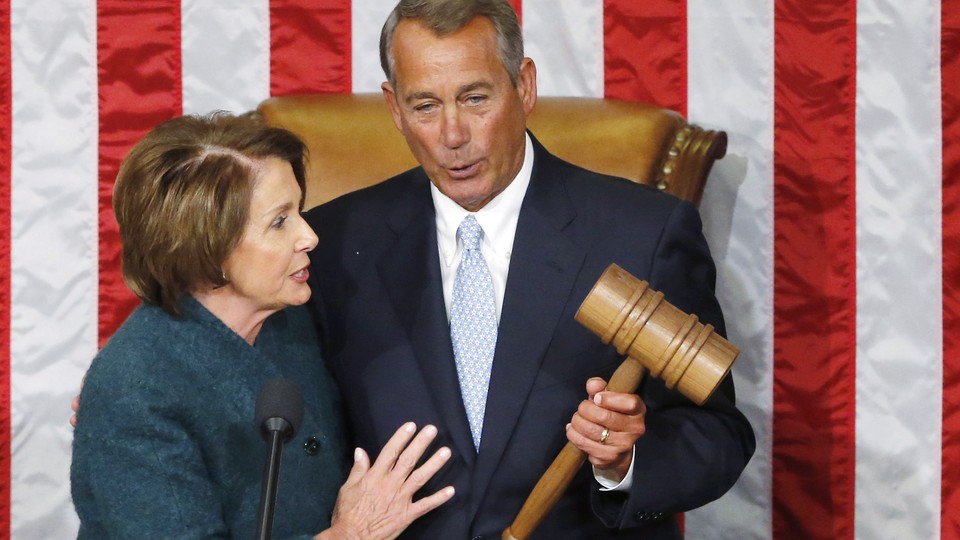 When John Boehner strolled onto the House floor to briefly greet his colleagues before they voted on his reelection, the first thing anyone noticed was that the famously bronzed speaker looked, improbably, even more tanned and rested than usual. Given what was to come, he surely couldn't have been as relaxed as he appeared.
Boehner returned victorious to the chamber a little over an hour later, having suffering more defections from his own party than any speaker in the last century. All told, two dozen House Republicans voted for another candidate, with one more refusing to vote for anyone. He lost more than twice as many GOP votes as he did in 2013, when 12 Republicans deserted him in a surprise attempt to boot him from power. Boehner cleared the margin more easily this time due to the absences of New York Democrats attending Mario Cuomo's funeral, dragging down the total number of members voting.
In the unique biannual spectacle that is the House vote for speaker, lawmakers can shout the name of anyone they want, even if their preferred candidate isn't a member of Congress. Two sitting senators, Rand Paul of Kentucky and Jeff Sessions of Alabama, each received a vote. So did Colin Powell. Representative Daniel Webster, a former Florida House speaker who shares the name of the famous 19th century Whig, received a surprising 12 votes after his name was formally placed into nomination. Two other conservatives who challenged Boehner, Representatives Louie Gohmert of Texas and Ted Yoho of Florida, voted for themselves.
The importance of the vote was the degree of protest against Boehner, a man who has struggled to lead but who nonetheless is presiding over the largest Republican majority since the Truman administration. It wasn't only conservatives who bucked him, but more moderate members like Scott Rigell of Virginia and Chris Gibson of New York, who announced his plans to retire earlier on Monday and then promptly voted for Kevin McCarthy, Boehner's top lieutenant. (McCarthy did not look pleased.)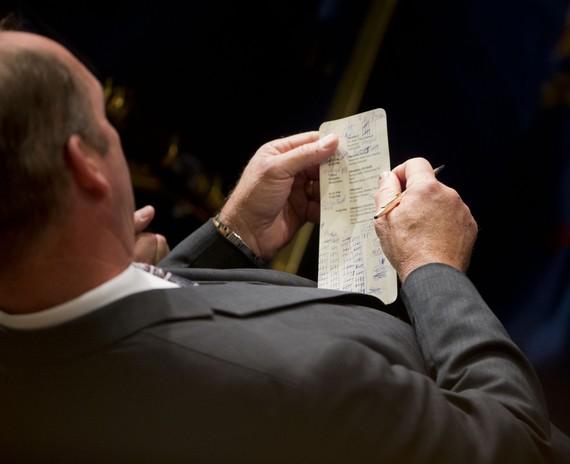 The speaker's supporters were clearly frustrated by the defections, and several wondered why none of the dissenters opposed Boehner when the Republican conference met in private to nominate him in November. "There was a time to challenge the speaker, and that was right after the election," Representative Charlie Dent of Pennsylvania said, dismissing the opposition on Tuesday as "a publicity stunt."
The big question is whether the protest against Boehner will threaten the Republican legislative agenda, where party leaders hoped to use their expanded majority as a buffer against the usual conservative dissent. Yoho, for one, said he was ready to move on. "It's laid to rest," he said after the vote. "There should not be any more talk about dissension." Mark Meadows, a normally-chatty North Carolina conservative who voted for Webster, didn't even want to talk about the vote afterward. "I don't want to be critical about anything," he told a group of reporters. "It was truly based on one thing: I got thousands of phone calls and emails from my district saying vote for someone else. And when you get that, I'm here for one reason, and that's to represent the people of North Carolina."
After the lengthy roll call, the ever-emotional Boehner returned to the House chamber to an ovation, shook the hands of friends and challengers alike, and wiped away tears as he retook his gavel. He made no mention of the opposition, opting instead for a traditional speech highlighting his regular-guy reputation. "My door is always open," he said. "Now don't get carried away." Boehner alluded multiple times to Congress's reputation for gridlock and the "healthy" skepticism the public has about whether anything will change in the new year. "Let's stand tall and prove the skeptics wrong," the speaker said, in the closest he came to a rallying cry.
He'll have his chance for another two years, but after the latest conservative uprising on Tuesday afternoon, score one more for the skeptics.