Jeb Bush Is Selling Himself as the GOP's Working-Class Savior. He's Not Alone.
The former Florida governor is pitching D.C. insiders on a way to retool the GOP's image after 2012, but he's got some competition.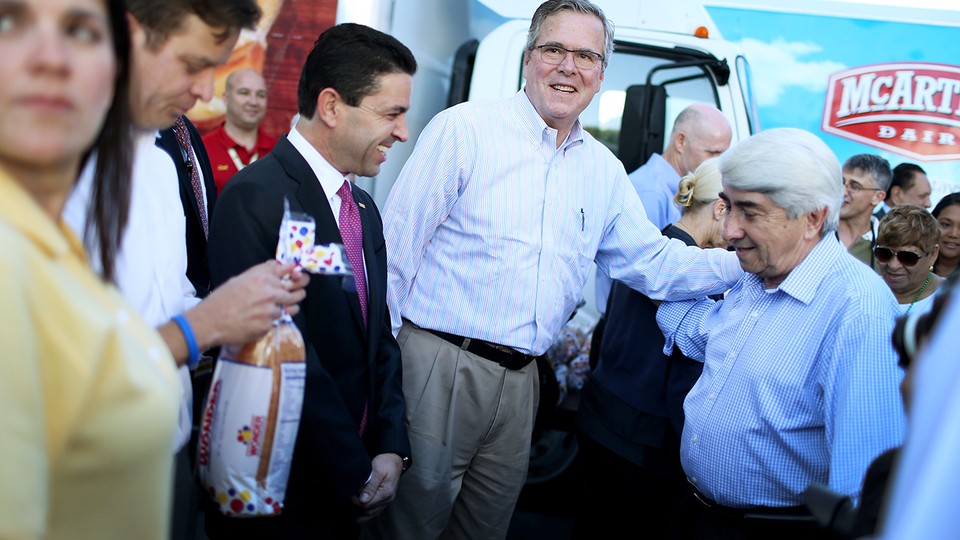 In two hour-long meetings with 80 CEOs, lobbyists, and top donors in Washington on Tuesday, former Florida Gov. Jeb Bush urged his party to reconnect with working-class voters and make inroads with the Latino community. Then he made his pitch: He's the man best positioned to do it in 2016.
"He made it clear that there are lessons to learn from 2008 and 2012," said one person who was in the room and asked not to be named in order to speak more frankly. "He was saying this campaign needs to reach out and beyond its normal demographic and core constituency."
In the meetings, Bush tried to convince leaders within the GOP donor class that while he has the conservative principles needed to be competitive in a primary, he also has what it takes to connect with the Latino community, a group he has long been connected with both because of his time in Florida politics and because of his wife, Columba, who was born in Mexico.
"I think it is fair to say people left quite impressed by the message and the man," another attendee said. "It was a big-tent message. It was heartfelt and not a recently reached viewpoint. "
Bush focused on how the Republican Party could resonate better with those who, despite a recovering economy, have been left behind. He encouraged the party to find a positive and constructive tone in the months ahead.
His message reflects a broader shift happening within the GOP. If the Republican Party made the 2012 election about business creators, several potential 2016 contenders want to push their image toward nine-to-five workers trying to make ends meet. Even former Massachusetts Gov. Mitt Romney, who was painted as an out-of-touch corporate tycoon with a car elevator during his presidential campaign in 2012, has sought to shift his own 47-percent-tinged narrative as he eyes a third White House run.
Romney made his case Friday in San Diego before the Republican National Committee that it was time for the party to focus on fixing the poverty that President Obama's policies have been unable to correct.
"The only policies that will reach into the hearts of the American people and pull people out of poverty and break the cycle of poverty are Republican principles," Romney said, according to Politico.
It's not just Romney and Bush attempting to promote a positive message of upward mobility. Republican Sen. Marco Rubio of Florida, the son of Cuban immigrants, has made the American Dream a cornerstone of his narrative as a lawmaker, never missing an opportunity to argue why his policies can help the working poor succeed. Republican Wisconsin Gov. Scott Walker has tried to make his long feud with unions an example of how invested he is in the American worker.
Bush's meetings Tuesday, while not explicit fundraising pitches, were intended to shore up some of the establishment support that may be looking at a slew of alternative candidates, from Romney to Walker to New Jersey Gov. Chris Christie. While Bush might have made a strong impression with a smart opening argument, he still has a long way to go before the GOP picks its horse.