Internal Democratic Fights Come to a Head This Week
At Hill meetings and a Philadelphia retreat, the House minority will debate term limits and an economic message.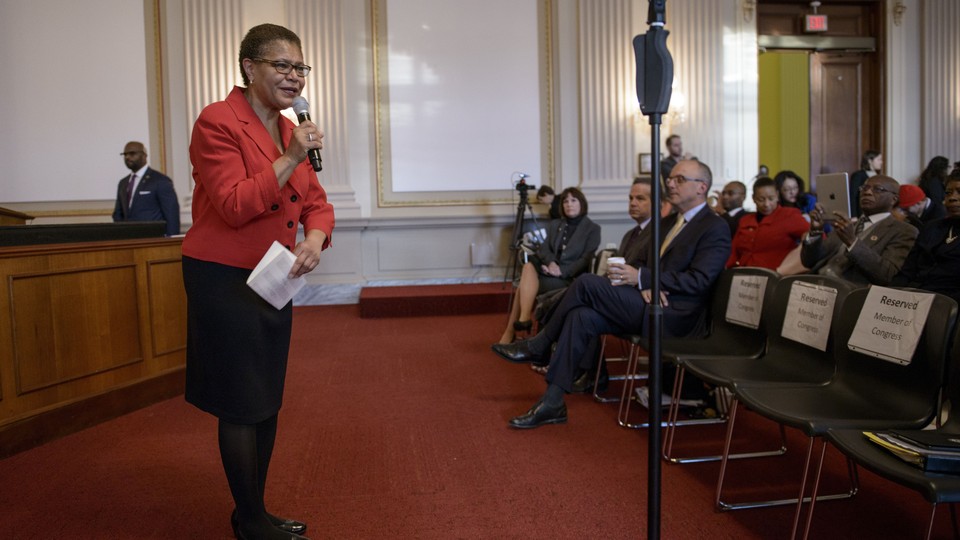 In the first weeks of a new Congress, House Democrats are like an army in retreat: They're outnumbered, isolated, and divided over how—or if—to make a stand.
Even the weather is being uncooperative: Later this week, as a blizzard envelops the Northeast, they'll head to Philadelphia for rallying cries and tough discussions about the future of their party. And before that retreat, members will have to address a growing debate over whether the party's reluctance to impose term limits on its committee leaders is stifling opportunities for the up-and-comers who will define the party's future.
Public details about the retreat are so far sparse, though President Obama is slated to address the caucus Thursday, followed by Vice President Joe Biden the day after. While the gathering will no doubt feature its share of rah-rah moments, senior staffers for both moderate and progressive coalitions within the caucus agreed that its substance will center on the search for a consensus economic message.
"There seems to be a debate happening about what kind of economic populism House Democrats are going to be pushing this Congress," said one aide to a prominent liberal member. The staffer requested anonymity to discuss internal debates, comparing members who want to grow the gross domestic product and ease regulations with those who seek to raise the minimum wage and put curbs on Wall Street. "Those conversations will happen at the retreat," he added. "Coming out of the retreat, people want there to be a tight definition of the things we see as economic populism."
"There's definitely a sizable faction that is dissatisfied with the direction of the messaging," said a moderate aide who also requested anonymity. "A number of those members are planning to attend to make those concerns known."¦ There's going to be some pretty frank conversations about the future direction of the party. It's growth versus fairness." The staffer said many members are frustrated that party leadership did not take a lesson from the midterm elections in which Democrats' fairness-focused message was drubbed at the polls.
Obama is expected to mention trade in his address, and many Democrats have opposed his request to speed up trade deals by bypassing congressional input—an issue that divides many business-friendly lawmakers from the economic liberals. Some are also concerned the White House may be willing to cut a deal on tax reform with Republicans without consulting Hill Democrats first.
The caucus will head to Philadelphia on Wednesday, weather permitting, but Tuesday will likely expose other tensions as members meet to begin a discussion over term limits, led by Rep. Karen Bass. Unlike Republicans, Democrats do not limit how many years their members may spend atop committees. Younger members say that's created a logjam in which promising legislators find little opportunity for advancement.
A Bass aide emphasized that the rules meetings are not solely a term-limits battle, although that seems to be the issue many members seem eager to address. Tuesday's gathering will look at the history and reasons behind caucus rules, followed by later meetings to discuss individual statutes. Another topic expected to come up is proxy voting—an issue that exploded into the spotlight last November when Rep. Tammy Duckworth, unable to travel due to her late-stage pregnancy, was denied a vote in chairmanship elections.
The aide did not offer a timeline for how long the process will take, and the term-limit issue has been a divisive one.
"Term limits are a great idea," said Rep. Sean Patrick Maloney. "We should do them in conjunction with achieving the other goals we have, which are inclusion and diversity, and I think that's possible. I think it will encourage new members to take on more responsibility, and I think that's all positive."
Rep. Daniel Lipinski said he wasn't ready to support a specific proposal, but said "it would be good to have an opportunity for new blood to come up and have that chance to take leadership roles." Still, he wasn't optimistic the caucus would embrace any reforms. "This is not something that Democrats have done before; I don't think we're going to make a change right now."
For some, the lack of term limits is a diversity issue. "We pride ourself as a caucus on being the most diverse, whether that's LGBT or women or minorities," said Rep. Patrick Murphy. "Well, what about the age piece? We are truly underrepresented on that front." He went on to say that term limits are important for retaining young talent. "It's just so far out of reach right now that people kind of throw up their hands," he said. "I've spoken with some of my younger colleagues who want to know that there is at least an opportunity in the near future to become that ranking member or chair."
Members of the Congressional Black Caucus, which has traditionally opposed term limits, dismissed such grumblings as selfish and impatient. "At a time when our numbers are anemic, I'm not able to understand why we would create controversy inside the caucus," said Rep. Emanuel Cleaver. "I think it's terrible that we've created this microwave society where nobody wants to wait on anything. It's like this kid who says, 'I just turned 18, where's my car?' " He joked that he spent his early days in Congress on the "baby row" of the Financial Services Committee, but that allowing seniority to run its course had allowed him to rise within the ranks.
"An overwhelming number of CBC members would oppose any change to implementing term limits," added Caucus Chairman G.K. Butterfield. "I don't see a necessity for it."¦ I think we ought to take the same energy and concentrate on our messaging."
Even Rep. Cedric Richmond, a third-termer who might stand to gain from term limits, stood with his CBC colleagues in opposing the change. "There's some value to length of service," he said. "I think seniority's important." As for lack of opportunities for young members? "I haven't heard that, and I don't have those frustrations."
One alternative, proposed by Rep. Eric Swalwell, would be to create the position of vice ranking member to open up more official roles for future leaders. "We've got a lot of talent, and you want to use your talent the best you can," he said. However, most of his colleagues were unfamiliar with the proposal, and some expressed concerns that it could create an heir apparent within committees.