In California, Latino Leaders See Room to Elect One of Their Own
Kamala Harris is getting national buzz, but there's a counter-movement building on behalf of a potential rival.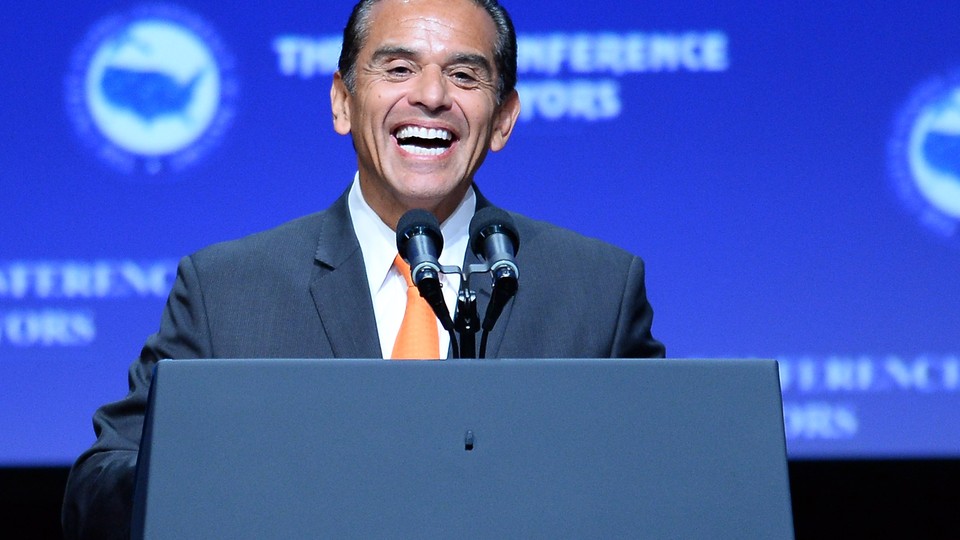 With only weeks gone but years left in California's Senate race, national Democrats appear eager to anoint state Attorney General Kamala Harris as the 2016 successor to Sen. Barbara Boxer's seat. The Democratic Senatorial Campaign Committee weighed in lauding Harris' candidacy after she announced her decision last week, and high-profile sitting senators including Elizabeth Warren, Kirsten Gillibrand, and Cory Booker also feted the new front-runner.
But outside the Beltway, another group of Democratic power players and donors is coalescing behind the goal of electing California's first Latino senator, and they already have their candidate in mind: former Los Angeles Mayor Antonio Villaraigosa.
"California has always helped to lead the way in terms of activism and prominence, and the courage to step up and say, 'Now is our time.' So why should this moment be any different?" said Democratic donor and Latino activist Henry R. Munoz III, cofounder of the Latino Victory Project.
Villaraigosa has been telling friends he's grown closer in the past week to putting his name in the hat, and Latino leaders are eagerly ramping up for their chance to elect the nation's only Mexican-American senator in a state they say has historically led the Latino political movement.
There has not been a Mexican-American U.S. senator in office since 2009, when Colorado Democrat Ken Salazar left his seat to become President Obama's first Interior secretary. The three current senators of Latino descent—New Jersey Democrat Robert Menendez and Republicans Marco Rubio of Florida and Ted Cruz of Texas—are all Cuban-Americans.
In Villaraigosa, Latino leaders see a prime opportunity to add another to name to the Senate roster. California is home to more than 14 million Latinos, of whom more than two thirds are Mexican-American.
Villaraigosa was a popular two-term Los Angeles mayor who chaired the Democratic National Convention in 2012—and he is being pushed hard toward joining the race. "He's being mauled on the phone; people want him to run," said one longtime Villaraigosa ally. "This is a legitimate, serious consideration to do it."
Allies close to the former mayor say he sees a space for himself in a contest against Harris, and is growing closer to making his move. Before Boxer announced her retirement, many predicted Villaraigosa would instead run for governor in 2018, as he said as recently as December was his preference. But he has plenty of reasons for changing his plans.
First, he's been out of office since 2013, and stands only to drop in name recognition before the governor's race four years from now. Second, a campaign that coincides with a presidential election year, as the Senate race does, offers a better draw for Latinos, who typically turn out in low numbers and would constitute a large portion of Villaraigosa's voting bloc. Third, the former mayor's chief competition among Southern California contenders, current Los Angeles Mayor Eric Garcetti, removed his name from contention just hours after Harris announced her bid.
Those advantages are not lost on Villaraigosa, who is quietly making inroads with the donor base he cultivated as convention chairman.
Asked who his primary donor base would be if he got in the race, a longtime Villaraigosa ally cheekily suggested, "The folks who were in his suite at the DNC convention every night—celebrities, Hollywood bundlers, Latino bundlers, national bundlers—when he was chair."
Villaraigosa will be in D.C. this week to deliver the keynote address at the Latino Leaders Network's Tribute to Mayors dinner Thursday. There, he'll present an award named in his honor in front of a room full of leaders that the Network's founder, Mickey Ibarra, says are eager for news on a Villaraigosa bid.
"It certainly provides an opportunity for him with national Latino leaders," said Ibarra. "I know folks are curious about what the mayor is going to decide.... He enjoys a very positive reputation, and there are many in this group that are eager to know how he'll decide and how they can be involved and be helpful."
Though Harris is quickly padding her campaign coffers—in large part with the help of national leaders—Villaraigosa's supporters point to the vast donor network he built during his two mayoral races. Latino leaders say that network has only grown since his last election in 2009, and he's kept close ties throughout his involvement in the Obama campaign.
"The Obama campaign really tapped into significant Latino support, particularly in this last cycle, making a significant difference for his reelection," said Ibarra. "That's one advantage Antonio brings to the table as a potential candidate is the fundraising network he's built. ... With the amount of money that must be raised to be successful in California, it's going to require a national effort, and Antonio has engaged the Latino leadership over the last few cycles."
But the Senate race has its downsides for Villaraigosa too—primarily stemming from the coalescence around Harris. Because Villaraigosa is one of the only potential candidates not currently in office, his campaign is already playing from behind against Harris, and allies say he doesn't yet have the staff or infrastructure in place even to poll the race and see his chances.
To some Democratic Latino leaders, Harris presents a fresh face compared with Villaraigosa's decades-long career in politics—a career marred in part by multiple extramarital affairs, one of which occurred while his then-wife was undergoing cancer treatment.
"She's someone with a very diverse background, very accomplished, a young candidate, someone who speaks to a lot of the issues I care about, an immigrant story in the family," said Oscar Ramirez, a top Latino donor who is supporting Harris. "A lot of young Hispanics ... are very excited about her candidacy similar to a young Senator Obama," whom they rallied around in 2008, and again in large numbers when the president ran for reelection in 2012.
And of course, Villaraigosa isn't the only Latino candidate eyeing Boxer's seat. Reps. Loretta Sanchez and Xavier Becerra have both kept their names in contention, and Sanchez would have an opportunity to become the first Latina senator in history. Though Villaraigosa brings the highest profile to the race, and likely greatest fundraising potential, some Latino leaders have been hesitant to endorse out of sensitivity for the other contenders.
"California is obviously the largest Latino population, but it's also where we have the largest number of Latino elected officials," said Latino Victory Project President Cristobal Alex. "As a result, we have our deepest bench of political talent in California, and we're watching very carefully that open Senate seat."