How Online Learning Can Close the AP Participation Gap
A University of Iowa program lets students take online courses for free.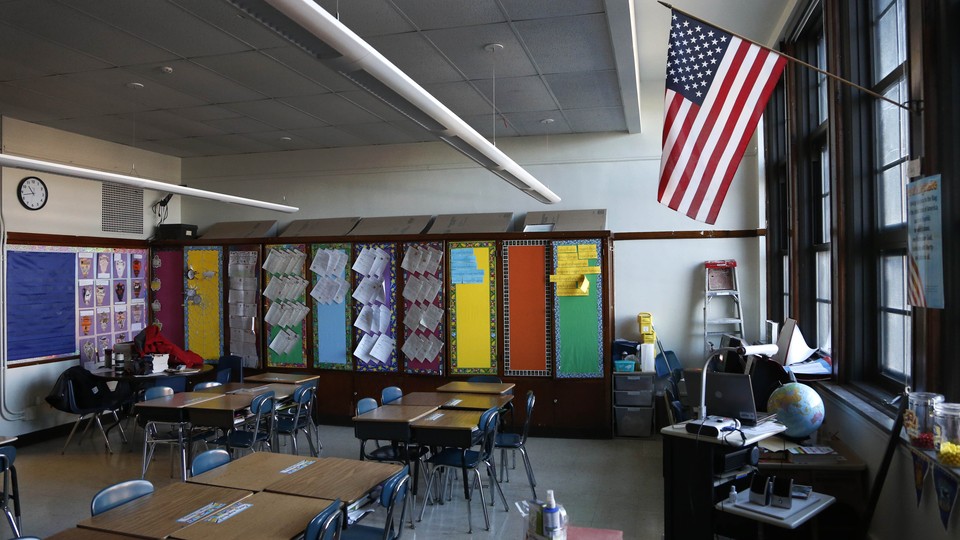 Last year, Courtney Durst was the only student at her high school to take AP English Language and Composition. When she was stressing about her homework, none of her friends could relate. "We're not that full of AP courses, college courses," she says of her school.
Durst is a senior at Eddyville-Blakesburg-Fremont Junior/Senior High, a 7-12-grade school in rural Iowa. The high school has just 255 students, many of whom grew up on farms. It doesn't offer any of the nonprofit College Board's Advanced Placement courses that many larger schools provide for college-bound highschoolers. But every year, a handful of students are able to take AP courses anyway.
A University of Iowa program called the Iowa Online AP Academy has been giving students like Durst access to free, online Advanced Placement courses since 2001. The online learning partnership offsets some of the disadvantages that can come with being a high-achieving student in a small, isolated school district, providing the chance to take challenging academic courses that many schools can't offer. Over the past five years, an average of 430 students across Iowa have enrolled in courses through IOAPA each year.
IOAPA was created with rural districts in mind, but any accredited school in Iowa can participate. Online courses can be prohibitively expensive, and it can be hard for even motivated teenagers to stay on top of their work without a teacher and classmates present. So IOAPA was designed to address both challenges.
The university covers the cost of 12 AP courses offered by a company called Apex Learning. Participating schools must put a staff member in charge of logistics and give participating students a mentor teacher at the school. They must also schedule time during the school day for students to work on the online class. The coordinator and mentor can log into the Apex system to monitor the students' progress.
Students can only sign up for an IOAPA course that their high school doesn't offer, and no more than six students can sign up for the same course at a given school. That last requirement is meant to encourage schools with lots of interested students to offer their own AP courses, says Kristin Flanary, IOAPA's administrator.
Eddyville-Blakesburg-Fremont is too small to sustain an AP program, says Donna Bohlmann, coordinator of the district's talented and gifted program. But she likes to make sure students bound for four-year colleges take at least one online AP course before they graduate.
"They really need to understand the rigor that's going to be involved in a four-year program," Bohlmann says. She likes the fact that IOAPA classes challenge students from day one. There's no teacher for students to cajole into giving an extension. And there's no need to adjust lesson plans to meet the needs of less-prepared students.
Because the classes are tough, Bohlmann doesn't let just anyone sign up. She zeroes in on the school's talented-and-gifted program, looks at PSAT scores, and sometimes steers students away from science classes. "You really have to be a driven, independent student to handle the rigor" of AP chemistry, physics, and biology, she says. Every year, between two and seven Eddyville-Blakesburg-Fremont students take an online AP class.
Students have other opportunities to challenge themselves, too: The district offers a small number of dual-enrollment courses, which allow students to earn community-college credit. Dual-enrollment courses are particularly useful for students who want to go to an in-state public college, because the credits transfer to both community colleges and state universities.
Providing access to advanced courses begins with offering them—whether that means dual enrollment, Advanced Placement, online, or offline options. But it doesn't end there. Districts also need to highlight those courses and work to prepare as many students to take them as possible. Otherwise, only teenagers with motivated parents, or whose who can motivate themselves, will sign up.
In Marshalltown, Iowa, the local high school has about 1,500 students and offers seven AP courses in addition to IOAPA. But advanced academics aren't a big priority for the district, which has many low-income students and struggles to meet basic standards on state tests."Most of our focus, by necessity, has to be bringing those un-proficient or language-learner kids up to proficiency," says Susan Fritzell, head of Marshalltown high school's extended learning program.
In Fort Dodge, north of Des Moines, the high school is slowing losing its AP offerings. As AP teachers retire, they aren't being replaced, says Diane Pratt, the school's talented-and-gifted adviser. She worries that there's a stigma attached to AP courses—that they're viewed as something elitist. She gets the sense that counselors are steering students into dual-enrollment courses instead.
After all, going to university used to be something only elites did. Both Durst's parents went to community college. Her dad's a pastor and a wireless technician, and her mom works at a supermarket. She says that in the Eddyville area, there aren't many parents who are lawyers, or doctors, or hold advanced degrees.
When her parents were growing up, she says, going to college wasn't a big deal. It's different now. "I think we're all kind of in the same boat," Durst says of her classmates, "where our parents didn't go to college, and now we're expected to." She has her eye on a small, four-year college in northern Iowa.
Next America's Education coverage is made possible in part by a grant from the New Venture Fund.