How Obama Plans to Safeguard His Legacy
Can Obama entrench his executive actions before he leaves office?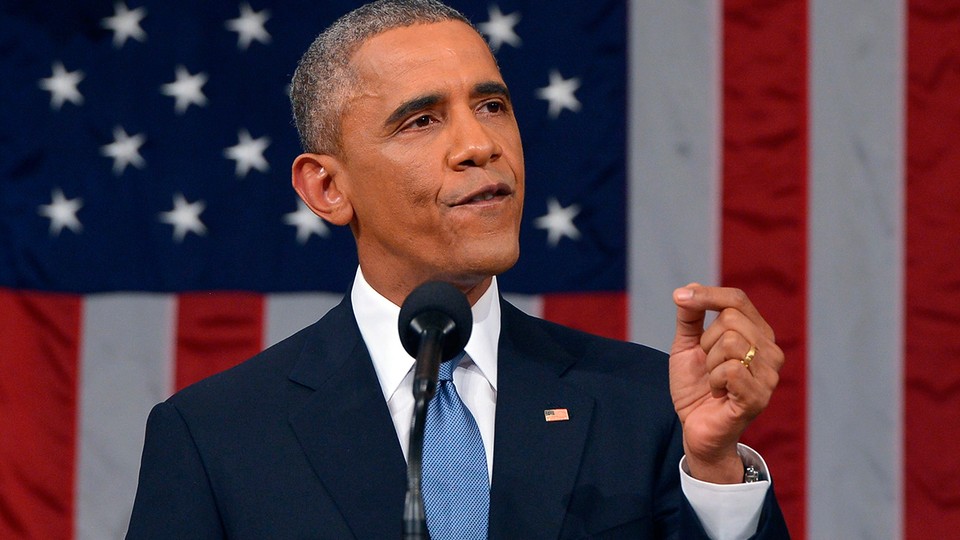 One inescapable conclusion from President Obama's confrontational State of the Union address this week is that he expects to reach few legislative agreements with the Republican Congress. There's probably a better chance of Republicans designating an "Affordable Care Act Appreciation Month" than of passing legislation to raise capital-gains taxes or to provide tuition-free community college, as the president proposed.
This suggests that while Obama is hoping to frame a broader debate with his new proposals, he anticipates that he will make his greatest "fourth quarter" impact through executive actions that bypass Congress. He's already signaled that intention in recent months by moving aggressively to advance regulations aimed at combating global climate change; normalizing relations with Cuba; and providing legal protection to millions of undocumented immigrants. This week's speech indicated that more unilateral action could be coming, including moving toward closing the Guantánamo Bay prison.
Obama delivers the State of the Union address Tuesday in the House Chamber of the Capitol. (Mandel Ngan-Pool/Getty Images)Given the fierce opposition among congressional Republicans to all of these ideas, the party's next presidential nominee will likely face enormous pressure to promise to overturn them. That, in turn, points to a top remaining priority for Obama: entrenching these initiatives to the point where even a Republican successor might hesitate to uproot them.
The administration strategy amounts to a bet that there is safety in numbers. The best defense Obama can provide for his executive actions is to enlarge their constituencies before he leaves office. The more Americans who establish ties to Cuba through 2016, for instance, the more difficult it will be for even a Republican president in 2017 to disconnect the two nations. (Although Obama's health care reform is grounded in legislation, not executive action, the principle is the same: The more people who are covered through the program, the tougher it will be to revoke that insurance later.)
Immigration could be where this dynamic unfolds most urgently. It may be impossible to win the 2016 GOP presidential nomination without promising to rescind Obama's order of last November, which provided legal protection to as many as 5.2 million undocumented immigrants—nearly half of the estimated U.S. total. The president's allies recognize that their best chance of protecting that order once Obama has left office is to pull so many people into the program that it will appear impractical to revoke their status, even if Republicans take the White House. As Los Angeles Mayor Eric Garcetti told me at a National Journal forum this week, "Any steps we can take forward [in legalizing undocumented immigrants] will show that it gets a little better, not worse. So [Americans will say], 'What do we have to fear?' "
But it won't be easy to persuade large numbers of undocumented immigrants, more accustomed to lowering their profile than raising it, to step forward to participate. Washington isn't undertaking a big outreach program: Administration officials say that isn't appropriate for an initiative that amounts to a decision not to prosecute people who are here illegally but who fit into certain protected categories (such as parents of U.S.-citizen children). That places a heavy burden on nonprofit groups and municipal governments to find the potentially eligible and lead them through the complex process.
Many big cities, such as L.A. (which has by far the nation's largest eligible population, at about 500,000), will mount major efforts. "If this goes into effect, it will be a huge boon for us economically, socially, in terms of public safety," Garcetti insists. But "the eligible population is much more dispersed now" than it was during the last mass-legalization program, under Ronald Reagan in the 1980s, says Michael Fix, president of the Migration Policy Institute. The group has calculated that the 20 counties that contain the most potentially eligible people account for only about 40 percent of the total. That means millions of those who might qualify for the program live in places that lack the resources L.A. or Chicago will deploy to help residents access it. "The challenge comes down to: Do we have the infrastructure?" says Marielena Hincapié, executive director of the National Immigration Law Center.
Adding another twist, a conservative federal District Court judge in Texas may soon issue an order temporarily blocking federal implementation of the program, in a suit brought against it by 25 Republican-leaning states. Advocates remain cautiously confident that a 2012 Supreme Court decision underscoring federal authority over immigration policy ensures that the courts will eventually allow Obama to proceed—and Garcetti says cities will continue their own planning even if Washington is temporarily derailed. "We're going to move forward," he tells me. "We can't afford not to."
But supporters fear further delay and legal confusion could depress enrollment in the program and leave it more vulnerable after Obama's second term ends. In this intricate struggle over the president's legacy, that may be exactly what his opponents want.