The Same Old 'New' Congress
On Wednesday, the Republican Senate got to work, and the bickering began anew.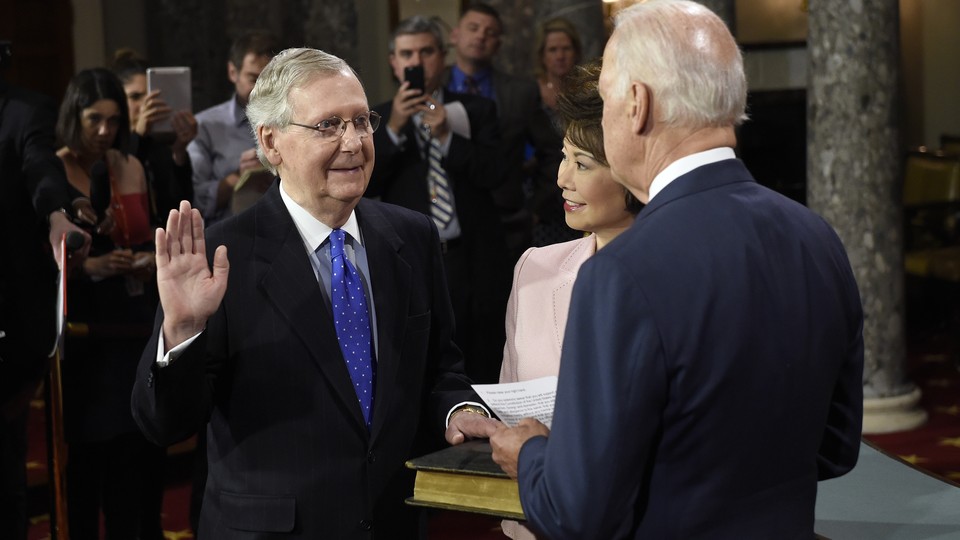 Harry Reid, the now-former Senate majority leader, wasn't even in the Capitol on Wednesday. He was at his home across town, nursing injuries he suffered in an exercise accident last week. But in a statement his deputy delivered in his absence, Reid may have most aptly captured the atmosphere in the building, on the second day of what Republicans are calling "America's New Congress."
"The desks in this chamber have been rearranged, committee assignments adjusted, and a new majority assumes control for the next two years," Reid's statement said. "Or in other words, it's just another Wednesday in January at the start of a new Congress."
Republicans in both the House and Senate happily talked up the idea of a "new beginning" as they assumed full control of Congress for the first time in eight years. Making his inaugural speech as majority leader, Mitch McConnell on Wednesday spoke of the potential of divided government, citing issues like trade, infrastructure, and tax reform as areas where Republicans could work with President Obama and deliver victories that both sides could share. Yet the big unanswered question of the 114th Congress is just how different it will be from the 113th. Will legislation that had previously died in the Senate simply move one step further to the White House, only to face a veto from Obama? Or will the altered balance of power, combined with a bit of battle fatigue, lead to accomplishments that go beyond last-minute deals to prevent one crisis or another?
By the time McConnell spoke to reporters a few hours after his debut speech, his tone had flipped. Obama had just issued his second veto threat in as many days, on a bill that hadn't even made it through committee in the new GOP Senate, much less come up for a vote. "The president is not going to set the agenda for us in the Senate," he declared, vowing to press ahead with the pair of seemingly doomed bills to authorize the Keystone pipeline and repeal Obamacare's definition of a 30-hour work week. "We're not going to be deterred, we're not going to be distracted, and we're not going to take the bait," added Senator John Cornyn, McConnell's second-in-command.
Over in the House, Speaker John Boehner was trying to manage the fallout from the conservatives who rebelled against him a day earlier, while he defended, again, Steve Scalise, the third-ranking Republican who spoke to a white supremacist group 12 years ago. ("I know this man. I work with him. I know what's in his heart," Boehner said as Scalise stood nearby.) Republicans were also plotting the next confrontation with Obama over immigration, through a bill that would fund the Department of Homeland Security while blocking the executive actions he announced late last year.
It was all a little too familiar for "a new beginning." More like just another Wednesday on Capitol Hill.