How It's Done
Veteran lawmakers offer advice to the freshman class.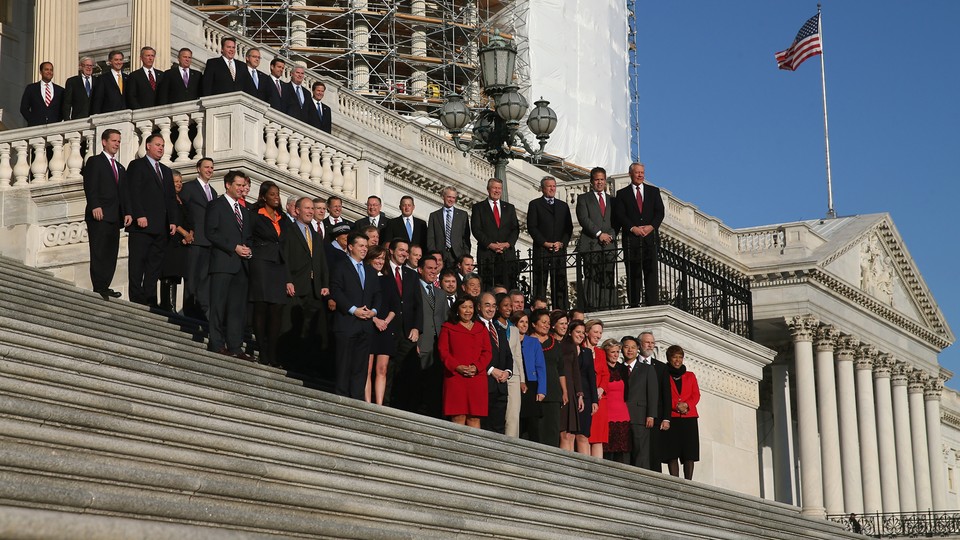 No one knows more about adjusting to life on Capitol Hill than those who have done it themselves—and even they sometimes have a hard time keeping the details straight. Both Chuck Schumer and John McCain got lost on the second day of the new Congress, each racing into the wrong room for his respective party's weekly lunch. Apparently the two senior senators briefly forgot that, when the Senate majority changed hands, some long-standing logistics changed, too.
The members of the new freshman class, however, are looking at a far steeper learning curve. So National Journal asked some longtime lawmakers in both chambers to think back to their early days under the dome and share some of their hard-won wisdom with the newcomers now navigating their own first months. The veterans weighed in with advice on everything from how to prepare for the change in pace, to what pitfalls to avoid when hiring staffers. Their edited and condensed responses are below.
By 1999, Marcy Kaptur had long since found her footing. (Scott J. Ferrell/Congressional Quarterly/Getty Images)
REP. MARCY KAPTUR (D-Ohio)
on adjusting to the frenetic routine
I think that just moving your body to 50 places in one day can be challenging—through the buildings here, and the campus, and just learning where you have to go. It's quite a hurdle, I think, for many who don't realize the rigor that is required to deal with the visitors who come, the various organizations, and so forth, and handling the traveling back home. It's quite a scheduling marathon. So I think—some people had their own business or they were in a classroom somewhere or they had their own law firm—I think it ratchets up the number of interactions per hour per day. I think people have to adjust to that. They're just going to have to learn by doing, and they're going to have to make intelligent choices, and they're going to have to create a schedule in their own mind of the week and then cordon off certain times in their mind that are inviolable. My advice would be: Take it a day at a time, but try to plan your week as best as you can.
FORMER SEN. CARL LEVIN (D-Mich.)
on joining the upper chamber
It was overwhelming to come to the Senate, so you have to try to become comfortable. It took me a long time to become comfortable here. Not only with the Senate process but kind of with the aura of the place—who I was serving there with, people I had read about, sometimes. The procedures are very, very different from any procedures I had dealt with as a local legislative official.
One of the things that I was really pleased with is that everyone tries to be helpful. Doesn't make any difference which party—everybody tries to be helpful, mainly because they've been there before. So dozens of people come up, many of whom you've never met before, people you've read about, people you've heard about, come up and say, Hey, welcome to the Senate. You know, if there's anything I can do. I live in a certain part of town, or I live in a different suburb, or whatever, so I can help with picking out a house and telling you what schools are like.
and on hiring staff
It's very, very complex, for lots of reasons. No. 1, you've got to have a balance of people who really know your state. But you also have to have some people who know their way around here, so that's a tough balance. And try to get references that are really accurate—because everyone wants to help people who are leaving, perhaps embellish a little bit to help somebody who's worked for them for a long time. One of the hardest parts is not giving a job to people who worked in your own campaign because they're not qualified enough to do what you have to have done here. It's a very, very hard thing to do to say no to people who worked so hard for you for so many years. I have one particular person in mind who I always have felt badly, I just couldn't hire her. She was terrific but not in a position I needed help in.
John McCain joined the Senate in 1987. (Cynthia Johnson/The LIFE Images Collection/Getty Images)
SEN. JOHN McCAIN (R-Ariz.)
on moving from the House to the Senate
You have much more visibility and attention from the media and your constituents. You go from one of 435 to one of 100. You deal with it by knowing what you're talking about and making sure that you understand that whatever you say is going to get significant coverage. So you better know what you're talking about.
SEN. ROGER WICKER (R-Miss.)
on balancing work and family
I'll just tell you what worked for me. My children were all in public school when I came up here in the end of '94. And so we put off a decision until the end of the school year, and by then it was pretty clear to us that the best thing for our family was just to stay living in Tupelo and keep the kids in school there. My youngest was 7 at the time. My wife has continued to work in a job in Mississippi, and my kids have all graduated from Tupelo public schools. I would come home on weekends, and, of course, we have a number of weeks where we're home. And when you're a representative, you can really pretty much get around your district and stay home almost every night. It's very unusual to be away. So we made it work. And I was a good daddy. I made a lot of softball and basketball games and recitals, and it worked for us.
REP. RICK LARSEN (D-Wash.)
on balancing work and family
It actually worked very well to have the family in the D.C. area. When I was elected, the boys were 4 and 1. They're now 18 and 15, and the older one is back home going to college. So it's not like you give up your roots to move your family back here. And the other thing is: When you're home, you're home. Everybody wants a piece of you when you get home. So it allows you, then, when you're back in your district, to just focus on the district. And then when you're back in D.C., you take your votes and your committee hearings, but then you can spend some time with your family in the evenings, and maybe once every three weekends you don't fly back and you spend the weekend with your family.
SEN. LAMAR ALEXANDER (R-Tenn.)
on how to get things done in the Capitol
In order to change Obamacare or fix No Child Left Behind or reduce the debt, you're going to have to pass a bill. And in order to pass a bill, you're going to have to work with other people. So my suggestion would be to consult as often as you can with other senators, to listen and to look for areas of agreement. A good way to operate is to focus on the 70 percent of things you can agree on and not on the 20 or 30 percent of things you disagree on.
and on learning Senate procedure
The best way is two ways: One is to preside, because then you watch and you talk to the parliamentarian and you see how it works. And the second is—just ask somebody.
REP. LOUISE SLAUGHTER (D-N.Y.)
on learning House procedure
It's easy—certainly if they've been in the legislature, it's pretty easy to learn the ropes. It was certainly a surprise to me, coming from the New York State Legislature, how close the process is. It's pretty much the same. But I really recommend studying very hard, being a part of the things that are going on here. It is the rarest of privileges. There are only 435 of us in this whole country. So make it count.
REP. PETE SESSIONS (R-Texas)
on how to earn the confidence of the American people
I would say that the thing that a person needs to know is that we're engaged in a time of our life as a country where there are a lot of people who are scared; they're worried, and they're approaching many of their reactions from fear. So I would encourage freshmen to find a balance and to speak, instead of about where someone is completely wrong, tell them what is good and right and what we should be doing. That'd be my advice.