How Chris Christie Learned to Get Tough on Storms
The New Jersey governor learned an important lesson during his first full winter in office.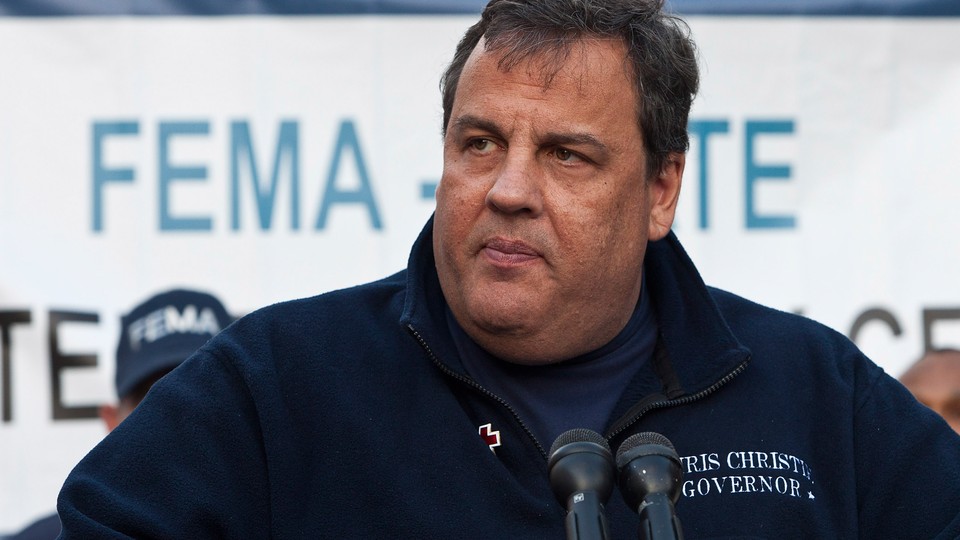 It was December 2010 in New Jersey, and Chris Christie just wanted to enjoy some time with his family.
The New Jersey governor's Florida-bound plane had gotten out of the state on Dec. 26 just hours before snow started falling, salvaging the first family's trip to Disney World. But as snow piled up—reaching nearly three feet in some places—critics pounced on Christie's absenteeism during a statewide crisis. With Lt. Gov. Kim Guadagno also away visiting her ailing father in Mexico, the state's Senate president was left in charge of a mess that crippled New Jersey.
In his signature direct style, the governor fired back at the residents and lawmakers questioning his decision to continue vacationing during the crisis. Once he returned, he insisted at a press conference that nothing would have been different had he been in New Jersey for the storm. "I would have been in a room someplace. I would not have been out, like, driving a plow."
It proved to be a pivotal harbinger of his unabashed style—and a crucial lesson for the governor in how to handle natural disasters. As the Northeast gears up for another brutal snowstorm Monday, Christie's posture shows how he learned from that first, career-changing storm.
Just months after his Disney World blunder, as reports of a looming hurricane mounted in August 2011, Christie went on the offensive. In advance of the storm, Hurricane Irene, he rechanneled his no-nonsense attitude to disaster preparation, warning residents and tourists along the Jersey Shore to "get the hell off the beach."
"You're done," he said at a news conference in what became a classic example of Christie's governing style. "You've maximized your tan. Get off the beach."
He tweeted safety tips, made the rounds on Sunday talk shows, and even appeared on the Weather Channel to relay the message. No one could accuse him of not tending to New Jersey during the crisis. The doggedness paid off: His favorability in the state jumped 10 points from May to September of that year, owing partly to his handling of Irene.
But that, too, was only a rehearsal for what was to become one of the most devastating natural disasters in New Jersey's history. Drawing comparisons to New York City Mayor Rudy Giuliani in the aftermath of 9/11, Christie played a critical, public role in how his state prepared for, survived, and rebuilt after Hurricane Sandy, in October 2012. The catastrophe raised his popularity not only in New Jersey, where his approval ratings shot up to 77 percent (from 56 percent before Sandy) but also on a national scale, giving the governor just the positive publicity he needed to burnish a—properly presidential—national profile.
It was a defining moment for Christie, all but assuring him reelection and placing him at the forefront of the 2016 GOP field. That was before 2013's Bridgegate scandal, of course, which tarnished his paternal, no-nonsense image (even in the face of another storm, during his 2014 inauguration). It was also before his campaigning for fellow governors in the run-up to last fall's midterm elections frequently took him out of state, again stirring up talk that he should focus his attention on New Jersey.
But he's proved, if polls are any indicator, to be a reliable authority at the onset of natural disaster. With his active Twitter account and unabashed press conference admonitions, his handling of New Jersey's storms is where his leadership shines. The first test of 2015 won't be any different, and it'll give him the chance to be single-mindedly—and quite publicly—committed to his home.