House Democrats Hope to Make Life Tougher for the GOP
Party liberals want to put up a stronger fight against the majority in the 114th Congress.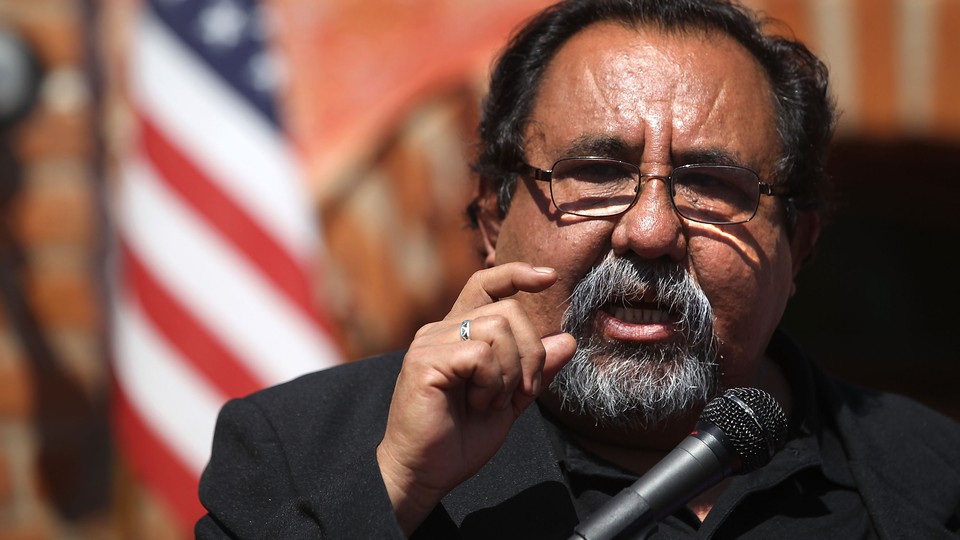 The most marginalized caucus on Capitol Hill isn't ready to concede its relevance just yet.
House Democrats are entering Year 5 of life in the minority, and though their numbers shrank yet again after the midterms, members say they're willing to wield whatever leverage they have left to influence policy in the 114th Congress. But whether they should exert that influence by fighting Republicans—or cutting deals with them—remains an open question.
Time after time, Speaker John Boehner has needed Democratic votes to pass key legislation. Some Democrats say it's time to make him earn those votes. If Republican infighting stymies Boehner's policy goals, said Rep. Raul Grijalva, Democrats should not give him "cover" without earning concessions in return. "If you're going to need 40-50-60 Democrats to get legislation passed that doesn't cripple this government, then that template's set for compromise," he said.
Rep. Keith Ellison, who cochairs the Congressional Progressive Caucus with Grijalva, pointed to Boehner's narrow reelection as speaker, which saw 25 Republicans oppose the incumbent. "When the speaker can only amass 216 votes, that's kind of a sign that if he wants to pass new legislation, he's going to have to talk to some people who are here to actually legislate on behalf of all of the American people," Ellison said. "That means if he comes our way, we obviously have a perspective on all these things. I just hope that we don't allow threats and stuff like that to guide our decision-making."
Ellison may have been referring to the end-of-year drama that closed out the last Congress, and divided House Democrats in the process.
Boehner earned 57 Democratic votes—over the objections of Minority Leader Nancy Pelosi—to pull out narrow passage of a bill to fund the government. Pelosi and others took issue with provisions in the bill that rolled back some Wall Street regulations, but the White House and House Minority Whip Steny Hoyer argued that the objectionable amendments were not worth shutting down the government.
Hoyer took note of the GOP's ideological divide during a weekly meeting with reporters, saying, "We don't have that in our party." Yet the next time Boehner comes calling for Democratic votes, members of the minority will again have to decide whether to stick together or peel off to join the majority.
Even some members who voted with the GOP on the funding bill say they're not worried about playing hardball. "The Republicans played an implacably, relentlessly obstructionist role since this president became president, in the minority and in the majority," said Rep. Gerald Connolly. "Were they rewarded or punished for that? Democrats may be a little slow on the uptake in learning certain lessons from recent political history, but we're not oblivious to the reward-and-punishment system. If we take a lesson from our Republican friends, implacable opposition is rewarded."
Of course, Democrats say they're willing to work with Republicans where they can, whether on the Highway Trust Fund, a sequester waiver for defense spending, or trade issues. Rep. G.K. Butterfield, who chairs the Congressional Black Caucus, said he takes Republican leaders at their word that they want to reach across the aisle. "But if we need to obstruct, we will," he said.
Republicans now control both houses of Congress, but Boehner's control of his caucus is more tenuous than the firm grip of Senate Majority Leader Mitch McConnell. That reality, say some House Democrats, makes their role more important than ever.
"Part of our role has to stop the worst from happening and using whatever legislative procedures that are available to us to do that," Grijalva said. "We have to be solid together, so on some of the worst [we are] able to sustain a presidential veto." No longer can House Democrats rely on a Harry Reid-led Senate to stop GOP legislation.
While Democratic members from conservative districts have at times voted in their own political interests, Grijalva called on them to prioritize party unity, arguing that voters prefer authenticity over "Conservative Lite."
"For Democrats to provide votes to pass items because there is a singular particular interest to that district or to that member doesn't bode well for the whole," he said. "Democrats have to be very leery of providing cover by saying, 'Oh, this is a bipartisan bill' when you have maybe eight Democrats that are supporting it. I think we need to be unified, and on the worst things to be solidly unified."
Ellison noted the losses of several conservative Democrats in the 2014 elections. "Democrats are for working Americans, and we've got to stand on that if we want to be successful," he said. "It's not just the right thing to do, it actually can help you win reelection."
Not all Democrats are convinced they have leverage to impose on Boehner. "I think that the speaker's probably in a better place right now than he was," said Rep. Patrick Murphy, who represents a Republican-leaning Florida district. Murphy referenced Boehner's reelection as speaker and his punishment of some defectors as evidence that he's solidified his hold atop the caucus.
Murphy described Boehner's mind-set as: "'I got my numbers; I don't need to cater to the tea party.'"
Still, Democrats agree they'll be unified on their core principles, whether or not they're willing to play obstructionist in other areas. "Democrats are not going to support eviscerating EPA," Connolly said. "Democrats are not going to repeal health care. Democrats are not going to abandon senior citizens. "¦ If anything, there will probably be more unity in our caucus because it shrunk."