House Democrats' 2016 Hope: GOP Is 'Maxed Out'
At party retreat, DCCC chairman focuses on taking back blue and purple districts.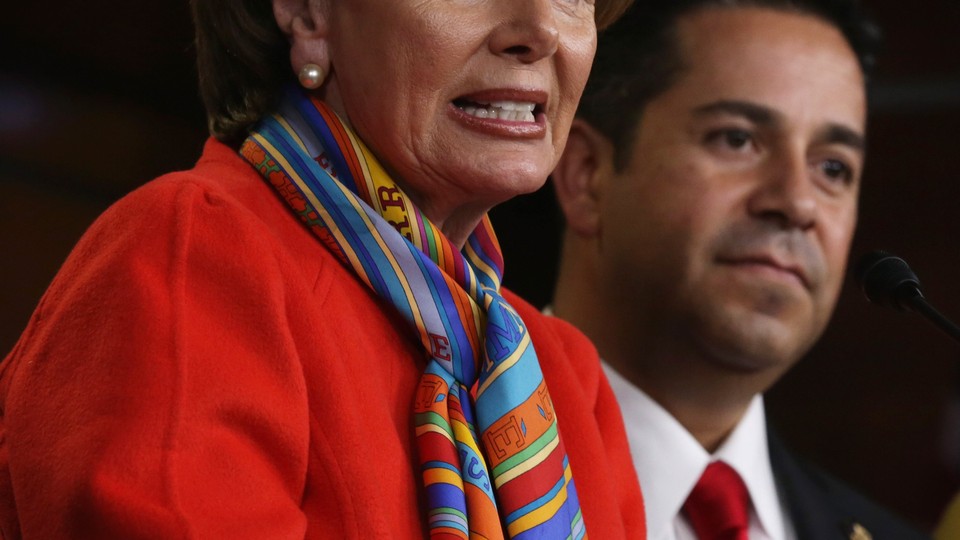 PHILADELPHIA—Outnumbered House Democrats are here searching for a bright spot in the GOP's historic House majority. Republicans' biggest weakness, say members gathered for a three-day retreat, is in their numbers.
Democratic Congressional Campaign Committee Chairman Ben Ray Lujan told colleagues Thursday his group would roll back GOP gains in next year's elections. How? According to a source at the meeting, he said he believes the 246-seat House GOP is "maxed out." In the 2014 midterms, Republicans made gains in many districts that President Obama won two years before. They also hold nearly two dozen seats in which Obama fell just shy of a 50 percent margin.
The GOP will have its hands full defending those seats, Lujan said, giving it little chance to go on offense elsewhere. Perhaps the biggest targets for Democrats will be the 26 Republicans who represent districts won by Obama in 2012. Another 15 districts are held by Republicans who won by single-digit margins.
Just how much of a dent Democrats expect to make in the GOP majority was left unsaid; in 2012, they found themselves with a 33-seat deficit despite a slim advantage in the overall popular vote.
Speaking to reporters later Thursday, House Minority Whip Steny Hoyer was cautiously optimistic about the party's electoral chances.
"I think we can take back the House in 2016."¦ Would I tell you to bet a whole lot of money that we're going to take back the House in 2016? I probably wouldn't do that," Hoyer said.
Lujan's pep talk also served as a fundraising pitch, and the source said the DCCC's new finance chairman, Chris Van Hollen, announced that more than $1 million had been raised from caucus leaders and ranking members. Ways and Means Committee ranking member Sander Levin pledged $375,000 from the Democrats on his panel.
While Lujan encouraged his colleagues about the electoral math, other party leaders urged the formation of a more focused message that they believe will be key to earning voters' confidence. "We came out of that session absolutely unified on three essential messages—middle class, middle class, and middle class," said. Rep. Steve Israel, who preceded Lujan atop the DCCC. He contrasted that with past Democratic messaging, that often involved "a 23-point plan" on every issue. "The problem is that we may have had too many messages," he said.
Democrats, while stuck in a legislative minority, said they are counting on President Obama to be their "messenger-in-chief," spotlighting the party's agenda in ways others can't—at least, until the party chooses its 2016 nominee. "People felt really good about the State of the Union address," Van Hollen said. Asked what the party would do differently from a policy standpoint in the coming cycle, he responded, "There was already a lot new in the president's speech the other night in terms of additional policies aimed squarely at the middle class."
Like Israel, Rep. Donna Edwards said Democrats shouldn't worry about sounding redundant. "We have been really trying to make sure that we construct an agenda that we're able to repeat and repeat and repeat," she said, citing child care and college affordability proposals in Obama's address as policies worthy of repetition.
After a day's worth of panel discussions, Democrats have a few options for Thursday afternoon. They can attend a seminar on how to "Become a Q&A Ninja," attend a tasting of local wines, or visit Independence National Historical Park. President Obama will deliver the retreat's keynote address Thursday night.