Hotline's GOP Presidential Power Rankings: Bush and Rubio Have Early Lead
In our first race rankings of the 2016 cycle, Paul and Walker round out the top tier of serious contenders.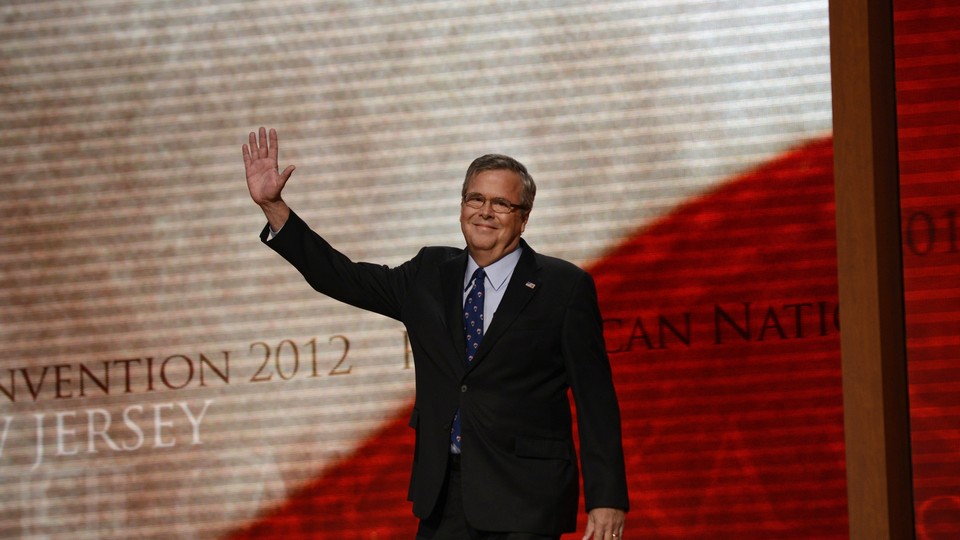 From the first day of 2011, Mitt Romney was the favorite to win the 2012 Republican presidential primary campaign. No one else was even close.
The 2016 outlook could not be more different. Offered the choice to bet on one single candidate to win the nomination versus the rest of the field, the choice would have to be "the field."
For the first time in years, there is no one next in line. And without a former vice president or powerhouse former candidate looking likely to run, Republicans are shaping up to spend the next year and a half fighting in their most open nominating contest in the modern era.
That said, some candidates have a better chance of securing the nomination than others. Surveying the candidates' strengths and weaknesses, political organizations, poll numbers, and especially the odds that they even decide to run, our first presidential power rankings of the 2016 season rank 16 potential contenders based on how likely we think they are to be the one accepting the Republican nomination two summers from now.
In some cases, the space between two slots in the rankings is small; in other places, it's huge. Another way to think about these ratings is in tiers. The top four or five candidates start in a class of their own, while the next five or six start out in the second tier but have the ability to jump. The 2012 ticket of Mitt Romney and Paul Ryan is still lower, despite their star power, because of their slim chances of actually running. And will someone from the next, fourth, tier surprise?
Without further ado, our first no. 1 ranking goes to:
1. Jeb Bush
Bush's December announcement that he plans to "actively explore" a run for the presidency shook up the GOP primary. First, major GOP donors have already started flocking to him, a development that could squeeze potential rivals. Second, the move made it clear how serious the son and brother of presidents is about running after years of rumors that he would ultimately seek another office once his term as Florida governor had ended.
Bush has serious strengths, including the support of donors from New York to Florida to Texas. But he's also got critical weaknesses with the conservative base on policy issues such as Common Core that could be important in the primary. By being the first Republican out of the gate, he is giving himself the opportunity to attract as much of the establishment as he can to his side. If he can't do that, Bush may not end up running at all. But, right now, he could be the best-positioned GOP candidate by a hair.
2. Marco Rubio
The senator from Florida has the highest upside of anyone on this list. His combination of biography, demographic profile, and rhetorical skill had convinced many Republicans in the wake of his 2010 Senate victory that he was the future of the Republican Party. He still could be. Rubio has assembled a top-notch political team and is planning a major media blitz in mid-January to promote his new book, American Dreams. These would seem to be surefire signs of an imminent presidential campaign. But Rubio's future suddenly looks uncertain now that Bush has entered the race and is threatening to suck Florida's donor community dry.
We're still betting that Rubio will jump in. He's too talented—and too ambitious—to pass up a race that could define the GOP for a generation. Still, a Rubio run isn't the sure thing we thought it would be a few months ago. And although we think he's the candidate with the most potential if he does run, the sudden doubt over whether he will bumps him to No. 2 for now.
3. Rand Paul
Paul has cemented himself as one of the most intriguing GOP figures in America. He's also almost certainly running in 2016, having hired advisers in early-primary states and gathered his team for a strategy summit in November. Paul enters 2015 with an enviable floor of support—both financial and in the polls—that he inherited from his father's two runs. And he's been systematically trying to expand his appeal, from the Chamber of Commerce to Jewish leaders, while also presenting himself as a new kind of Republican who can win over disaffected Democrats and independents. Still, a Paul nomination would mark a sharp departure, especially on foreign policy, for the GOP, and that may be a bridge too far for the traditionalist party.
4. Scott Walker
Walker checks virtually every box in a Republican primary: He has executive experience, boasts a fiscally conservative record as governor, is conservative on social issues, and became a right-wing favorite by fighting organized labor in his first term. Moreover, Walker may be unique in his ability to appeal to both the activist and establishment wings of the GOP.
But that could make Walker a man without a country. Social conservatives like him, but not as much as they like Ted Cruz or Mike Huckabee. The establishment likes him, but not as much as Bush or Chris Christie. Walker could overcome this with a convincing win in an early-primary state; but, there again, the Wisconsin governor does not seem an obvious fit in Iowa or New Hampshire or South Carolina. Walker has the makings of a strong candidate, but his path to the nomination is harder to imagine than that of many others.
5. Chris Christie
Christie entered 2014 riding high. He'd just swept to reelection in a blue state and established himself as a presidential front-runner. Then Bridgegate broke. The governor was sucked into the vortex of a scandal that made headlines nationwide, and he was soon deluged by attacks and investigations. So far, he's emerged only bruised, though questions of temperament have lingered. An ongoing federal probe also looms. In the meantime, Christie used his post as chairman of the Republican Governors Association to travel the country, gather chits, and canvass for donors. The November GOP landslide means he now has allies in governor's mansions across the nation. But Jeb Bush's December surprise could lock up the donors who would otherwise fuel a Christie run.
6. Mike Pence
Pence seems to be everyone's favorite dark-horse candidate. And for good reason. As governor of Indiana, he has developed a solid conservative record on education, right-to-work, and social issues. He is well liked among both the business and tea-party community, and he has allies at powerful conservative organizations, such as the Koch brothers' political network and the Club for Growth. It's unclear how likely Pence, who's also up for reelection in 2016, is to jump into the race, or how he'll perform on a national stage. But if he decides to pull the trigger, he may well vault into our top tier.
7. Ted Cruz
The main reason Cruz falls into a slot this high is that he is among the most likely on this list to actually run for president. But until he proves he can expand his appeal beyond his core base, he doesn't stand a great chance of moving up. Cruz is still a star among the tea party, and he is in a prime position to win the support of evangelicals. That is not enough to win the GOP nomination, but it would ensure that Cruz would be a force to be reckoned with in states such as Iowa and South Carolina. Still, he will have his work cut out for him, competing with Rick Perry and Jeb Bush for support among donors in Texas. A foreign policy-focused campaign could give Cruz a chance to separate himself from the field, but that remains to be seen.
8. Mike Huckabee
The former Arkansas governor's announcement that he's quitting his gig with Fox News makes him look pretty likely to run for president again, and if he does, the 2008 Iowa caucus winner starts as the frontrunner in the first state, according to some polls. That's because he might be able to lock down the biggest slice of an important constituency: evangelical voters. That's no small thing. But there are also a few questions (including whether he actually pulls the trigger on a bid) to ponder: Can Huckabee broaden his appeal beyond social conservatives? And will eight years out of politics give him trouble as a candidate, including potentially from primary voters who might yearn for a fresh face?
9. Rick Perry
Don't underestimate Perry, who has been working tirelessly to shed his bumbling image from the 2012 presidential campaign, punctuated by lackluster performances in debates. He has brought in a new team to prepare for 2016, and has been cramming in briefings run by some of the conservative movement's leading thinkers. Perry is authentic, likable, and has a 15-year governing record in a state that boasts one of the country's strongest economies. But the memory of 2012 still seems fresh, which narrows his margin for error considerably, and Perry's ability to raise the millions of dollars necessary would be hampered by Bush's Texas family connections.
10. John Kasich
Bush's entrance into the race complicates the path for Kasich, although he still would bring a compelling profile (at least on paper) to the race. His biggest asset is that he just won a landslide reelection in a Midwestern swing state, winning 25 percent of the black vote and even carrying solidly Democratic Cuyahoga County, where the 2016 GOP convention will be held. He touts himself as a "compassionate conservative" who supports government spending on the poor and disadvantaged, while also balancing a budget. That's a solid resume for a general election. Kasich has two problems. His support for Medicaid expansion and other heterodox views would be a tough sell in a primary, especially one with many other establishment-track candidates running. And he's a notoriously off-the-cuff speaker, something that hasn't hurt him much in Ohio, but would cause problems given the level of national scrutiny in a presidential campaign.
11. Mitt Romney
The 2012 GOP presidential nominee would rank much higher on our list if he were certain to run again. But despite recent murmurs, consider us skeptical that we'll see Romney launch another campaign. He has said "no" repeatedly, for one, and running in 2016 would mean a third straight grueling national campaign for the 67-year-old. And even if does run, he's not guaranteed success: Facing Bush and Christie, Romney would have to fight just to reclaim his base. More broadly, the 2016 field will likely be deeper and more talented than last time. Still, if Romney's in, he's as formidable as they come.
12. Paul Ryan
If the GOP's 2012 vice-presidential nominee decided to mount a White House bid of his own, he, like Romney, would shoot to the top of this list. But don't count on that happening. Ryan has made it clear—most directly in a series of interviews with National Journal—that he is not preparing to run for the presidency. He's just been handed his dream job at the Ways and Means Committee, and he is convinced that he can have the greatest impact on the 2016 elections by crafting a tax-reform package that becomes an ideological litmus test in the Republican nominating contest.
13. Rick Santorum
The second-place finisher in 2012 is a long way down our list. But for all of Santorum's unexpected success last time, he will still struggle this time to raise money, recruit top-flight staffers and convince Republicans he stands a chance against Hillary Clinton. Not that the former senator from Pennsylvania cares: He likes being the underdog. Santorum is a long shot, but he's still in significantly better shape now than he was four years ago, when most Republicans laughed off his candidacy. They're not laughing anymore.
14. Bobby Jindal
Jindal is trying to appeal to all sides of the Republican Party but has struggled to make inroads as he mulls a presidential bid. His record of fiscal and educational reforms in Louisiana is impressive, and his resume is unmatched. But politically speaking, he's stuck between being seen as the intellectual powerhouse who ran Louisiana's health care system at age 25 and competing against Ted Cruz to deliver the harshest anti-Obama jibes in talking points accessible to the average voter. Will he run as a GOP reformer or as a tea-party populist? Jeb's entrance in the race suggests the latter.
15. Ben Carson
We can't dispute that the famous pediatric neurosurgeon is a rock star among conservatives. Polls of the GOP field actually show Carson drawing more support than many of his prospective opponents. In Iowa, voters have a history of bucking establishment favorites and backing evangelical-friendly outsiders in big numbers (Santorum, Huckabee, Buchanan). But, for now, we consider Carson closer to a conservative celebrity than a candidate with a serious chance to win the nomination. If he builds a big-league political organization and stops comparing the United States to Nazi Germany, our opinion will change.
16. Carly Fiorina
Fiorina stands out as the only CEO and the only woman on this list, just as she would on an otherwise all-male 2016 GOP presidential debate stage. In 2010, the former HP executive ran for the Senate in California and lost, but she has kept close ties to the conservative movement ever since. In 2014, she dabbled in some early-state visiting. But dabbling isn't contending, even if she is hiring a political team. Fiorina can be a compelling speaker, but it's tough enough to win the presidential nomination as an experienced politician; it's next to impossible when, like Fiorina, you've never held elected office ever before.