GOP Tensions Escalate After Speaker Vote
Boehner backers and foes trade angry charges behind closed doors.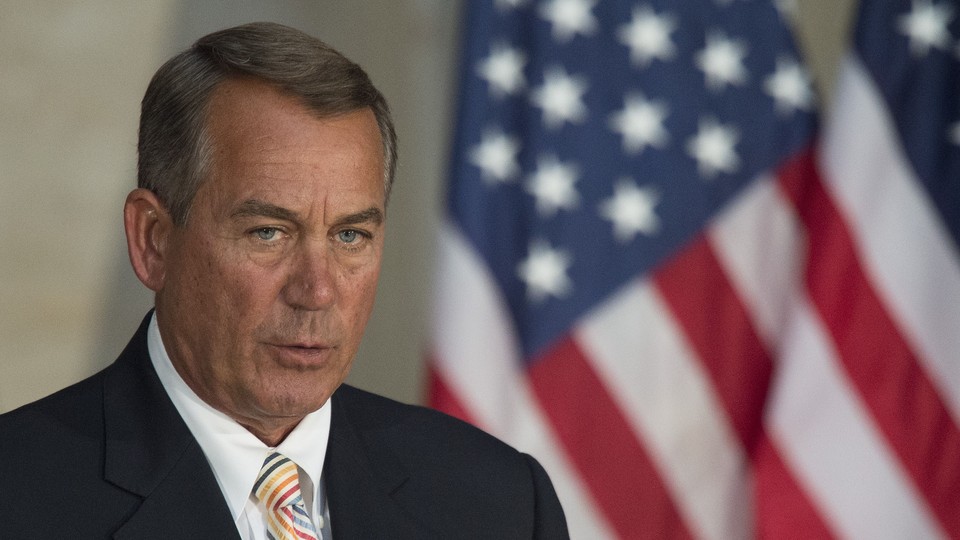 Rank-and-file Republicans are fuming at what they see as the heavy-handed tactics of Republican leaders, one day after a divisive vote that narrowly handed Speaker John Boehner the gavel for another term.
Members who opposed Boehner on the floor are frustrated that two rebels have already been stripped of committee assignments, while the speaker's allies, angered by an embarrassingly close vote that played out on national television, warn darkly of more punishment to come. And some conservatives who backed Boehner complain that they are now facing a different kind of retribution—from the Right.
Boehner himself made a plea for unity and downplayed any talk of revenge Wednesday morning, a day after declining to reappoint a key challenger, Rep. Daniel Webster, and one of his supporters to plum committee assignments. Boehner said the decision may not be final, but his allies are not being so coy.
"Because of some of the activities on the floor, two of our members weren't put back on the committee immediately," Boehner said. "We're going to have a family conversation ... about bringing our team together, and I expect that those conversations over the next couple of days will continue and we'll come to a decision about how to move forward."
There were signs Wednesday evening that Boehner may be softening his stance. Rep. Richard Nugent, who voted against Boehner and was subsequently stripped of his Rules Committee assignment, met with the speaker.
"I said, 'I don't regret it. I've been very loyal to you in the past, I'm still loyal to you today,'" Nugent recounted. "'But you know, I needed to get your attention. This wasn't part of an organized effort. There may be other ones that were part of an organized effort. I wasn't.' And I told him why."
Nugent said he has been frustrated that a measure to take on mental health in the criminal justice system and another dealing with veterans have been held up. He also bemoaned the power of some staff over members, he said.
Boehner told Nugent that he and Webster are two separate cases. While Nugent voted against the speaker, it was Webster who allowed himself to be drafted into a haphazard campaign against Boehner.
But will they get their panel assignments back? "He hasn't made a decision, and he's thinking about it," Nugent said.
Meanwhile, Rules Committee Chairman Pete Sessions has been advocating on behalf of his members. He spoke on their behalf at the GOP Conference meeting Wednesday morning.
"I tried to let the conference know that I think these are both very talented young men who we have on the committee and I value their work," Sessions said. "It's really something they're going to have to work out with the speaker."
Retribution is not being enacted simply against those who participated in the attempted coup, and members are using that fact in a plea for leniency for their colleagues. Members who have often butted heads with the speaker but who voted for him on Tuesday said leadership should understand they are facing consequences from the Right for supporting Boehner in the face of an onslaught of people demanding they depose him.
Rep. Raul Labrador rose in front of his colleagues at Wednesday's Conference meeting and said he has already drawn a primary challenge over his vote for Boehner. Labrador read from his smartphone from the more than 4,000 comments people had posted on his Facebook page, including one calling him a "scumbag asshole" for supporting Boehner—and joked that it's all true. Conservative talk-radio host Mark Levin had specifically directed listeners to target Labrador for his vote, he noted.
Other members spent Wednesday afternoon defending their vote for Boehner to local press, and some said that after December's omnibus vote and Tuesday's display on the House floor, they have never been under more pressure from constituents.
Some lawmakers want heads to roll at the staff level. Rep. Andy Harris was incensed, addressing the leadership team in the private conference meeting to tell them it was unacceptable for an anonymous GOP leadership aide to call sitting members of Congress "fringe guys" because they voted against Boehner. Harris's comment drew thanks from a number of his colleagues.
In response, the speaker described those remarks as "despicable," according to a source in the room.
Even if Boehner is keeping a cool head in public, it is clear that he and his allies are infuriated by Tuesday's public insurrection, and a larger backlash could still be forthcoming against the 25 members who voted against Boehner.
"I think the majority of the conference would like to see "¦ something done with them, because they put the conservative agenda at stake with their wanting to be on television," said Intelligence Committee Chairman Devin Nunes, a close Boehner ally. "A couple people got up, and they were whining about they didn't want retribution, the speaker shouldn't do it. They don't realize the speaker's not one of the guys who wants to do it, but all of us think they should have retribution, and it tells me how weak they are if they're getting up there whining about having retribution against them."
And Rep. Peter King said that if this had happened in New York state politics, the consequences might have been more severe. "Guys take on a speaker and lose, they're never heard from again," he said.
The calculation now for leaders is how to retaliate against the members without alienating more colleagues. The response could come in subtle ways, such as denying members sponsorship of key bills or suppressing their advancement on committees important to their district. The National Republican Congressional Committee could withhold financial support, jeopardizing their reelection.
But any response will likely happen slowly and calculatedly so as not to create martyrs.
Rep. Trent Franks, who has often voted out of step with leadership but who supported Boehner on Tuesday, said he could be convinced that detractors should be pulled from committees if the larger message is that their presence makes conference unity and committee work more difficult.
"If this is about vengeance, that's one thing that I don't think will play very well at all," Franks said. "If it's about something else, then I think that has to be articulated so it is clearly differentiated between that and some sort of retribution."
Still, punishment enough is that members who voted against Boehner are spending Wednesday in limbo, unsure whether they will be directly retaliated against, and even more unsure of the subtle ways their vote could come back to haunt them in the form of damaged relationships.
Rep. Scott Rigell, who recently secured a slot on the Appropriations Committee, voted against Boehner, and said he does not know whether he will face consequences. He said he plans to meet with leadership Wednesday to smooth over the situation.
"I'm not discounting the possibility that something could happen," he said. "My hope is leadership sees the vote for what it was. It was a principled vote and reflected my judgment at the time with the options that were before me."