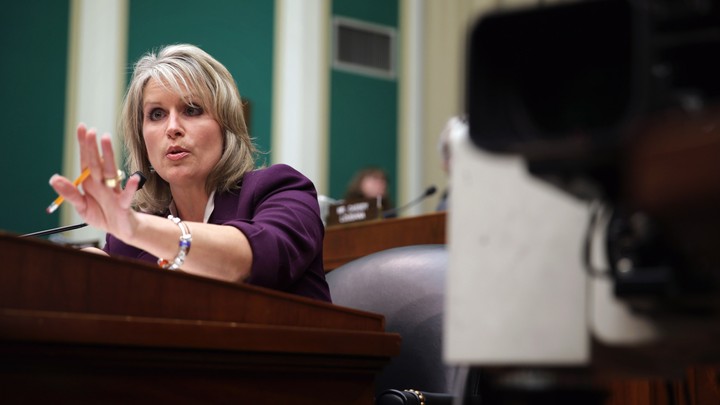 Bowing to the wishes of several moderates and women members, House Republican leaders pulled a controversial antiabortion bill from consideration late Wednesday night, a move sure to enrage antiabortion activists, who will descend on Capitol Hill Thursday for their annual March for Life.
The bill will be replaced by the No Taxpayer Funding for Abortion Act, a bipartisan bill that passed the House last year and will get another vote on Thursday, the 42nd anniversary of the Supreme Court's Roe v. Wade decision. The change came after House Republican women and moderates battled against their leaders on the Pain Capable Unborn Child Protection Act, exhibiting the deepening rift between centrists and conservatives who are at cross-purposes on which issues the party should be highlighting.
As of Wednesday afternoon, Republican leaders were insistent they would move ahead with legislation banning abortions after 20 weeks, but the Rules Committee announced an emergency meeting Wednesday night and sources said the bill would be pulled in favor of the less controversial alternative.
Some Republicans worried that the 20-week abortion measure might alienate millennials and female voters. But many female lawmakers were also furious over its clause stating that women can be exempt from the ban in cases of rape only if they reported the rape to authorities.
"We're continuing to listen to everybody," House Majority Leader Kevin McCarthy said Wednesday afternoon, exiting the House floor after the rule governing debate on the bill passed with unanimous GOP support. "We're still planning on moving forward with the bill tomorrow."
But party leaders reversed course just a few hours later, as they try to juggle the competing interests of moderate voices in their party who prefer not to cast controversial votes on social issues and staunch antiabortion members, many of whom will protest at the Capitol at Thursday's March for Life.
"I prefer that we avoid these very contentious social issues," said moderate Rep. Charlie Dent, reprising comments he gave in the closed-door conference meeting. "Week one, we had a speaker election that did not go as well as a lot of us would have liked. Week two, we got into a big fight over deporting children, something that a lot of us didn't want to have a discussion about. Week three, we are now talking about rape and incest and reportable rapes and incest for minors. "¦ I just can't wait for week four."
In the last week a new issue caused trouble for leadership: Nearly every woman in the conference was opposed to the way the abortion bill was brought forth.
McCarthy told his conference at a closed-door meeting Wednesday that the bill was controversial but that the plan was to move it anyway. That drew excoriation from rank-and-file women, who were concerned that the bill's rape clause would have a chilling effect on women reporting rapes and livid that they were not consulted before the objectionable clause concerning the rape exception was added into the base text of the bill.
Tellingly, Rep. Marsha Blackburn, a lead cosponsor of the bill, gave an impassioned speech in conference, noting that because of the rape clause, the GOP was again fumbling over this sensitive subject instead of talking about other issues, according to sources in the meeting.
Rep. Renee Ellmers repeated her critique from the GOP's retreat in Hershey, Pa., last weekend that voting on abortion bills so early in the session would turn off millennial voters. And Rep. Jackie Walorski left the meeting early, according to sources in the room.
On Tuesday, Walorski and Ellmers withdrew their cosponsorships of the bill, and even some Republican men said they had concerns about voting for the legislation that requires women to report rapes in order to have access to a late-term abortion.
"When you start getting into telling a woman that she has to report she was raped to be able to qualify, that takes it in a direction that makes me very uncomfortable," Rep. Tom Rooney said, noting that he was still leaning toward supporting the bill.
Rep. Ann Wagner pushed leaders to remove every exception other than cases when the life of the mother is at stake, according to member sources, but doing so could have alienated more centrists. Others wanted leaders to simply remove the clause mandating reporting rape to the authorities, but that could have pushed away the party's activists.
At a Wednesday morning meeting of the Conservative Opportunity Society, a group of conservative House members, Susan B. Anthony List founder Marjorie Dannenfelser spoke about why the bill is important. Tony Perkins, president of the socially conservative Family Research Council, was also spotted in the Capitol speaking to members. And some lawmakers said they are compromising by even including an exception in cases of rape or incest.
"I would not make exceptions for rape and incest, and then the reporting requirement would not be necessary," said Rep. Steve King, who attended the Conservative Opportunity Society meeting.
Rep. Trent Franks, the lead sponsor of the bill, shot down concerns that young people do not want to focus on social issues, saying that in his experience millennial voters are even more antiabortion than the generations before them.
"Everyone in our party supports the basic thrust of the bill," he said. "Leadership is trying to figure out if they took out exceptions entirely, if they left it as it is—there's all kinds of things they're trying to do to balance, but I think they've tried to balance it the best way they knew how."
After the bill was pulled, Franks's office declined to comment on the leadership's decision.
That the situation was still in flux was evident at a Wednesday afternoon meeting between leadership and female members of the conference, some of whom oppose the current bill. Ellmers and Walorski, along with Reps. Kristi Noem, Elise Stefanik, and Diane Black, emerged from Speaker John Boehner's catacombs with little to say.
"It is completely up in the air right now," Ellmers said, dismissing reporters' questions.
Proponents of the bill argued that the same rape clause was included in the version that passed the House with just six GOP defections last Congress. Yet women in the conference said privately that they felt blindsided then, because it was included in the text during a meeting of the Rules Committee mere hours before the bill came to the floor. They held their fire at the time, but warned leaders not to include it in the base text of the bill this year, even meeting with Majority Whip Steve Scalise before the GOP retreat.
A broader cross-section of Republican members also questioned why the House was spending time on legislation that was unlikely to overcome the 60-vote threshold in the Senate, let alone be signed into law by the president.
The divide over the abortion legislation marks a broader disagreement within the Republican Party that has been raging for the last several years. Now that Republicans have an expanded majority, conservatives want to flex their legislative muscles and dare the president to use his veto pen. Meanwhile, moderates want to use the opportunity to tackle less controversial measures.
The legislation would have affected about 1 percent of abortions that take place annually.
Public polls show that many Americans are on the side of the House Republicans on the underlying issue in the bill. A majority of women say that abortions should be restricted after the 20th week of pregnancy.
"The polls even among women are very clear on this," Rep. Vicky Hartzler said. "People understand it is not right to dismember a baby in the womb once it feels pain."
This article was updated at 9:40 p.m.
We want to hear what you think about this article. Submit a letter to the editor or write to letters@theatlantic.com.
Daniel Newhauser is a staff correspondent for National Journal, where he primarily covers the House of Representatives. He was formerly a House leadership reporter for Roll Call, where he started as an intern in 2010 and quickly earned a slot as a beat reporter.
A native of San Antonio, Texas, Newhauser traveled further West to study journalism at Arizona State University's Walter Cronkite School of Journalism and Mass Communication and write for newspapers including the East Valley Tribune and the Green Valley News & Sun.
Lauren Fox
is a congressional reporter at
U.S. News.
Her work has appeared in
Salon
,
MSNBC,
and
Columbia Journalism Review
.