GOP Knives Come Out Against US-China Carbon Pact, Paris Climate Talks
A day after President Obama touted the deal with China on Capitol Hill, a Senate amendment would declare it null and void.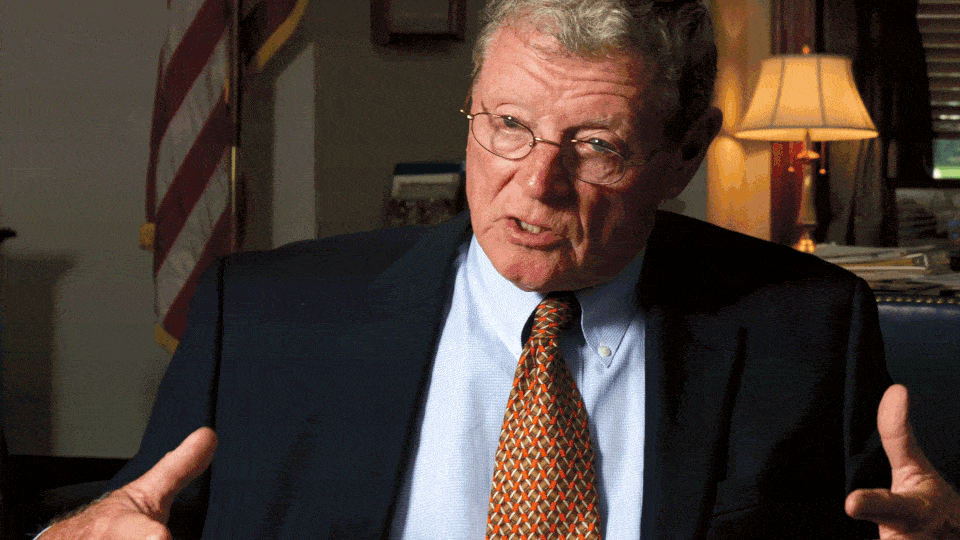 Two prominent Senate Republicans have launched a political assault on President Obama's recent climate pact with China, an effort that arrives the morning after Obama highlighted the deal in his State of the Union speech.
Sens. Roy Blunt and James Inhofe on Wednesday floated a "sense of the Senate" amendment to Keystone pipeline legislation declaring that the pact reached in November has "no force and effect" in the U.S.
White House officials say the bilateral agreement is providing momentum for wider global climate talks. "[B]ecause the world's two largest economies came together, other nations are now stepping up and offering hope that this year the world will finally reach an agreement to protect the one planet we've got," Obama said in his speech Tuesday night.
The new GOP amendment foreshadows a fight over the climate accord that diplomats hope to reach at make-or-break United Nations talks in Paris late this year.
The nonbinding Senate measure says that both the U.S.-China pact and U.S. agreement with the hoped-for Paris deal would require Senate approval.
The emerging architecture of the international climate pact that negotiators plan to complete in Paris would stop short of a formal new treaty that requires Senate sign-off, which is a near-impossible prospect.
Blunt bashed the U.S.-China deal on the Senate floor Wednesday. "We think this is a bad deal, Senator Inhofe and I, and I think many others will join us. A bad deal for our country, it's economically unfair, it is environmentally irresponsible," said Blunt, who is vice chairman of the Senate Republican Conference. Inhofe heads the Senate's Environment and Public Works Committee.
China, the world's largest greenhouse-gas emitter, agreed to a peak in its soaring carbon emissions in 2030 at the latest, and also vowed to sharply increase use of carbon-free fuels to reach 20 percent of its energy consumption by 2030.
The U.S., the world's second-biggest polluter, pledged to cut greenhouse-gas emissions by 26-28 percent below 2005 levels by 2025, building on the existing target of a 17 percent cut by 2020. Obama and Chinese President Xi Jinping announced the plan in Beijing in November after months of quiet, high-level talks between the nations.
"In Beijing, we made a historic announcement: The United States will double the pace at which we cut carbon pollution. And China committed, for the first time, to limiting their emissions," Obama said in the State of the Union address.
Blunt said he wants a vote on the plan, but lawmakers from both parties have filed dozens of amendments to legislation to approve the Keystone XL pipeline, and its not clear which measures will ultimately receive votes.
The amendment calls the U.S.-China climate plan a raw deal for the U.S. that will boost power prices and hinder manufacturing and other industries, while China's emissions are allowed to continue rising for years to come.
But U.S. officials say the deal will require China to take near-term steps to ensure the sweeping transformation of its energy sector pledged under the agreement.
"To meet its goal, China will need to deploy an additional 800 to 1,000 gigawatts of nuclear, wind, solar, and other renewable generation capacity by 2030 "" an enormous amount, about the same as all the coal-fired power plants in China today, and nearly as much as the total electricity generation capacity of the United States," Secretary of State John Kerry said in a November op-ed touting the pact.