For Jeb Bush, All's (Perhaps Too) Quiet on Capitol Hill
The supposed "˜establishment' candidate has few vocal backers in Congress.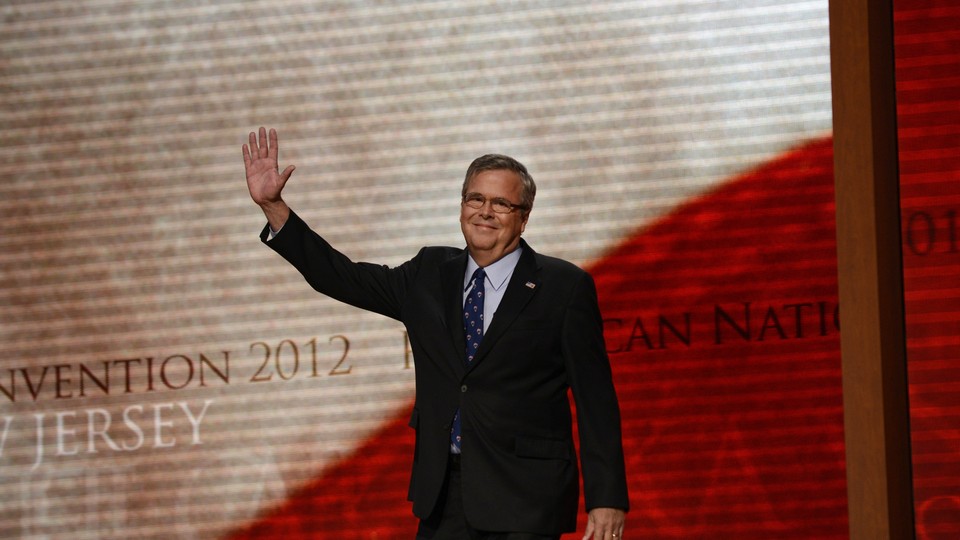 Jeb Bush may be the first real 2016 candidate to put his hat into the ring, forcing other establishment Republicans to move up their timelines and driving the conversation on talk radio and the cable news networks, but you wouldn't know it talking to members on Capitol Hill.
While Rep. Jason Chaffetz has been hawking Mitt Romney's potential third presidential bid like a hot-dog vendor at a Nationals game for the past few weeks, and several other potential candidates are themselves members of Congress, Bush so far has few vocal allies or notable relationships on the Hill.
In interviews with members of the Florida congressional delegation and senators with ties to the previous two Bush administrations, none could name a member of Congress who was actively promoting Bush's candidacy on Capitol Hill. The silence around Bush's potential candidacy in the halls of the Capitol is surprising, particularly for someone viewed by many as an "establishment" candidate—a quintessential party insider.
Sen. Roy Blunt of Missouri, who acted as a congressional liaison for George W. Bush's 2000 campaign, said he was not aware of anyone serving in that capacity for Jeb Bush. Moreover, Blunt said he had not spoken with the younger Bush since Bush formed an exploratory committee for the presidency in mid-December.
It may be too early for candidates to really get started campaigning among members of Congress, Blunt added. Presidential candidates don't typically appoint official congressional liaisons until much later in the campaign season. Romney, for example, appointed Rep. Cathy McMorris Rodgers to be his liaison in the House and provide members with details on his travel and policy platforms in June 2012.
Rep. Jeff Miller of Florida, who chairs the House Veterans Affairs Committee and served in the state Legislature while Bush was governor, said he had no idea that Bush was going to be in Washington last week. Obviously, no outreach happened. "I didn't even know he was in town until I saw it on the press," Miller said, adding that he hasn't spoken with Bush about his 2016 bid.
By contrast, New Jersey Gov. Chris Christie visited Washington just a day after Bush and met with 25 House Republicans, according to the Bergen County Record. Attendees included three members from his home state and representatives from key presidential states such as Iowa, Michigan, New Hampshire, and Pennsylvania.
Sen. Rob Portman of Ohio—a longtime ally of the Bush family's—said he'd spoken to Jeb Bush, but was not pushing his candidacy on the Hill. Portman served in both of the previous Bush presidencies (he got his start in politics as an associate White House Counsel under George H.W. Bush) but said he was not publicly backing the third potential President Bush. "I'm not endorsing anyone at this point," he said, adding that he was unaware of any members who were publicly advocating for a Jeb Bush presidency.
Two aides for Bush did not respond to requests for comment on this story.
Bush isn't completely without Capitol Hill allies. House Speaker John Boehner has encouraged the governor, both in private talks and even on the now-defunct Tonight Show with Jay Leno, to run for president. But his public support likely stops there. "He is unlikely to officially endorse any candidate in the GOP presidential primary," Boehner spokesman Michael Steel said in an email.
Steel also said that Boehner had not—and, importantly, would not—encourage his members to back Bush's campaign.
Rep. Daniel Webster of Florida, who has known Bush for decades and served in the Legislature during his governorship, also said that he wasn't aware of any members of Congress who were publicly supporting Bush. "I think there's a lot of candidates, everybody's kind of waiting to see who gets in. But I think he's got a lot of support. I do," Webster said.
Sen. John McCain speculated that one potential candidate in particular may be holding some members back: Marco Rubio. With Rubio and Bush both hailing from Florida, particularly members in the state's delegation may be biding their time before making a decision.
But Bush's lack of a liaison or prominent backer on the Hill is also a symptom of just how long he's been out of the political game. The former governor left office in January 2007 and hasn't run a campaign since 2002. More than half of the members of the House and Senate weren't in office when Bush was governor.
That Bush doesn't have an emissary on the Hill, doesn't surprise Webster. "I think Jeb's kind of handling it, really," he said. "He's a hands-on guy, and because of that he's going to do the calling to the members. I guarantee you, he's calling every member."
By several accounts, he hasn't yet.