First Salvo From Democrats: A Middle-Class Tax Cut
Van Hollen unveils plan to make tax code more progressive in opening stage of economic message fight.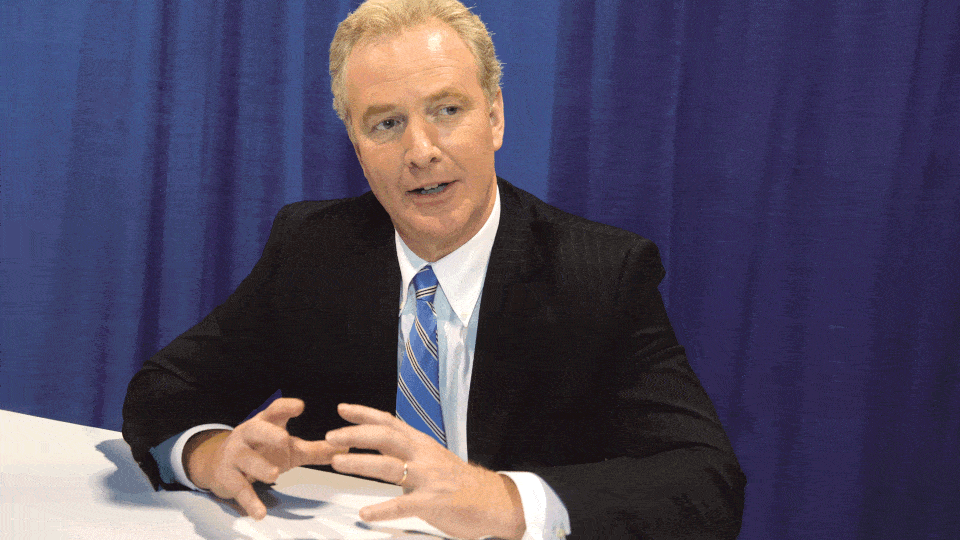 Democrats' populist economic messaging took clearer shape Monday, as Rep. Chris Van Hollen unveiled a plan detailing middle-class tax breaks—and imposing a greater burden on the wealthy.
Van Hollen's plan is the party's first high-profile attempt to put details behind an economic agenda focused on income inequality that many say Democrats failed to outline during the 2014 elections. It's also an effort to draw contrasts with the ambitious tax plan being crafted by Ways and Means Committee Chairman Paul Ryan—one that actually stands a chance of gaining traction in the GOP-controlled Congress.
With a historically small minority in a chamber that strongly favors the majority, House Democrats will have precious few openings to actually influence legislation—or at least draw attention to their ideas—in the 114th Congress. Their goal is to seize those chances when they have them.
"The upcoming budget debate will give the American people an opportunity to hear very different approaches to this challenge," Van Hollen said. "I look forward to this debate."
Van Hollen, the ranking member on the House Budget Committee, outlined his plan Monday at the Center for American Progress, repeatedly criticizing a system that he believes benefits those who play the stock market rather than work for a paycheck. His plan is headlined by a $1,000 cut for taxpayers making less than six figures, offset by increased levies on Wall Street traders and high-earning CEOs.
"What our country needs is a growing economy that works for all Americans, not just the wealthy few," he said. "Surely we can change the tax code to incentivize corporations to give employees bigger paychecks and reward people who earn money through hard work."
That's the sort of messaging that has made Sen. Elizabeth Warren a rock star in liberal circles, and a vision some Democrats say they need to tout if they are to be successful in future elections. Van Hollen's plan is congressional Democrats' first attempt since the elections at incorporating those ideals into a legislative plan. House Minority Leader Nancy Pelosi endorsed the idea, according to The Washington Post, calling it "new and fresh." Van Hollen said he shared the plan with the White House, but did not elaborate on the administration's response.
Republicans were quick to dismiss the proposal.
"Just as the sun rises in the east, Washington Democrats propose another massive tax increase," said Ways and Means GOP spokesman Brendan Buck. "Here in the House, our focus is going to be on cleaning up the tax code so that we can lower rates for all taxpayers and help create good-paying jobs, not scaring them off with punitive tax hikes."
And Van Hollen's opposite number on the Budget Committee, Chairman Tom Price, said in a statement that "Washington shouldn't be in the business of picking winners and losers in the economy."
In addition to the income-tax break, Van Hollen's plan would also provide extra child-care credits and incentivize saving money. It would recoup that revenue by eliminating tax deductions on CEO pay over $1 million and imposing fees on some market transactions. The plan also eliminates some deductions for companies that lay off employees or keep worker pay stagnant, while prodding companies to offer stock options and incentive pay to all employees.
"We must ensure that all Americans who work hard and play by the rules are rewarded with a fair share of a growing economic pie," Van Hollen said, emphasizing the country's stagnant wages despite rebounding job growth. "There's a disconnect between the value workers are creating and the value they're taking home."
While the middle class is struggling, he said, Republicans are more concerned with helping the rich. He pointed to a tax plan posited by House Republicans last year, which would have dropped the top income-tax rate from 39.6 percent to 25 percent. After the event, Van Hollen said he's skeptical that many—or any—Republicans will be supportive of his proposal. "As of today, Republicans are still very wedded to their trickle-down theory," he said. "They just ignore all the evidence that's staring them in the face. We'll find out. I would welcome any support."